AFCAT CDS NDA TA Exam Current Affair of December 2016
Being strong with Current Affairs and General Knowledge is an added advantage in Defence Exams and SSB Interview, though this is not the only deciding factor, but this is an important factor because it shows how much aware you are of your surroundings, your country and international affairs. In this Article we will See important AFCAT CDS NDA TA Exam Current Affair of December 2016 which could prove helpful in preparation of competitive written exams or interviews.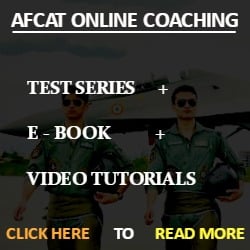 AFCAT CDS NDA TA Exam Current Affair of December 2016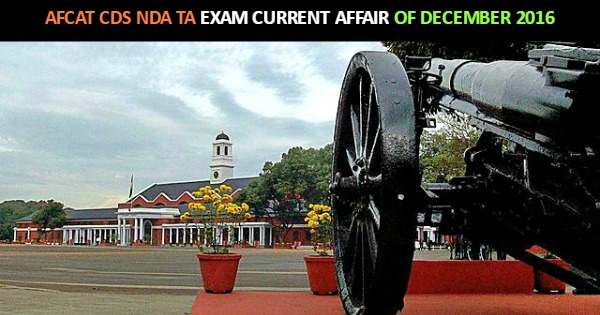 Nine-time Olympic champion Usain Bolt on 2 December 2016 won the IMF male Athlete of the Year award. He won the award for the record sixth time.
India women's cricket team on 4 December 2016 defeated Pakistan to win the 2016 Asia Cup T20 at Bangkok, Thailand.
Kehkashan Basu, a 16-year-old UAE-based Indian teenager won the International Children's Peace Prize for her work towards climate justice and combating environmental degradation.
The Indian Space Research Organisation (ISRO) will launch 83 satellites into space in one go, aboard a single rocket in January 2017.
The Indian Navy Day is observed annually on 4 December to celebrate the magnificence, achievements and role of the naval force of the country.
Usain Bolt, Almaz Ayana crowned 2016 IAAF World Athlete of the year award
Tamil Nadu Chief Minister J Jayalalithaa passed away at the Apollo Hospitals, Chennai following cardiac arrest. She was 68
Joint maritime exercise 'Konkan 16' between India and UK begins
India has agreed to train Vietnam's Sukhoi-30 fighter pilots, boosting growing defence ties between both countries. In this regard agreement was signed during bilateral discussions between Defence Minister Manohar Parrikar and his Vietnamese counterpart, General Ngo Xuan Lich in New Delhi.
BRICS nations to share tax information automatically to eliminate tax evasion
Remote sensing satellite Resourcesat-2A successfully launched
December 9: International Anti-Corruption Day
India has been designated as a major defence partner of the United States. It puts India on a par with the closest allies and partners of the US.
The Indian Army has launched a "Veterans Outreach App" in a bid to reach out to its ex-servicemen.
India, Vietnam sign Civil Nuclear deal, three other agreements
Japan's space agency (JAXA) successfully launched a Kounotori 6 (HTV-6) spacecraft that will deliver a large magnetic tether, a space junk collector technology into orbit.
Cristiano Ronaldo wins 2016 FIFA Ballon d'Or Award
India, Russia bilateral naval exercise Indra Navy 2016 begins
Seventh Indo-Maldives joint military exercise EKUVERIN begins
Pakistan Army has successfully test fired an enhanced version of an indigenously-designed Babur cruise missile.
Prime Minister Narendra Modi was placed at 9th position among 74 of the world's most powerful people list released by the Forbes Magazine.
The Supreme Court has ordered a ban on all liquor shops on national as well as state highways to reduce drink driving and road accidents that claim thousands of lives every year across the country.
IAF personnel cannot keep beard: SC
Indian Navy's eight landing craft utility L-58 launched by GRSE
China opens first fully-owned satellite ground station near North Pole
Air Marshal BS Dhanoa appointed Air Chief of IAF
Lt Gen Bipin Rawat appointed Chief of Indian Army Chief
Union Government forms high-level task force on Indus Water Treaty
Kaisa Matomaki, Maksym Radziwill win 2016 SASTRA Ramanujan award
Long range nuclear-capable subsonic cruise missile Nirbhay testfired
The National Mathematics Day is observed every year on 22nd December to celebrate birth anniversary of great Indian autodidact Mathematician Srinivasa Ramanujan.
China launches TanSat satellite to monitor global carbon emissions
Japan successfully launches solid fuel rocket
December 24: National Consumer Day
Bengali poet Shankha Ghosh chosen for 2016 Jnanpith Award
DRDO successfully flight tests Smart Anti-Airfield Weapon
China has successfully tested the latest version of its fifth-generation stealth fighter jet J-31 (now renamed the FC-31 Gyrfalcon)
India successfully test-fires nuclear capable ballistic missile Agni-5
China has successfully launched pair two high-resolution remote sensing satellites SuperView-1 01 and 02 to get commercial images.
PM Narendra Modi launches UPI based mobile payment app called BHIM
The Cochin Shipyard Limited (CSL) has delivered ICGS AYUSH, the 20th Fast Patrol Vessel (FPV) to the Indian Coast Guard.  With this, CSL has completed construction of 20 FPVs for the Indian Coast Guard.