CDS 2 2017 Entry Examination Centers List
Applicants should note that there will be a ceilling on the number of candidates allotted to each of the centres except Chennai, Delhi, Dispur, Kolkatta and Nagpur. Allotment of Centres will be on the first-apply-first-allot basis and once the capacity of a particular centre is attained, the same will be frozen. Applicants, who cannot get a centre of their choice due to ceiling, will be required to choose a Centre from the remaining ones. Applicants are, thus, advised that they may apply early so that they could get a Centre of their choice.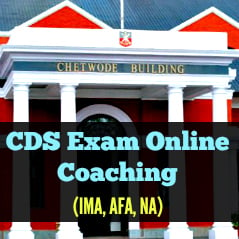 CDS 2 2017 Entry Examination Centers List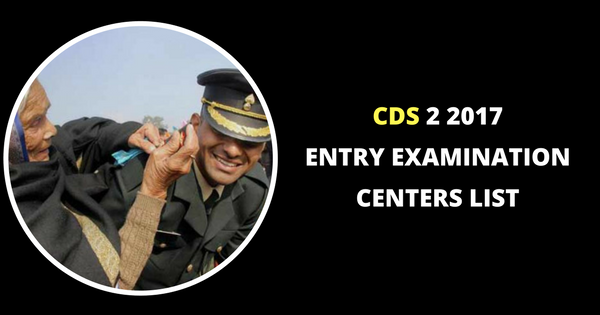 AGARTALA,
AHMEDABAD,
AIZAWL,
ALLAHABAD,
BENGALURU,
BAREILLY,
BHOPAL,
CHANDIGARH,
CHENNAI,
CUTTACK,
DEHRADUN,
DELHI,
DHARWAD,
DISPUR,
GANGTOK,
HYDERABAD,
IMPHAL,
ITANAGAR,
JAIPUR,
JAMMU,
JORHAT,
KOCHI,
KOHIMA,
KOLKATA,
LUCKNOW,
MADURAI,
MUMBAI,
NAGPUR,
PANAJI (GOA),
PATNA,
PORT BLAIR,
RAIPUR,
RANCHI,
SAMBALPUR,
SHILLONG,
SHIMLA,
SRINAGAR,
THIRUVANANTHAPURAM,
TIRUPATI,
UDAIPUR,
VISAKHAPATNAM.
NB : "Notwithstanding the aforesaid provision, Commission reserve the right to change the Centres at their discretion if the situation demands."
Candidates admitted to the examination will be informed of the time table and place or places of examination. Candidates should note that no request for change of centre will be granted.
NOTE : While filling in his/her online Application form, the candidates should carefully decide about his/her choice for the centre for the examination. If any candidate appears at a Centre/Paper other than the one indicated by the
Commission in his/her Admission Certificate, the papers of such a candidate will not be valued and his/her candidature will be liable to cancellation