EKT 2017 Mock Test 7
EKT Engineering Knowledge Test is conducted along with AFCAT (Air Force Common Admission Test) for the entrance in technical branch of IAF as an officer. This paper starts immediately after the written AFCAT exam of 2 hours. It contains questions dealing with basic concepts of your discipline of engineering.
Through EKT a Btech/BE pass out or final year appearing student from Electrical, Computer Science, Information Technology and Mechanical branch can apply for Technical branch – Permanent Commission (Men) / Short Service Commission (Men / Women).
EKT 2017 Mock Test 7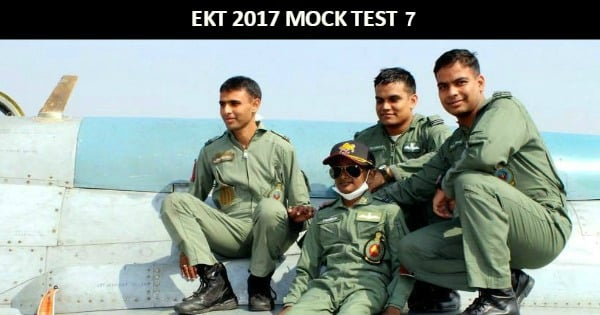 EKT 2 2017 Mock Tests Series will be conducted weekly, Test Number 7 will be conducted on Sunday 16th July 2017. Enrolled candidates can also attempt the previous mock tests even though they crossed the scheduled dates.
SSBCrack Exam EKT courses:
SSBcrack Exams has made EKT coaching easily getable by bringing it at your PC or Mobile. If you are planning to attempt EKT in future and seeking help with its preparation SSBcrack Exam is your answer for best EKT coaching.SSbcrack Exams, Best EKT Coaching offers:
EKT full Online Practice Tests
EKT based National Level Mock Tests
Reports and Analysis on performance
EKT full Online Course with study material, imported questions for upcoming EKT paper along with monthly GK and Current Affairs updates.
To enroll in SSBcrack Exams, first a student has to register. There are two ways a student can register:
Student can register through our website by providing – Username, Email id and Password. To Register Click Here
Student can register with his Facebook id and password. To Register Click Here