If we are ranking the Indian Air force globally, it will be ranked fourth among various Air Forces in the world. Being having Air in its name itself, this force is not only responsible for securing Indian airspace and for conducting aerial warfare during the armed conflict but also contributes to the nation's development in many ways.
Since its establishment on 8 October 1932, it has seen many significant or small changes and being now among the top 4 largest Air Forces in the world; they need to maintain their standard. It is currently working in a vast domain with having seven commands currently working headed by Indian Air force commanding in chief of the rank Air Marshal. Those seven commands are as follows:
HQ Central Air Command, Allahabad
HQ Eastern Air Command, Shillong
HQ Western Air Command, New Delhi
HQ Southern Air Command, Thiruvananthapuram
HQ South-Western Air Command, Gandhi Nagar
HQ Maintenance Command, Nagpur and
HQ Training Command, Bangalore
India has currently 60 Air Force Bases Bases overall India which comes under the seven commands. This is also a straightforward way to predict any air force powers to check the quality and quantity of its bases. So below, we will be discussing some of the essential Air force bases.
Ambala Air Force Station: The Ambala Air Force Station is situated in the north of the urban Ambala Cantt area in Haryana, India. It is the home to the first batch of advance multirole fighter jet Dassault Rafales in India. This is considered to be one of the most strategically located bases of the IAF due to its closeness of the Indo-Pak border, which is around 220 km from there. In fact, the strike which held on 26 February 2019, the Mirage fighter that was used in that took off from this Air Force Station itself.
Hindon Air Force Station: It is the most significant and most extensive air base in Asia and 8th in the world which is operated under the Western Air Command. It is spread all over around an area measured 14 km rounded and 55 square kilometres. This base is the also the home of the C-17 Globemaster the backbone of Heavy Air Lift division of Indian Air Force.
Hasimara Air Force Station: This Base is located in Alipurduar district, West Bengal, India, which is considered to be strategically very important to India as it is nearest to the Indo-Bhutan border. It is also the closest Indian airbase to the Chumbi Valley – the tri-junction between the Indian state of Sikkim, Bhutan and the Tibet Autonomous Region. It also recently got the latest Dassault Rafale fighter jets which is also an outstanding achievement in itself for this base.
Sulur Air Force Station: It is an airbase of the Indian Air Force which is located in south at Sulur near Coimbatore, Tamil Nadu. It is the second-largest airbase after Hindon Air force Station. It is only base in India to have all Departments at one location Fighters, Carrier Planes, Carrier Helicopters, Attack Choppers, A Repair and Overhauling Depot, Air Force Hospital, Southern Command Sub Headquarters, ECHS. The base has a wide variety of operational aircraft like Antonov An-32, Mi-17 V5, HAL Tejas, and HAL Dhruv of Sarang display team.
Jodhpur Air Force Station: This Air Force Base is operated in collaboration with the Airports Authority of India (AAI), and they take some part of the base. In March 2017, The Government of Rajasthan signed a Memorandum of Understanding (MoU) with the Indian Air Force for the expansion of the civil enclave.
Maharajpur Air Force Station: It is located at 10 km north-east of Gwalior, Madhya Pradesh, India which also serves as the Gwalior Airport in collaboration with the AAI. It is the only airbase in India which have Mirage 2000 in it.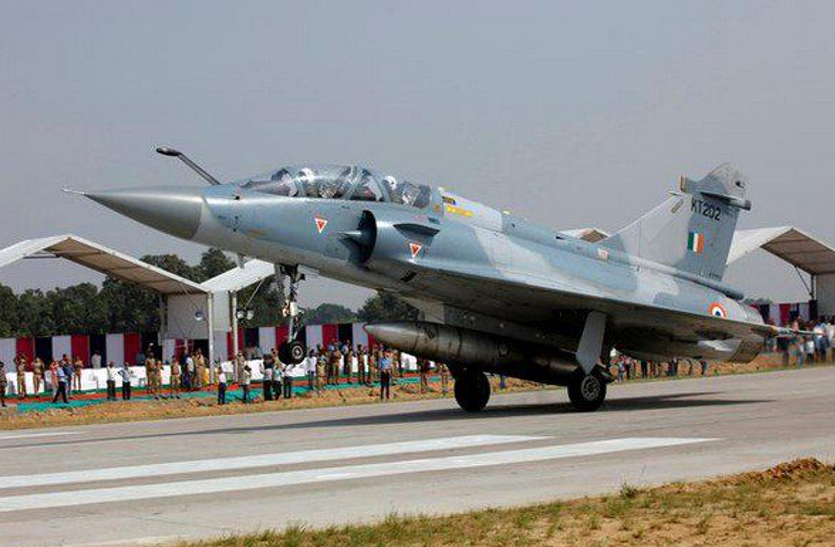 Sirsa Air Force Station: Sirsa Air Force Station or Sirsa AFS (ICAO airport code VISX) is a Forward Support Base Unit (FSBU) of Indian Air Force's (IAF) Western Air Command (WAC), located at Sirsa in the state of Haryana, India. It has No. 21 Squadron IAF of 45 Wing which is an active air force combat formation. No. 15 Squadron IAF operating Su-30MKI is also based here.