A Glorious era of INS Viraat being the flag ship of the Indian Navy came to an end. INS Viraat, the second Centaur-Class aircraft carrier in service which has spent 30 years in the Indian Navy and 27 years in the Royal Navy, was decommissioned in a solemn yet grand ceremony at Naval Dockyard, Mumbai, making it a total of 57 years of operational service and she holds the Guinness Record for being the oldest serving warship. The iconic warship played a major role in Operation Jupiter, Operation Parakram and Operation Vijay after commissioned into Indian Navy. The Decommissioning of INS Viraat is indeed an emotional moment for India.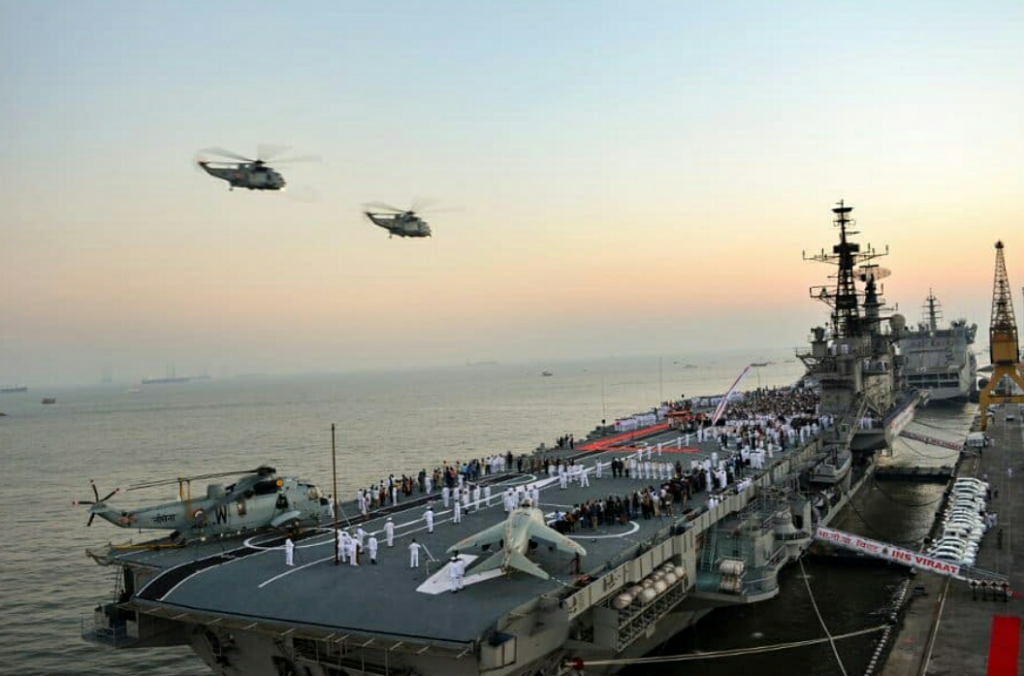 Under the Indian Flag, the ship has clocked more than 22,622 flying hours by various aircraft in the past three decades and has spent nearly 2252 days at sea sailing across 5,88,287 nautical miles (10,94,215 KM). This implies that Viraat has spent seven years at sea, circumnavigating the globe 27 times. Since her inception, she has had a total of 80,715 hours of boilers running.
INS Viraat was commissioned into Indian Navy on 12th May 1987 at Plymouth, United Kingdom by Dr. P. C. Alexander, High Commissioner of India to UK. The ship operated Sea Harrier (White Tigers- fighter aircrafts), Seaking 42B (Harpoons- Anti Submarine helicopters) & Seaking 42C (Commando Carrier helicopters) and Chetak (Angles- SAR helicopter) as her main air elements. The Sea Harrier fleet was also decommissioned at Goa in May 2016. Under the Indian Flag, various aircrafts have flown more than 22,034 hours from the decks of INS Viraat. She has spent nearly 2,250 days at sea sailing 5,88,288 NM (10,94,215 KM). This implies that Viraat has been at sea for over six years covering the entire globe about 27 times.
INS Viraat involved in her first major operation- 'Operation Jupiter' in July 1989 as a part of Indian Peace Keeping Operations in Sri Lanka in the wake of the breakdown of the Indo- Sri Lankan Accord of 1986.
On 27th July 1989, the ship mounted 76 helo sorties off Kochi to embark over 350 army personnel and over 35 tons of stores of 7 Garhwal Rifles. Over the next few weeks, Viraat and her task group remained deployed at a measured distance from the war zone, utilizing the time to train soldiers, which adequately demonstrated the ship's operational versatility.
She also played a pivotal role in Operation Parakram followed after the terrorist attack on Indian Parliament in 2013. The Ship also played a key role in Operation Vijay by creating blockade against Pakistan during Kargil War in 1999. The ship has also participated in various international joint exercises like Malabar (with US Navy), Varuna (with French Navy), Naseem-Al-Bahr (with Oman Navy) and has been an integral element of annual Theater Level Operational Exercise (TROPEX). The last operational deployment of the ship was the participation in International Fleet Review (IFR-2016) at Vishakhapatanam on February, 2016.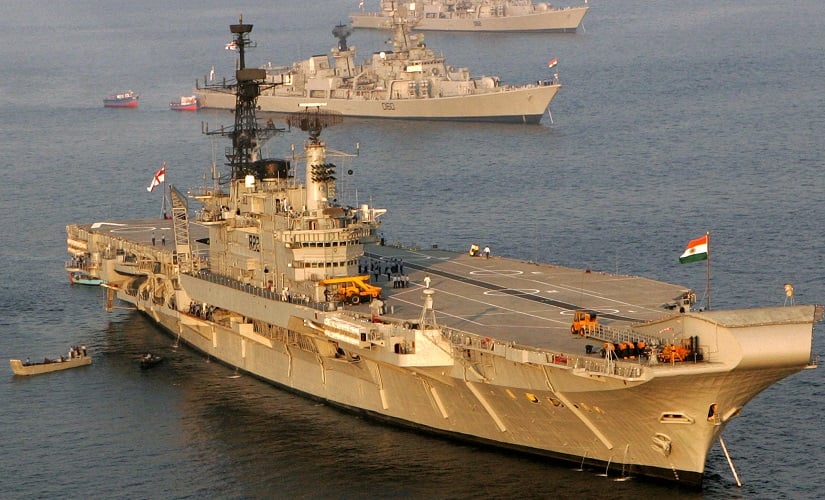 INS Viraat was originally commissioned by the British Royal Navy as HMS Hermes on 18th November 1959.
Between 1959 and 1970 Hermes served as one of the Royal Navy's four Strike Carriers, mainly operating in the Indian Ocean.
In 1970, she switched to her second existence as a Commando Carrier or a Landing Platform Helicopter (LPH) and her third avatar, between 1976 and 1980 was of an Anti-Submarine Warfare (ASW) carrier with the option to revert to the LPH role at short notice.
In 1982, Hermes saw action in the Falklands under the command of Captain Middleton where she distinguished herself as the Flagship of the Royal Navy in the campaign to regain Falklands and South Georgia from Argentina. The 100-day war in hostile weather saw the Sea Harriers undertake 2376 sorties and shoot down 23 enemy aircraft with the loss of only one aircraft to enemy fire. The 108 continuous days at sea, without a single major defect, under difficult combat and sea conditions, were her finest hour.
The need for a second aircraft carrier for the Indian Navy was felt in the early 1980's to ensure force level stability since INS Vikrant was nearing the end of her service life.
On 24th April 1986 it was announced in Parliament that India would acquire HMS Hermes at a cost of £63 million. Hermes commenced a year long refit and refurbishment schedule in April 1986 before commissioning as INS Viraat. The motto of INS Viraat "Jalamev Yasya, Balamev Tasya" (One Who Controls the Sea is All Powerful) is truly reflective of the role that she is expected to discharge in furtherance of the nation's maritime goals.
The crest of INS Viraat depicts an eagle with five arrows. The eagle symbolizes air power and the five arrows held in the talon represent the ship's versatile weapon capability. The ship is affiliated to Garhwal Rifles and Scouts, an elite infantry regiment of the Indian Army, since their joint participation in Operation Jupiter.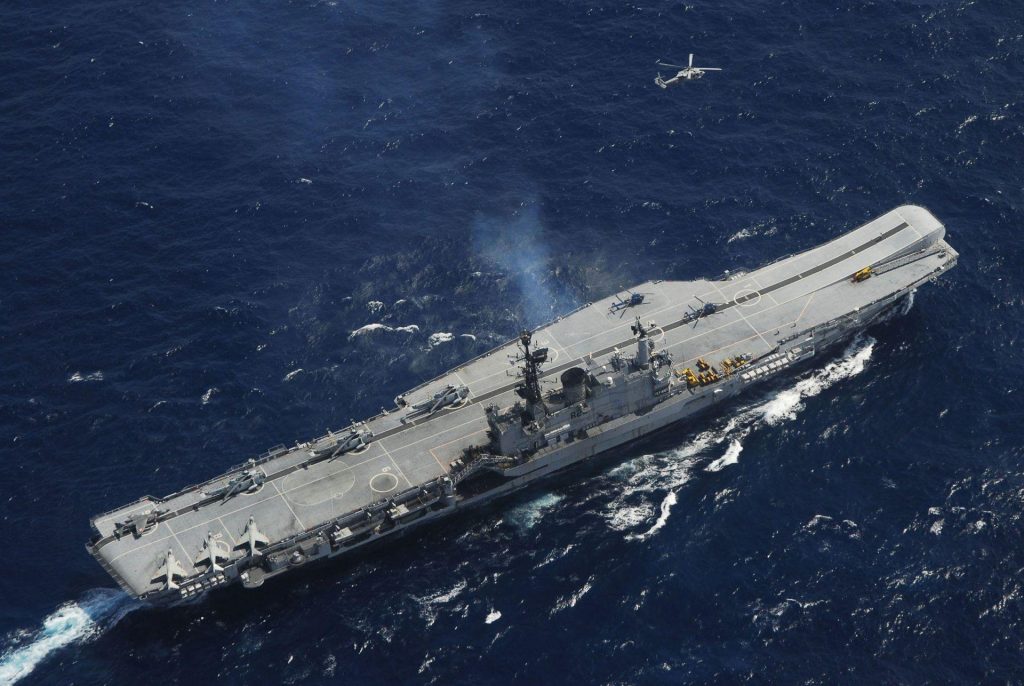 INS Viraat has a standard displacement of 23,900 tons and a full load displacement of 28,700 tons. The total length of the warship is 226.5 meters and the breadth is 48.78 meters. The ship is manned by 150 officers and 1500 sailors. With such a complement, the ship is like a mini-city complete with attendant logistics infrastructure libraries, gymnasiums, onboard ATM counter, a TV and video studio. A full-fledged hospital and dental centre function onboard to cater to any emergencies. Unlike other ships, the British-built warships areequipped for comfort and convenience for all onboard even in a non-combat mode. INS Viraat is the last ship built by the British serving the Indian Navy.
In 1975, Prince Charles who was then a newly qualified helicopter pilot joined 845 Naval Air Squadron on flying duties from HMS Hermes in Caribbean and Eastern Canadian Waters. INS Viraat has a room inside her named after Prince Charles, where the Prince himself resided at. A number of photographs showing the glorious history of the warship are proudly exhibited in a place namely 'Heritage Route' inside the ship. Unlike all other Indian Navy Ships, INS Viraat has a chapel and graveyard inside the ship, which is a reminiscence of her British military era. Even if the places for worship inside a ship are not common in Indian Navy ships, Navy protects the chapel in a fine way to honour the history.
Former Chief of Naval Staff of Indian Navy Admiral Sunil Lamba served as an Executive Officer of INS Viraat. Former heads of Indian Navy Admiral (Rtd) Madhavendra Singh, Admiral (Rtd) Arun Prakash, Admiral (Rtd) Nirmal Kumar Verma and Admiral (Rtd) Devendra Kumar Joshi also served as the Commanding Officer of INS Viraat, which confirms the dominant role of INS Viraat in the history of Indian Navy.
Captain Puneet Chadha was the Last and 22nd Commanding Officer of INS Viraat of the historic warship. Captain Chadha expressed his sadness over the decommissioning of the grand old ship but also revealed his pride over the esteemed history of INS Viraat. Naval staffs of INS Viraat also were in grief over the decommissioning of the warship. INS Viraat is commonly referred as the 'Grand Old Lady' among naval community.
INS Viraat is committed to helping less privileged sections of our society and contributes to the overall development. The ship regularly organizes blood donation camps, medical camps and visits onboard for school children. In addition, the ship has adopted three destitute children from different parts of the country and looks after their welfare. Naval personnel working in INS Viraat will contribute money for that. A Mumbai based charitable society will take care of these three children after the decommissioning of the ship.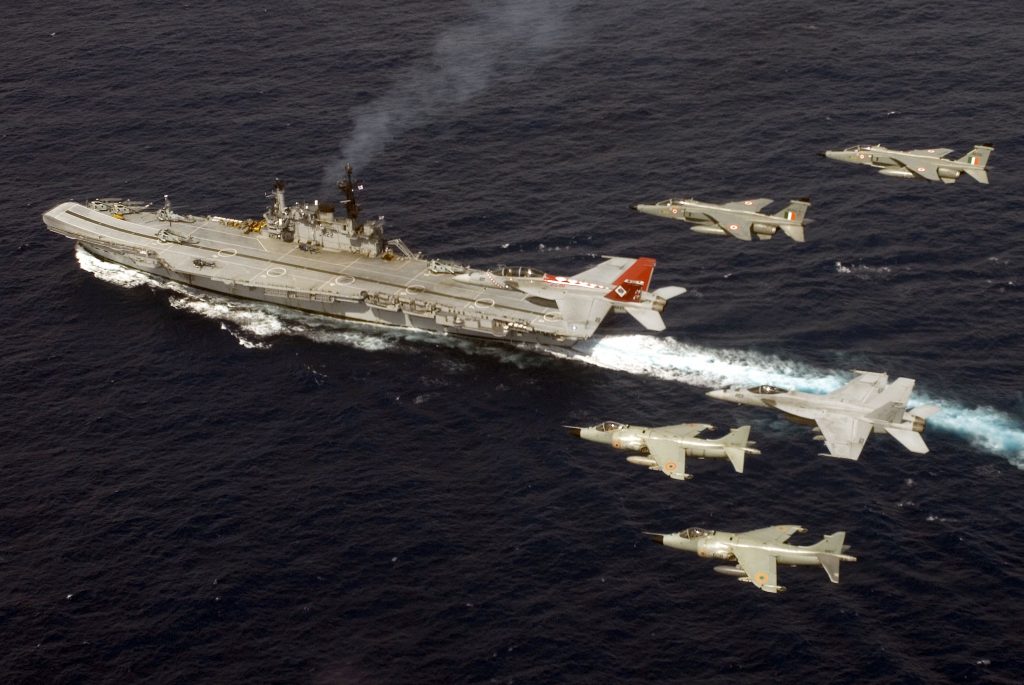 On 19th September 2020, The Iconic INS Viraat makes final journey to Alang ship breaking yard.
Finally INS Viraat, a glorious era in the history of the Indian Navy came to a nostalgic end. The legacy of Viraat will live on forever and will be carried forward by INS Vikramaditya, which is already integrated with the fleet, and INS Vikrant which will be inducted in the next few years.