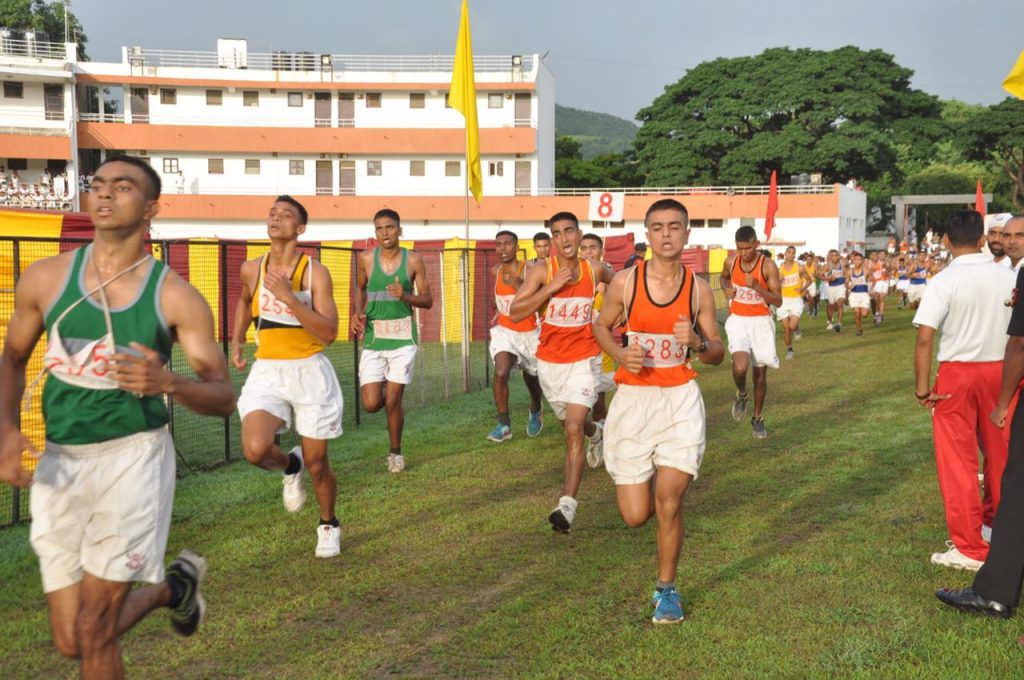 Academic training formed an integral part of the NDA curricula since its inception. Mr JTM Gibson, the first Principal, was instrumental in establishing and implementing academic training at the Inter-Services Wing in the true pioneering spirit, against daunting odds. The National War Academy Syllabus and Establishment Committee (Jha Committee II) chaired by Dr Amarnath Jha, drew up a two-year course syllabus for the ISW in 1948, fixing the ratio of Academic subjects to Service subjects as 2:1. This syllabus was recognized as equivalent to Intermediate Science by a majority of Indian Universities.
The syllabus underwent modifications and amendments from time to time incorporating current trends and requirements. The syllabus in vogue in 1961 was comparable to that which was prevalent in Indian Universities. However, the coveted academic milestone was achieved through concerted efforts only in August 1973, when the NDA was finally degree linked and affiliated to the prestigious Jawaharlal Nehru University, New Delhi. The 46th course achieved the unique distinction of being the first Graduate Course to pass out of NDA on 07 June 1974.
The teaching of computer fundamentals to cadets was introduced as early as 1987. As early as the 1980s, the growing impact of computers on Armament and Warfare could be visualized in the shape of things to come. The ground realities of the Gulf War only served to underscore the inevitability, indispensability and effectiveness of Information Technology with regard to war. Computer education at the Academy finally came of age when the first batch of twenty-five cadets of Ninety-Seventh course graduated with a B.Sc degree in Computer Science in Dec 1999.

Based on their academic profile and performance in the classification test, a cadet has the option of joining either the Science or the Humanities stream. The cadets at NDA undergo a three-year training programme at the end of which they are awarded a BA or BSc or BSc (Computer Science) degree by the JNU.
Meanwhile, the syllabus saw several revisions, significantly, one by the Mahajani Committee in 1969 and another by the Committee for the Review of the Training of Officers of the three Services (CORTOS) in 1986. The aim was to update the training of cadets so as to keep pace with the changing world. The present syllabus at NDA is the result of periodic reviews by two Committees, namely, the Inter-Services Study Group (ISSG) and the Academic Study Group (ASG) constituted by the Chiefs of Staff Committee on 2004, 2013 and 2017 so far.
After a hiatus of more than four decades, the enhancement of Academic threshold has taken a quantum leap forward with the introduction of B Tech programme wef Jun 16. NDA will impart education for the first three years of B Tech curriculum and the final year will be covered in INA (for naval cadets) and AFA/AFTC (for Air Force cadets). The programme has commenced as per the directions of the Chiefs of Staff Committee. This would ensure that NDA would now be able to train the future officer corps of the Indian Armed forces so as to be technically competent to exploit the modern battlefield technology in the most optimal manner.
NDA has commenced the B Tech degree programme in Applied Electronics & Communication as the fourth stream for Navy cadets wef Autumn Term 16 and for Air Force cadets wef Spring Term 17. The Institute of Engineering and Technology (IET), NDA under Education Branch conducts the B Tech degree in the stream of Applied Electronics and Communication (AEC) for Naval and Air Force cadets. Institute of Engineering and Technology (IET), NDA is recognized by the AICTE (ALL India Council for Technical Education) and is affiliated to Jawaharlal Nehru University, New Delhi.
The ISSG in 2017 reviewed the syllabi of BA / BSc / BSc (Computer Science) for Army cadets as a part of the enhancement of academic curriculum and qualification of NDA cadets. The new academic curricula constituted three categories – the Compulsory/Core subjects, Joint Service Training Programme, Service-Oriented subjects and Cross Stream subjects.
The Compulsory/Core subjects comprising English, Foreign Languages/Hindi, Physics, Chemistry, Mathematics, Computer Science, History, Political Science, Economics and Geography, Basic Engineering has been completely revamped. Cadets of the Science and Humanities streams study their respective compulsory subjects. Foundation Courses are covered under the Joint Services Training Programme during I to IV semesters and Army specific subjects as a part of Service-Oriented subjects are covered during V and VI semesters.
Cross Stream subjects include Physics, Chemistry and Mathematics for BA degree cadets and Geography, History, Political Science and Economics for BSc and BSc (Comp Science) degree. Computer Science (Appreciation) is also taught to cadets pursuing BA and BSc degree. As far as Foreign Languages were concerned, ISSG recommended that Arabic, Chinese, French and Russian be retained and that Foreign Languages be taught only to cadets who are proficient in both Hindi and English. Further based on the recommendations of ISSG, the foreign languages/Hindi is covered during I to III semesters in alignment with the B Tech degree syllabi to provide joint manship among cadets pursuing BA/BSc degree and B Tech degree.
The Education Branch is responsible for the conduct of all activities related to the academic training of cadets which constitutes 57% of the structured training curriculum till lunchtime. The Principal is the Head of the Education Branch. He is assisted by the Vice-Principal, Registrar and General Staff Officer Grade – I for planning, conduct and monitoring of all aspects pertaining to the degree courses. Further, the Education Branch is organized into five faculties – Faculty of Sciences, Faculty of Computational Sciences, Faculty of Technology, Faculty of Social Sciences and Faculty of Languages. The faculties are led by Heads of Faculty assisted by a team of Professors, Associate Professor and Assistant Professors.
Academic excellence is a prerequisite for continued trainability. Academic instruction at the NDA is imparted by qualified and highly motivated Civilian and Service Instructors. The curriculum is well rounded but demanding. It is supported by up-to-date libraries and laboratories. The aim is to achieve excellence in academic pursuits without compromising on outdoor activities.
The 21st century is a knowledge century; NDA Education Branch has always promoted technology-oriented, innovative learning processes, to hone the skills of cadets, develop their spirit of enquiry, logical reasoning and lateral thinking. The objective is to sharpen their analytical abilities and make them capable of making well-informed decisions. This takes into consideration the need to develop their personalities as 'Soldier-Scholars', emerging as confident leaders not only contributing to National Security but also to the overall development of our Nation.
Recent innovation includes the renovation of Vyas Library, construction of new academic block (Raman Block) for the conduct of B Tech degree, modernization of practical laboratories, access of e-learning study materials for cadets using e-tabs, Smart Class Room concept built upon Interactive audio/video-based screens and access to e-resources through NKN (National Knowledge Network – as a part of Digital India) for effective teaching-learning.
Let's have a look at the National Defence Academy Khadakwasla Academic Syllabi
1. The National Defence Academy is recognized by the Jawaharlal Nehru University, New Delhi, for the award of B.A. / B.Sc. / B.Sc. (Computer Science) and B. Tech degree.
2. The syllabus taught at NDA is practically oriented and vocationally biased and block syllabi are appended below.
B.Sc. (Computer Science) Degree
• English
• Hindi/Foreign Languages
• Physics
• Mathematics
• Computer Science
• Basic Engineering
• Cross Stream Subjects History, Political Science, Geography
& Economics
• Foundation Courses Joint Services Training Programme
• Service-Oriented Subjects Army Training Team
B.Sc. Degree
• English
• Hindi/Foreign Languages
• Physics
• Mathematics
• Chemistry
• Computer Science (Appreciation)
• Basic Engineering
• Cross Stream Subjects History, Political Science, Geography
& Economics
• Foundation Courses Joint Services Training Programme
• Service-Oriented Subjects Army Training Team
B A Degree
• English
• Hindi/Foreign Languages
• History
• Geography
• Political Science
• Economics
• Computer Science (Appreciation)
• Basic Engineering
• Cross Stream Subjects History, Political Science, Geography
& Economics
• Foundation Courses Joint Services Training Programme
• Service-Oriented Subjects Army Training Team
B Tech Degree
• Departmental Core
• Departmental Core Electives
• Engineering Arts & Sciences
• Basic Sciences
• Foreign Language /Hindi French, Russian, Arabic,
Chinese
• Humanities & Social Sciences Electives History, Political Science
Geography & Economics
• Hindi
To clear the written exam for NDA is a humongous task and the competition is fierce. Then what should you do to boost your performance in written exams? We all know that this is an excellent time to try new things that technology has brought at your steps such as Online Courses.
Taking NDA Written Online courses will not only give you access to full-length quality lectures but will also provide the facility to take standardized mock tests for comparative study and growth. You can take multiple quizzes after each lesson in order to ensure the full understanding of the subject along with creating your own customized lesson plans. You can check out the course content along with other important specifics at SSBCrackExams. You can also access them through the SSBCrackExams app available in the google play store.
Jai Hind