Hi, I'm Akhilesh Goswami, a proud alumnus of Sainik School Ghorakhal. Originally from Haldwani, a small city nestled in the immediate foothills of the Kumaon Himalayas in Uttarakhand, I have a passion for sports. I am a National-level rifle shooter, a skilled golfer, and proficient in chess, volleyball, and squash. In 2019, I had the opportunity to participate in a youth exchange program in Kazakhstan and have attended the Republic Day camp twice.
This was my third attempt at the SSB and my second recommendation for the armed forces. Thanks to the training and upbringing I received at Sainik School, I only ever envisioned the prestigious National Defence Academy as my career option upon completing my intermediate education.
My first recommendation came from 17 SSB Bangalore for the NDA-145 Course on December 18, 2020. I vividly remember calling my father right after the conference, and his emotional reaction was the moment every defense aspirant craves for. My service was in the army, and I secured the 121st rank in the merit position with a total score of 850 out of 1800, with 410 marks in the written and 440 in the SSB. Unfortunately, I was declared medically unfit in that attempt, which shattered my dreams of joining the NDA that I had cherished since my Sainik school days.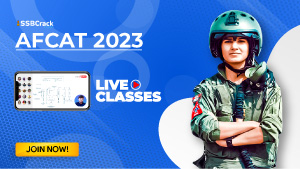 In my subsequent attempt for the NDA, which was just three months after my first recommendation, I was conferenced out from 22 SSB Bhopal due to my overconfidence, which got the better of me. After this setback, I enrolled in Delhi College of Arts and Commerce, University of Delhi, and had the opportunity to experience college life. While I enjoyed it, I still missed the parade ground, where I had always envisioned myself sweating profusely.
However, I knew that things don't always go according to plan, so I prepared for a Plan B. I started studying for AFCAT and passed it in my fifth semester. I received my second recommendation from 01 AFSB Dehradun, and while my family and friends weren't surprised, I always worried about getting medically unfit again.
Most aspiring defence personnel tend to fear receiving S/O, C/O, or M/O status, but the SSB never intimidated me. For me, the biggest obstacle was clearing my medical examination. It's been an incredible journey from being medically unfit for the Indian Army while applying to the National Defence Academy, to finally being deemed medically fit for the Indian Air Force. I would like to express my gratitude to SSBCrack for their invaluable guidance and motivation. Without their support, none of this would have been possible.