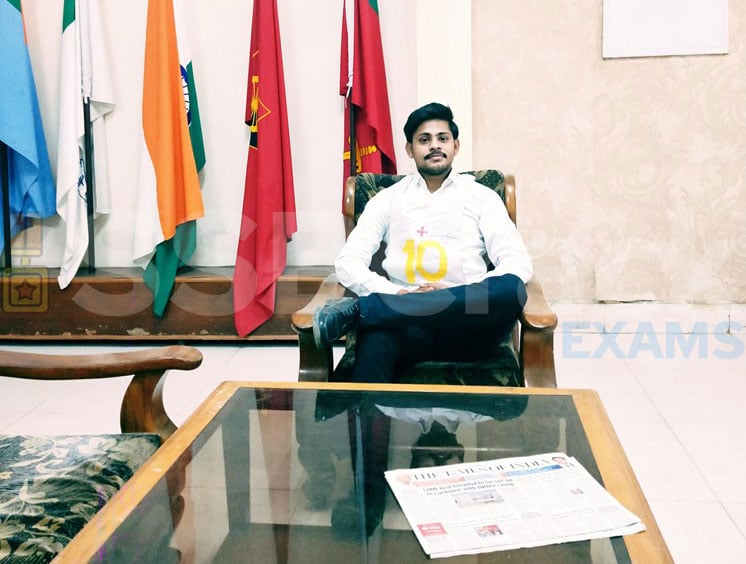 बादलों ने संग मेरे न जाने कितनी साज़िश की!
जहाँ मेरा था घर वहीँ बारिश की!!
अगर फलक को ज़िद्द है बिजलियाँ गिराने की!
तो हमें भी ज़िद्द है वहीं आशियाना बनाने की!!
How much mysterious eve it was! I always like watching rain. Just sat down on sofa in hall of candidates line 19SSB. Looking out the door the raindrops blur the lights into blobs of red and blue flashing and then allowing the frame to grow dark again. I lost myself in mesmerizing sounds of raindrops as it was like God's own poetry and each drop was its single letter. I was starting out and that hypnosis of rain was pushing me to go deep and deep into the ocean of thoughts.
Now I was in another world, the world comprising infinite questions which waited many years, and now again were eagerly waiting the following day(Day of the conference of 9th attempt) to get answered.
Will the dream to join NDA get to fulfill in this last attempt?
Will this 9th SSB attempt will be last?
Will turning against the decisions of everyone like to prepare for NDA, leaving the job of Airforce X group, Navy AA/SSR be right and my stubbornness for NDA be turned into foolishness?
Will I be able to prove people wrong who denied me to prepare for NDA as it's for the only son of officers and RIMC, Sainik School boys?
Will my faith in Hard work, consistency, perseverance, etc get scattered?
Will I be able to answer people who used to say Ki, Ek Baar TUKKE se SSB nikl gayi hogi, after getting conference out 2 times being previously recommended?
Many more…..
Kha khoya h? A friend came gave a pat on the shoulder it felt like a house of cards scattered by taking the single card out. Took a deep breath answered me "Jo hoga dekha jaega " went in with friend.
HELLO Friends I'm SHASHWAT DWIVEDI from Unnao (UP). And I have got recommended twice for NDA 144Course(6th attempt) and NDA146Course(9th attempt). It has been a single dream of mine since childhood to do Little different and giving best in every field has been single principle of my life. I always knew that Leadership is the place for me.Once after a performance on 15th August that was poetry and speech performance, Next day my Math's teacher came to me in class and I don't know why he said 'SHASHWAT 'tum NDA me jana '.That was the first day NDA hit my mind. I didn't have that much knowledge about NDA at that time so i asked Sir 'What is NDA'.This is how this magnificent journeys begins.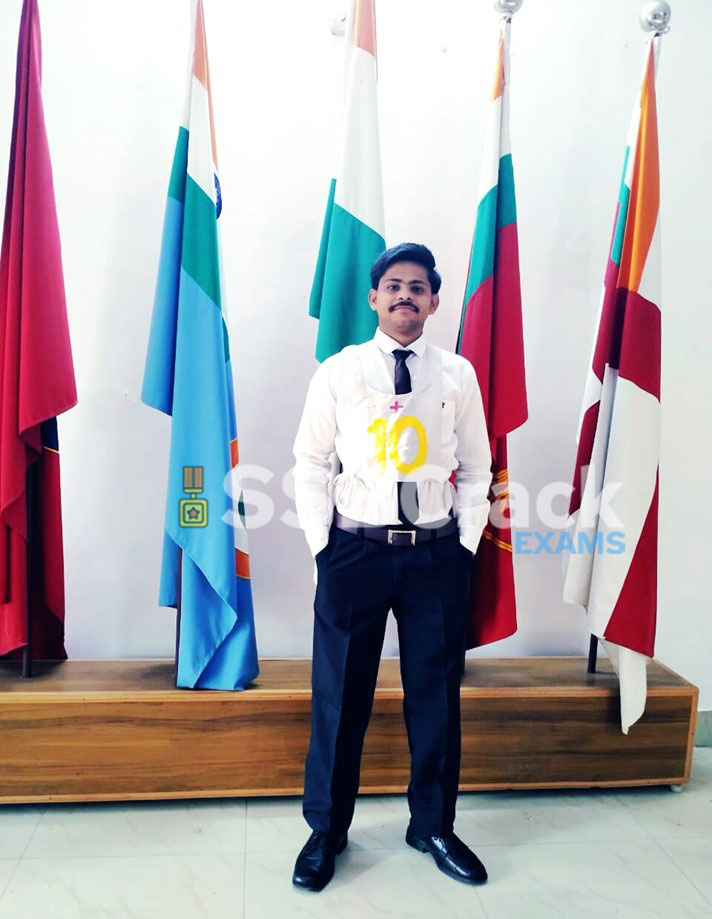 After giving 12 th exams, I had discussion with many people reagarding NDA, the conclusion was most of them told it's place for son of officers ,Sainik School Boys, RIMC boys etc and background is the key to get it,May be u will clear written but ssb will not recommend you. The friends who decided to prepare with me for NDA they were also affected by these minds and they all denied to go with me.I remember that one of my friend's father said 'Beta tumhe carrier Apna barbaad krna ho to kro but main apne bete ko ni krne dunga '. I have been stubborn Since childhood and it worked here positively, I took it as a challenge and decided to prepare for NDA. Yes early I had friends to go with me to LUCKNOW for preparation but now I was alone to go.I thought that time that"YEAH YUDH MERA HAI JO MUJHE KHUD LADNA HAI " and was Ready to invest everything for NDA, went to LUCKNOW joined a Academy for preparation, took a room on rent and used to cook food myself. Used to have exhausting shedule as i took classes of both written and Ssb along with preparing breakfast ,lunch, dinner etc.I knew it that time that "IT'S GOING TO BE HARD, BUT HARD DOES'NT MEAN IMPOSSIBLE".Meanwhile, i got call letter for my first TES SSB i pushed my preparations and now was at Allahabad Railway Station along with my uncle, there was a huge Crowd of candidates in the formals spread near MCO,more than 300 candidates reported in 19 ssb Allahabad , i was good in narration and was able to write a good story and had sufficient participation in GD, which resulted as screen in.Only 25 along with me got screen in.I met my uncle on gate his eyes were explaining all the happiness and all in family thought "BETA AFSAR BAN GAYA AB TO".I was also too happy after getting screen in but real battle was awaited.I performed pathetically despite the fact I prepared and the performance was not as i expected and the result was not surprising i got conference out.I remember that was the day of janmashtami and everyone was eagerly waiting for my results.That was the first time ("as many more such moments were waiting for me). I talked to mother and said "'NAHI HUA" Dreams during those five days which they all saw got scattered by my this statement. I knew my mistakes so decided to learn from them and move on and i would say "LET YOUR PAST MAKE YOU BETTER NOT BITTER".I returned home as only 9 days left for my NDA written so by forgetting it all i started preparation for that it went well and also I cleared it. Now I had again TES SSB before my NDA SSB ,keeping mistakes in mind i kept on preparing for that I devoted my all time to GK practiced,tests of psychology,rehearsed my interview in mind etc and went to BANGLORE.
Again i was standing in mid of crowd of more than 250 candidates this time I was nervous seeing such tough competition and believe me if you are nervous you have already lost it as "EVERY BATTLE IS WON BEFORE IT IS FOUGHT".My nervousness hampered my performance and I got screened out and it hurt. Again i called home and said "NAHI HUA".But my NDA SSB was just one month away so I started making plans for my next attempt as one should"FORGET THE MISTAKE AND REMEMBER THE LESSON".Coming to home continuing same preparation, I was ready for my NDA SSB at 18 SSB Allahabad, On the day of screening as after getting screen out I was concerned about screening too, as my performance was good in stage 1, now it was the time for results till 35 chest no were called as only 57 candidates reported now my heartbeat was too fast and eyes were closed but Just after two chests no my chest no was called. This time my performance in GTO And Psych was good as I expected but the interview was taken by the president of 18 SSB didn't go well and I knew just after giving the interview that I'm not going to get recommended. Now I was not interested in results and as expected got conference out again. I called mother and said again"NAHI HUA".But that day my determination became more strong and I made a promise that I will not give up my dream until i will be completely satisfied with my performance. Returned home now the people used to tell me about role of background and all used to ask me knowingly that what happened in SSB and some used to say that never dream for the things which are out of your limits. I used to smile and politely told them my results as "THE BEST REVENGE TO LIVE ON AND PROVE YOURSELF".Now next NDA written was waiting for me and I came back introspected whole performance during SSB penned down everything and started preparing for writing.
Prepared well for written worked hard as much as i could ,but silly mistakes during examination in the desire of attempting more questions also i didn't get benefit of doubt and all the questions i attempted in which i had doubt went wrong and as result i couldn't clear written and failed by few marks.I was completely broken on day of results and was thinking "God! Why are you getting this much rude with me?.Next NDA attempt for NDA 144 was more than 6 months away, meanwhile I appeared in Airforce X group Exam, Navy AA/SSR exam and i cleared both,Cleared physical, got medically fit too. Now I had joining letter of Airforce X group and date was in JAN 2020.Parents ,Family were too happy,and now everyone got to know in my locality and village that i have got joining letter for AF as it's big deal here. Seeing parents and everyone's happiness i couldn't dare to say what i was thinking to do and kind of war going on in my mind.
I received call for TES SSB In Bhopal before joining .Leaving everything i started preparation for SSB i rectified all my mistakes, read numerous magazines to improve knowledge as i thought i was lagging here, had multiple mock interviews with one of my friend and i worked hard in every possible aspects i could As" WE SHOULD PUSH OUR BOUNDARIES THAT IS WHAT THEY ARE THERE FOR ".As i was taking it as my last SSB performance. I remember father, family ,friends used to ask me why are you still studying just enjoy the days before joining ATS. I was neutral and i kept on preparing. This was the first time i went with my father to SSB whole journey had deep thoughts of SSB. This time I was completely satisfied with my performance and was expecting positive result but I got screened out .I was shocked and the heart was too heavy ,I was feeling pathetic as i gave 110 percent worked day and night then also the result was same, just after declaration of result i had deep desire to ask mam why i have been made out but you know it was not possible I kept on standing on the same place for long ,first time had wet eyes during the process .I still remember face of father waiting for me on gate i couldn't face him only said "ISS BAAR BHI NAHI HUA"It was 4th consistent failure. I thought that the dream to become officer has been scattered. Whole journey i had deep mental conflicts was asking questions to myself and giving answers to myself.I came back sat and planned to focus on AF and NDA attempt.I again started preparation and used to encounter with the same questions why i was still studying ?I planned to clear AF again and convince everyone that i will join in next intake and within these 6 months i will get opportunity to appear in SSB, thinking it all i kept on preparing worked hard and was able to clear AF x group again, also did well in NDA written, but As it is said that "LIFE ALWAYS HAS NEW SURPRISES FOR YOU".
I met with an injury which resulted in getting physically unfit as I couldn't complete running . I still remember that journey from ASC to home in which i thought nothing except to join or to leave and i was not able to stop thinking about NDA. I reached to the decision of leaving AF and following my dream NDA which I was initially only supported by Teacher who taught me ssb earlier as" IF YOU CAN'T STOP THINKING ABOUT IT THEN DON'T STOP WORKING ON IT".In the evening time i told this to mother she was shocked listening it no-one was agree with me and i was convinced in multiple ways to join AF by many people.My father was determined to send me there by hook or crook, I did every possible thing to convince him but failed every time.He along with other relatives and Friends considered it as a foolish decison but I was rigid with my decision i knew I was hurting my family,but sometimes you have to be tough to take tough decisons,I remember one day my mother asked me what if you will not be able to clear SSB I said "AUTO BHI CHALA LUNGA KARUNGA PREPARE NDA K HI LIYE"My father kept pushing me towards that till the joining date passed but I feel he was right in his position as he wanted me to get settled but then I was mad and there was an add of MS DHONI in which he says "jab railways ki naukri chori thi dar to bahot laga tha" and I thought "yaar dar to lag rha hai par jo hoga dekhenge" and with the living legend saying to take risks I took a decision whose consequences were to be faced by me alone.Meanwhile got NDA result and i cleared written exam. Now before my NDA SSB i had SSB of TES in Banglore ,just after 10 days of date of joining Airforce ,along with such mess i kept on preparing for the SSB this time, I had extra responsibility on my shoulders, as i left AF, I went there had deep pressure of performance and it resulted in Screen Out. I was thinking how to tell "KI EK BAAR AUR NAHI HUA".As this time everyone was thinking i would make it definitely. This time I sent a text only to my mother, i was too disappointed, received a Call of Uncle, I remember him lines he said ….
वह पथ क्या, पथिक-कुशलता क्या, जिस पथ में बिखरे शूल न हों ।
नाविक की क्या धैर्य परीक्षा , जबतक धाराएँ प्रतिकूल न हों ।
I was little charged again, didn't get reservation in train and that journey from BANGLORE to home will always remain in mind as my whole mind had only a single thing that was SSB failures .That journey of general compartment was too pathetic and you can imagine what the worst can happen in the journey and was working as ghee in fire of disappointment. Now everyone was thinking i will never be able to clear SSB, I became a proudy guy as i left AF and people denied me for nda were finding themselves correct. I got my physical fitness test letter of Navy AA/SSR exam,and was scheduled on the same day of my NDA SSB, Again ,I had choice, I chose SSB, one thing which i introspected that due to the performance pressure i had not been able to get recommended so this time i decided to go to enjoy the testing, forgetting everything started preparation again,went SSB, got screened in, met a already recommended candidate he was son of colonel, you can imagine what would have hit my mind at that time but I scolded myself for what I was thinking and focussed on the approach with which i came performed well in all tasks. Now it was the conference day ,had only one Minute conference with general questions, the change in approach in this attempt than in earlier attempts was as I used to think about result but this time after finishing conference I was trying to figure out points which could make me conference out, and I found nothing severe.Sitting in hall waiting for results, each face was readable and was explaining conflicts of their heart and mind. I was praying with my heads down and there was complete silence and then the officer came with the results had some formal talks, and chest no 6 was called he told his roll no and all, my eyes were closed a voice came penetrating the silence and Was CHEST NO 11. I didn't stand up at that time my friend said "it's u dude "For a moment my journey till now flashed in front of my eyes, finally all the hardwork, the sleepless nights, struggles, downfalls and all the efforts paid off. I ran to the officer told my name and roll no loudly and got the chest number and I wore it on my chests, that feeling it was just so special I was wearing my hardwork and determination on my chest in form of +7 Apart from the fact that I had made it the best part was that I had improved as a person as "what you become in the process is more important than dreams". Now I could finally say that I have it in me, it was the best moment and best day of my life.
About this I can say that "the climb is tough but the view from the top is worth it". I called mother and uncle and finally said"ISS BAR HO GAYA".Their silence explained all the happiness, got documentation done. Head was light Now and was feeling that big load has been taken out,thought to talk everyone next day, Now medical started and the next day itself after recommendation I got temporary medical rejections I was feeling as"Is Happiness My Enemy".Told in home came back and went to Every doctor i could, took their opinions reported on time For Appeal Medical Board and was declared fit for 1 medical rejection ,and was referred to another hospital for another medical rejection and was told to visit after 15 days there, But meanwhile national lock down was declared,and I had to live with load of medical rejection.I kept on waiting for call more than 2 months finally Amb's were started and i reported to the hospital, where I was declared medically fit. I was too happy. Told family everyone was happy but it was only for few days as More challenges were waiting for me, I already started preparation for Nda145/146 combined examination it went well, and one day while sitting in home had frequent call flow of friends which made me realize that merit has been declared. I downloaded merit list seached my name with trembling hands and seeing my rank i told myself "ABHI AUR INTEHAAN BAKI HAI DOST"in few seconds dream of joining nda 144 course vanished As i got merit out. Again I was at the same place from where I started. I thought to take a break went to village to spend some time but the day i reached same evening received call letter for TES SSB at Kapurthala just after 20 days. I had smile on my face And thought this process doesn't give you time to be happy or sad decided to return next day to home,came back forgetting everything again started preparation for SSB as "WHAT DEFINES US IS HOW WELL WE RISE AFTER FALLING".Reached there with good preparation got screened in, had good performance in GTO and Psych, and also had average interview but the Results were again not in favor got conference out and the row of failures was continued.
As I Already got my result of NDA written and i cleared for both course 145 and 146.Came with thoughts to switch focus again to Nda 145 SSB as till now i had developed habit to move on. Again i started preparation for SSB which was scheduled just after 1.5 month, I joined some of my friends of LUCKNOW ,along with them started preparing ,I prepared to the peak but you know"Preparing too much also sometimes get dangerous "and the same happened with me now i was in the phase of overthinking, I knew that it will affect my performance in SSB but the time was limited inspite of trying too much coming out the phase but couldn't and same happened I got conference out again from 18 ssb Allahabad for NDA 145 I kept on sitting for long, that was a severe heart break for me and I was in the ocean of sadness and that journey to home became burden on me, every passing moment was asking infinite questions to me. Returning to the home, I had to encounter with Many things now people denying me were finding themselves correct as always, everyone was saying "AF YA NAVY JOIN KR LETE KITNA ACHA HOTA" , "EK BAAR SSB TUKKE SE NIKAL GAYI HOGI"and many things ,but I was same as always used to smile as "NOONE KNOWS YOU BETTER THAN YOU".Meanwhile two of my best friends had there SSB,and something good happened they both got recommended as we all prepared together i was too happy for them,they both respect me a lot and i wished every moment for them.I decided to keep distance from preparation and all so went to village after long and played many cricket tournaments etc and refreshed myself again.I was there only and received dates for my last attempt and 9th attempt i chose a date and returned home. Now i was ready for it, and started preparation obviously there was a pressure of last attempt and many more things but i had experience of my 8 attempts and i knew what i had to do but "GOD HAD TO TEST ME MORE"just before 20 days of my SSB I had severe lower back pain and on diagnosis found there was bone strain due to heavy physical workout as I played cricket too much earlier now doctor along with the medicines advised me to have complete bed rest of minimum 20 days I told him about interview his words were "YOU HAVE ONE SIDE YOUR LIFE MEANS YOUR HEALTH AND ANOTHER SIDE YOUR PASSION CHOICE IS YOURS"I was sitting in the cabin and was thinking what life really wants from me?I came back home took rest of single Day and chose my passion as "YOU MAY BE DISSAPPOINTED IF YOU FAIL,BUT YOU WILL BE DOOMED IF YOU DON'T TRY"now my dream, my decisions, my preparations, my stuborness to prove myself , my faith in Hard work and perseverance everything was at stake .
I along with the medication kept on preparing as the fire of passion was burning lighter than anything else. And as i already have entered into the war then why to fear about win or lose its better to fight.I prepared well and went with the single mindset that i have to enjoy the testing and focus on performance only, and the same I did, performance was as i expected was good in GTO and Psych and in the personal interview i had to use my all the experience I had of 8 attempts, it went wonderful and will say was one of the best interview i gave in all attempts. Now just before the day of conference in the evening i was sitting on sofa, and had multiple thoughts and staring at rain as it will give all the answers.Yes the best thing was i was completely satisfied with my performance and expecting better results.Next day was one of the most important days of my life.Was just thinking will my this last attempt be fruitful?
Will i be able to finish the journey from the same board i started (19 SSB ALLAHABAD)?
With it all dressed up, packed everything and was ready for conference of my last NDA attempt, everyone was called they were taking time in Everyone's conference, but when i was called there was minute time gap, i thought "SURE SHOT NOT RECOMMENDED HU LAGTA"had simple questions returned back and sat on chair,other's experiences of conference Hall were enough to let me think "YRR MERE SATH HI AISA KYU".Now was eagerly waiting for the results, Every coming footsteps towards hall were increasing our heart beats, also intensity of prayers used to increase. Now the time came officer came with results had some formal talks,and silence was as we could listen heart beats of each other,each face had their own stories and everyone wanted to listen their chest no. Again that silence was broken by officer by calling CHEST NO 20 Yes it was me! It was me!. again I had made it,I was like yess.. yes.. here it is the second time I made it and then just took a deep breath, I was on cloud nine , after going through so much finally I had done it. Called family and having tears of happiness in eyes said "RECOMMEND HO GAYA .They all were happy and was waiting my medicals to get done. Finally I got medically fit too and secured ALL INDIA RANK '161' in upsc NDA merit list. I remember the day father said TODAY YOU PROVED ME WRONG AND I'M PROUD OF IT"this hit my heart hard, and had tears of happiness. What I feel that "When life knocks you down and everyone thinks you are over then that's the time for you to get up ,bounce back and show everyone that what you are made of "
Now i can proudly say yes… yes…..yes….. I have it in me . I proved myself and no background and all matters for getting selected in NDA. I will always remain grateful of my teachers, parents, family members, friends etc who supported me throughout.
Now I would leave you with a note that have faith in your abilities and you and success will be yours definitely as "Champions believe in themselves even when no one does".and also
" Always Be Proud Of Your Struggles IN Your Life As They Bring You Closer To Greatness ".
And at last i would say "KI DAUDO BHI, UDO BHI, GIRO BHI BUT KABHI BHI RUKO NAHI"
Good luck and Best wishes.
JAI HIND.