What is meant by Hybrid Warfare?
It refers to using non-military tools to achieve dominance or damage, subvert or influence. These tools include information pollution, perception management and propaganda.
It targets individuals and institutions in politics, government, business, technology, media, and civil society.
Hybrid warfare was used in the 2006 Israel-Lebanon War by the Hezbollah group.
It was also used by Russia against Ukraine in the 2014 annexation of Crimea
The Chinese company Zhenhua Data Information Technology Co. Limited is monitoring over 10,000 Indian individuals and organisations in its global database of foreign targets.
This information can be used for strategic and intelligence services of China for hybrid warfare.
Zhenhua monitors the digital footprint of its targets using Artificial Intelligence tools across social media platforms, maintains an information library, which includes content not just from news sources, forums, but also from papers, patents, bidding documents, even positions of recruitment.
PM inaugurates various projects under 'Namami Gange' yojana and 'AMRUT' yojana in Bihar
Project inaugurated by PM include:
Sewerage treatment plants at Beur
Karam-Leechak in Patna city
Water-related projects in Siwan and Chhapra under the 'AMRUT' Yojana.
Water supply projects in Munger and Jamalpur River Front Development Scheme under Namami Gange in Muzaffarpur.
AMRUT Yojana
Atal Mission for Rejuvenation and Urban Transformation was launched in June 2015
Objective is to establish infrastructure that could ensure adequate robust sewage networks and water supply for urban transformation by implementing urban revival projects.
Namami Gange Project
Namami Gange Programme is an Integrated Conservation Mission, approved as a 'Flagship Programme' by the Union Government
Launched in June 2014
Aim: To accomplish the twin objectives of effective abatement of pollution and conservation and rejuvenation of National River Ganga.
The main pillars of the programme are:
Sewerage Treatment Infrastructure & Industrial Effluent Monitoring,
River-Front Development & River-Surface Cleaning
Bio-Diversity & Afforestation,
Public Awareness
India becomes member of UN's Commission on Status of Women
India has been elected as a member of the United Nation's Commission on Status of Women (UN-CSW), a body of the Economic and Social Council (ECOSOC).
India will remain a member of the prestigious body for four years from 2021 to 2025.
UN Commission on Status of Women
It is the principal global intergovernmental body.
It is exclusively dedicated to the promotion of women empowerment and gender equality.
It was established by on June 21, 1946.
Economic and Social Council
It is the principal body for coordination, policy review, policy dialogue and recommendations on economic, social and environmental issues, as well as implementation of internationally agreed development goals.
The UN Charter established ECOSOC in 1945 as one of the six main organs of the United Nations.
It has 54 Members, elected by the General Assembly for overlapping three-year terms.
India is the member of ECOSOC (From 1 January 2018 – 31 December 2020)
ADB: Indian economy to shrink by 9%
The prediction of Asian Development Bank says due to pandemic hit the Asian economy is going to shrink for the first time since the early 1960s.
It also stated that the period will continue until next year with a downfall in the level of growth as projected before the pandemic.
India's economy is expected to contract by 9 per cent this year — worse than the 4 per cent contraction it had forecast three months ago.
Also, it expects India to bounce back with 8 per cent growth next year
Asian Development Bank
ADB is a regional development bank
Establishment: 1966.
Headquarter: Manila, Philippines.
Aim: To promote social and economic development in Asia.
16th September: World Ozone Day
World Ozone Day is observed on 16th Sept. annually.
On this day in 1987 the Montreal Protocol was signed.
Since 1994, World Ozone Day is celebrated which was established by the UN General Assembly.
This day reminds people about the depletion of Ozone Layer and to find solutions to preserve it.
"Ozone for life" is the slogan for World Ozone Day 2020.
Current COVID19 Situation in India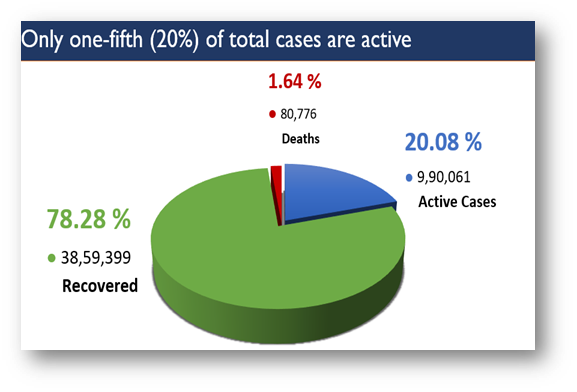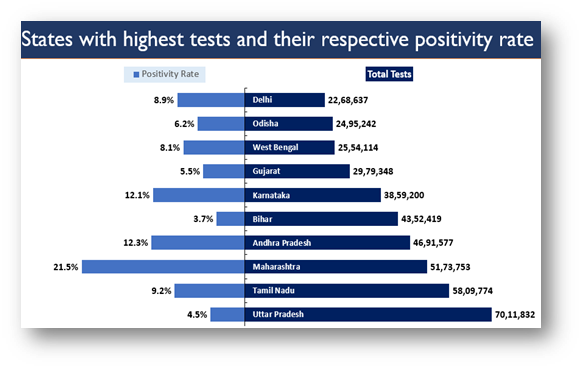 QUIZ TIME
When does Namami Gange Project was launched?
2014
2015
2016
2020
Answer – (A)
UN Commission on Status of Women established in:
1946
1947
1999
2000
Answer – A
Where is the headquarter of Asian Development Bank?
Beijing
New Delhi
Kathmandu
Manila
Answer – D
Question of the Day
What is PRASHAD Scheme?
Answer in next session…