What is CDS Exam
Its a written test conducted by UPSC two times every year. CDS written exam has three different tests namely English, General Knowledge and Mathematics. Under the topic of "what is cds exam" we are going to discus about required educational qualification and age limit along with instructions and preparation of CDS written examination.
What is TGC Entry
Every year Indian army invites application for TGC entry for the course commences at Indian Military Academy. TGC stands for Technical Graduate Course and it is notified by Additional Directorate General Recruiting / AG Branch in May/June and Nov/Dec.
Difference Between CDS Entry and TGC Entry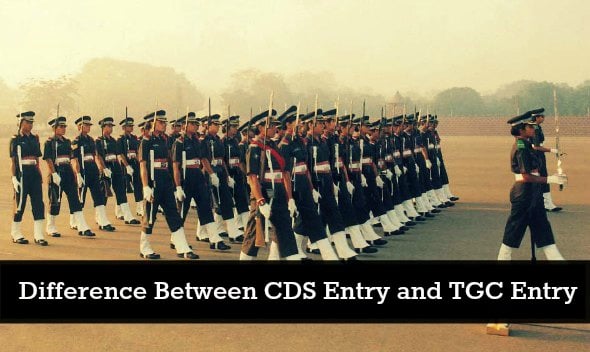 First of all TGC is technical entry while CDSE is non technical.
We start from the timing of entry forms and time of advertisement April for January course and Nov for July course. While CDSE it is may for July course and Nov/Dec for January course.
For TGC entry candidates don't have to face any written exam but they face % criteria for being shortlisted for SSB. Initially this cut off was low but these days cut off marks for TGC entry are going up to 65%. But in case of CDSE a written exam is there ,no % criteria is specified for degree but one must crack the written in order to appear before SSB.
No form fee is there for TGC entry. But CDSE is conducted by UPSC so there is a examination fee of rs.200/-.
Age for eligibility for TGC is 20 and 27 yrs as of first day of month in which course is due to commence. While for CDSE it is 19 and 24 yrs as of first day of month in which course is due to commence.
Number of vacancies for TGC is near 80 in total including all branches and for CDSE are 250.
SSB timings of TGC are Oct/Nov and April/May. While for CDSE it is July/Aug and Mar/April.
Training duration of TGC is 12 months while for CDSE entry it is 18 month.
After training Engineering Graduates will be granted permanent commission in the Rank of Lt with one year antedate seniority from the date of granting commission. This is to compensate for the extra time and energy spent to earn the Engineering Degree before training. With the antedate seniority, there are opportunities for faster promotions, in addition to pay benefits. But this seniority is not granted in CDSE entries.