Applicants of CDS 1 2017 entry are required to Download CDS 1 2017 Exam Admit Card, follow below given steps to download your admit card.
CDS ONLINE COACHING
How To Download CDS 1 2017 Exam Admit Card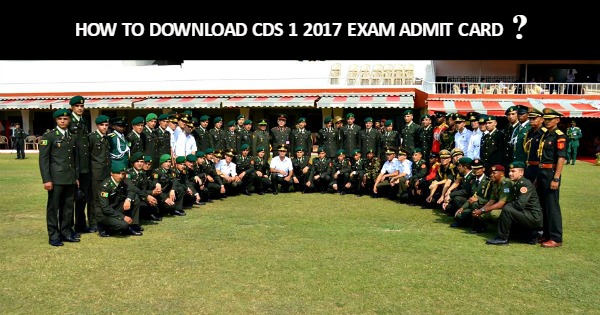 Step1: Visit upsc website, look for "whats new" section and click on e admit card for CDS 1 2017 exam

Step2: On the followup page look for "Combined Defence Services Examination(I), 2017" and click one assigned link

Step3: On the redirected page follow up the given technical instructions and click on the download link

Technical Instructions
1. Admit Card Application is best suitable on latest versions of Google Chrome and Mozilla Firefox Browsers.
2. Javascript should be enabled on your browser.
3. Do not use mobile or other gadgets for downloading e-ADMITCARD.Preferably use Windows OS on Desktop Machine.
4. If you are having problem in downloading e-Admitcard using suggested browsers then clear the cache and cookies of browser using browser setting. In case if you are still unable to download the e-Admitcard then please try to download the admitcard using other computer machine.
5. If the candidate is blocked by the server in case of repetitive downloading please contact UPSC ADMINISTRATOR immediately through e-mail: – web-upsc@nic.in to unblock the downloading.
Step4: On the follow up page Go through the important instructions and answer the given query "Have You Read & Taken the Print Out of 'Important Instructions" and click "yes".
Step 5: Download the admit card by submitting your registration id or rollnumber

Step 6: Fill up the asked details and download the admit card.