Applications are invited from Law graduates (married / unmarried male and unmarried Female candidates) for grant of Short Service Commission in the Indian Army 2018 JAG Entry – Judge Advocate General Department.
ONLINE APPLICATION WILL OPEN ON 25th JULY AT 1000 HRS AND WILL BE CLOSED ON 23rd AUG 2017 AT 1700 HRS
Vacancies
JAG Entry Recruitment Scheme 2017 2018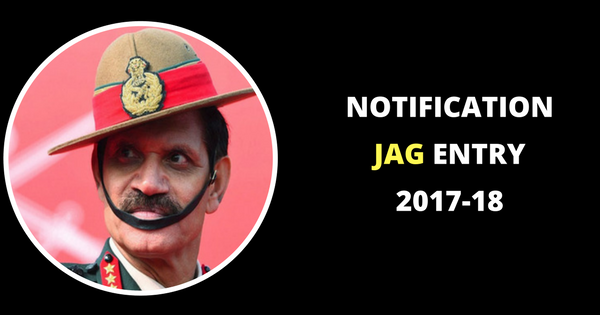 How To Apply for JAG 20
Visit joinindianarmy.nic.in
On the officers row, click on Apply/Login.
There you will find registration. Click on it.
Follow the instructions and fill up your basic details.
After entering your details, the website will show you the list of entries available for you.
Now submit the application after checking the entire application form again, save the application and take 2 printouts of the application for future use.
Selection Procedure of JAG Entry
The selection process to be followed is indicated below :-
(a) Initial shortlisting of applications will be done by Recruiting Directorate, Integrated HQ of MoD (Army) and the decision of DG Recruiting will be final. Details of the shortlisted online applications will be put on the website www.joinindianarmy.nic.in. In this regard no representation will be entertained.
(b) The shortlisted candidates whose applications are found to be correct shall be detailed for SSB interview at allotted Selection Centres on specified dates.
(c) Two stage selection procedure based on Psychological Aptitude Test is held at Selection Centres. All the candidates will face stage one test on first day of reporting at Selection Centres. The candidates who fail to pass stage one will be returned on the same day.
(d) Candidates who qualify stage I will be retained for stage -II test comprising of Group Tests, Psychological Tests and Interview which will extend for a duration of 4 days(excluding stg-I day).
(e) Candidates who qualify at the Service Selection Board and are found medically fit by a Medical Board, will be placed in the order of merit. The final selection will be made in that order up to the number of vacancies available at that time.
Training of JAG Entry
(a) Selected candidates will be detailed for training at Officers' Training Academy (OTA), Chennai according to their position in the final order of merit, up to the number of vacancies available at the time.
(b) Duration of training – 49 weeks (approximately 11 months) at OTA, Chennai. On successful completion of which candidates will be granted commission in the rank of Lt. No ante date seniority will be granted.
(c) Candidates will neither be allowed to marry during the period of training nor will He/ She be allowed to live with parents/Guardians. Candidates must not marry until they complete the full training at OTA, Chennai. A candidate, who married subsequent to the date of his/her application, though successful at the Services Selection Board interview or medical examination, will not be inducted for training. A candidate if he/she marries, while under training, shall be discharged and will be liable to refund all expenditure incurred on him/her by the government.
(d) Training at OTA, Chennai is at Govt. expense All candidates who successfully complete Pre-Commission training at OTA, Chennai will be awarded " Post Graduate Diploma in Defence Management and Strategic Studies" by University of Madras.
Pay and Allowances
All GCs/LCs will be given a stipend of Rs 21,000/- p.m. On completion of training they will be commissioned in the rank of Lt and entitled to pay as admissible to the rank. Army also provides free Medical Facilities for self & dependents, Canteen facilities, Entitled Ration, Mess/Club/Sports Facilities, Furnished Govt. Accommodation, Car/Housing Loan at subsidized rate.
Documents for JAG Entry Selection
Documents to be carried to the Selection Centre by the candidate duly self attested:-
(a) One copy of the Print out of application form duly signed and self attested photograph affixed.
(b) Copy of Matriculation or equivalent certificate for proof of age.
(c) Copy of 12th Class Certificate & Marksheet.
(d) Copy of Graduation Degree/Provisional Degree (in case of three years LLB after graduation).
(e) Copy of LLB Degree/Provisional Degree.
(f) Copy of Marks sheets of all years/Semesters.
(g) Copy of registration with Bar Council of India/State or Certificate from college/University that the LLB Course in the said institution is recognized by Bar Council of India.
(h) All above mentioned certificates are required in original. Originals will be returned after verification at the Service Selection Board itself. Any candidate who does not carry the above documents for the SSB interview, his candidature will be cancelled.
(i) The second copy of the printout of online application is to be retained by the candidate for his reference. There is no need to send any hard copy to Directorate General Recruiting.
(j) Variation, if any, in name and /or spelling as recorded in Matriculation or equivalent certificate and Graduation or equivalent certificate must be supported by an affidavit and Gazette notification authorising the change.