Territorial Army is providing a golden opportunity to the working professionals and retired officers of the armed forces to join the Territorial Army on a part-time basis. Major Nasreen Fatima, Squadron Leader(Retd.), the lady whose relentless hard work and passion have listed her name in the historical book of Indian Armed Forces! She is one of a kind and words fall short to praise her. Major Nasreen Fatima, Squadron Leader(Retd.) is the first lady from Indian Air Force, Short service commissioned officer who joined Territorial Army. The lady had an inbuilt passion and urge to join the Indian Army since childhood and the scintillating inspiration behind her was her familial background. Not only Major Fatima but her siblings as well are serving since decades in the officer cadre. The Officer did her schooling from Army Public school, Nehru Road, Lucknow and later pursued Master's in English Literature as well as Post Graduation in Business management.
She proved her mettle when she joined Indian Airforce in Education Branch. She worked in various Airforce establishments/units and her last posting was at National Defence Academy, Pune. The posting tenure and experiences enhanced her interest and dedication in the field of education and after completion of her short service tenure of 10 years, she started working for the welfare of young Indian minds. One of her endeavours was to join Centurion Defence Academy, a unit of Centurion Education Pvt Ltd, Lucknow as an Academic Head in order to contribute her efforts for the educational development of aspirants of Indian Armed Forces. She has proved as an unmatchable benefactor aiding as well in guiding the students for the Interview Prep Tips for SSB. Her philanthropic crusade is enabling many defence aspirants to outshine in the Indian Armed Forces.
No lady stands alone especially a daughter. The Officer was always supported and encouraged by her parents especially her mother who made Nasreen's dream her own dream enlivening, thriving and supporting the far fetched vision of her daughter till her last breath thus overpowering the joined efforts and perseverance made her prove her mettle to overcome hurdles with a smile lauding such immense success to her. It's time to venerate and gain some inspiration from the charming lady! Jai Hind
Territorial Army Exam 2020 Online Preparation Course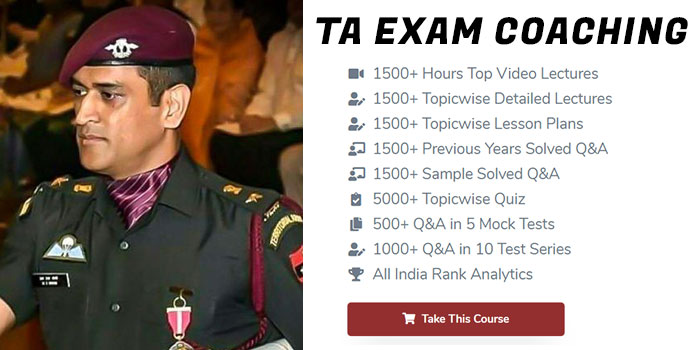 Who can apply for the Territorial Army Exams?
Nationality: Only citizens of India (male and female).
Age Limits: 18 to 42 years on the date of application.
Educational Qualifications: Graduate from any recognized university.
Physical Standards: A candidate must be physically and medically fit in all respects.
Employment: GainfullyEmployed/Business Owners.
If you are working in a govt officer or in an MNC, you can apply for the Territorial Army and earn the uniform along with your current job.
Training Duration of Territorial Army
One month basic training in the first year of commission.
Two months annual training camp every year including the first year.
Three months Post Commissioning training within first two years at IMA, Dehradun.
TERMS AND CONDITIONS OF TERRITORIAL ARMY SERVICE
Territorial Army is part-time concept with mandatory two months training in a year and does not provide full-time career.
Serving in Territorial Army do not guarantee pension and the same is subject to embodied service as per organisational requirement.
The commission is granted in the rank of Lieutenant.
Pay and Allowances and privileges will be same as for Regular Army Officers when embodied for training and military service.
Promotions up to Lt Col by time scale subject to fulfilling laid down criteria. Promotion to Colonel and Brigadier by selection.
Officers commissioned in Infantry TA may be called out for military service for longer duration depending on the requirement.
Territorial Army Exam 2020 Online Coaching – Enroll Now
Also Read: Meet Capt. Shilpy Gargmukh, First Lady Territorial Army Officer