BUDGET 2021 – 22 HIGHLIGHTS
Presenting the first ever digital Union Budget, Union Minister of Finance and Corporate Affairs Smt. Nirmala Sitharaman stated that India's fight against COVID-19 continues into 2021 and that this moment in history, when the political, economic, and strategic relations in the post-COVID world are changing, is the dawn of a new era – one in which India is well-poised to truly be the land of promise and hope.
6 pillars of the Union Budget 2021-22:
Health and Wellbeing:
Rs. 2,23,846 crores outlay in BE 2021-22 as against Rs. 94,452 crores in BE 2020-21 – an increase of 137%.
Rs. 35,000 crores for COVID-19 vaccine in BE 2021-22.
Rs. 64,180 crores outlay over 6 years for PM Atmanirbhar Swasth Bharat Yojana – a new centrally sponsored scheme to be launched, in addition to NHM.
Works to be done under PM Atmanirbhar Swasth Bharat Yojana:
National Institution for One Health
17,788 rural and 11,024 urban Health and Wellness Centers
4 regional National Institutes for Virology
15 Health Emergency Operation Centers and 2 mobile hospitals
Integrated public health labs in all districts and 3382 block public health units in 11 states.
Critical care hospital blocks in 602 districts and 12 central institutions
Strengthening of the National Centre for Disease Control (NCDC), its 5 regional branches and 20 metropolitan health surveillance units
Expansion of the Integrated Health Information Portal to all States/UTs to connect all public health labs.
17 new Public Health Units and strengthening of 33 existing Public Health Units
Regional Research Platform for WHO South-East Asia Region
9 Bio-Safety Level III laboratories
Mission Poshan 2.0 to be launched to strengthen nutritional content, delivery, outreach, and outcome
Rs. 2,87,000 crores over 5 years for Jal Jeevan Mission (Urban) – to be launched with an aim to provide 2.86 crore household tap connections.
Rs. 1,41,678 crores over 5 years for Urban Swachh Bharat Mission 2.0.
Rs. 2,217 crores to tackle air pollution, for 42 urban centers with a million-plus population.
2. Physical & Financial Capital, and Infrastructure:
Rs. 1.97 lakh crores in next 5 years for Production Linked Incentive scheme in 13 Sectors.
7 Mega Investment Textiles Parks (MITRA) scheme to be established over 3 years.
National Infrastructure Pipeline (NIP) expanded to 7,400 projects.
Rs. 20,000 crores to set up and capitalise a Development Financial Institution(DFI) – to act as a provider, enabler and catalyst for infrastructure financing.
Rs. 5.54 lakh crores capital expenditure in BE 2021-22 – sharp increase of 34.5% over Rs. 4.12 lakh crore allocated in BE 2020-21.
Rs. 1,18,101 lakh crores, highest ever outlay, for Ministry of Road Transport and Highways – of which Rs. 1,08,230 crores are for capital.
Under the Rs. 5.35 lakh crore Bharatmala Pariyojana, more than 13,000 km length of roads worth Rs. 3.3 lakh crore awarded for construction.
Rs. 1,10,055 crores for Railways of which Rs. 1,07,100 crores are for capital expenditure.
National Rail Plan for India: to create a 'future ready' Railway system by 2030.
Rs. 18,000 crores for a new scheme, to augment public bus transport.
Rs. 3,05,984 crores over 5 years for a revamped, reforms-based and result-linked new power distribution sector scheme.
A comprehensive National Hydrogen Energy Mission 2021-22 to be launched.
Extention of Ujjwala Scheme to cover 1 crore more beneficiaries.
A single Securities Markets Code to be evolved.
To increase the permissible FDI limit from 49% to 74% and allow foreign ownership and control with safeguards.
To decriminalize the Limited Liability Partnership Act, 2008
3. Inclusive Development for Aspirational India
Ensured MSP at minimum 1.5 times the cost of production across all commodities.
SWAMITVA Scheme to be extended to all States/UTs.
Rural Infrastructure Development Fund to be enhanced to Rs. 40,000 crores from Rs. 30,000 crores.
To double the Micro Irrigation Fund to Rs. 10,000 crores.
'Operation Green Scheme' to be extended to 22 perishable products.
5 major fishing harbours – Kochi, Chennai, Visakhapatnam, Paradip, and Petuaghat to be developed as hubs of economic activity.
Multipurpose Seaweed Park in Tamil Nadu to promote seaweed cultivation.
Rs. 15,700 crores budget allocation to MSME Sector.
4. Reinvigorating Human Capital
15,000 schools to be strengthened by implementing all NEP components. 100 new Sainik Schools to be set up in partnership with NGOs/private schools/states.
Legislation to be introduced to setup Higher Education Commission of India as an umbrella body with 4 separate vehicles for standard-setting, accreditation, regulation, and funding.
Central University in Leh.
750 Eklavya model residential schools in tribal areas.
Revamped Post Matric Scholarship Scheme for welfare of SCs.
Innovation and R&D
Rs. 50,000 crores outlay over 5 years for National Research Foundation.
PSLV-CS51 to be launched by New Space India Limited (NSIL) carrying Brazil's Amazonia Satellite and some Indian satellites.
Rs. 4,000 crores over five years for Deep Ocean Mission survey exploration and conservation of deep-sea biodiversity.
Minimum Government and Maximum Governance
National Commission for Allied Healthcare Professionals already introduced to ensure transparent and efficient regulation of the 56 allied healthcare professions
The National Nursing and Midwifery Commission Bill introduced.
Rs. 3,768 crores allocated for first digital census in the history of India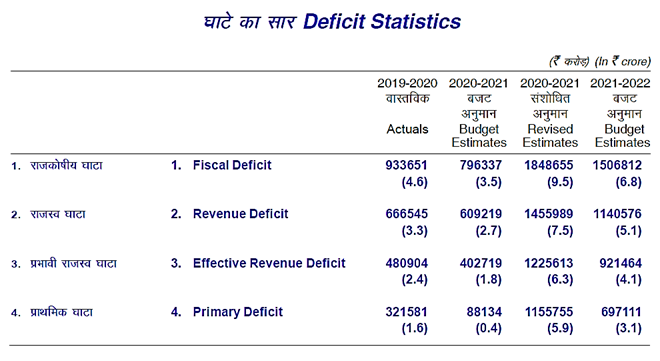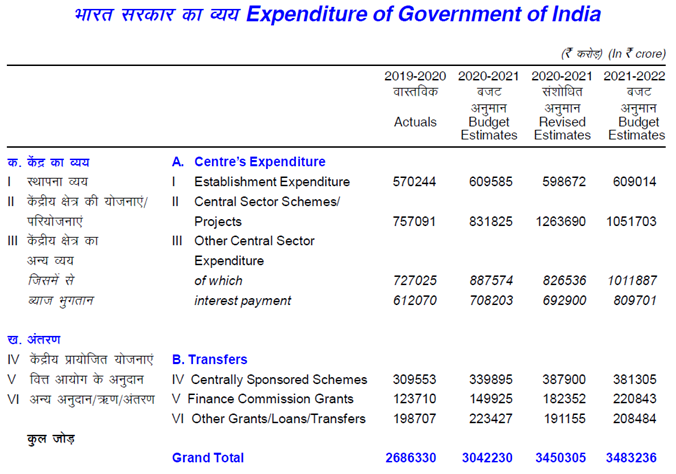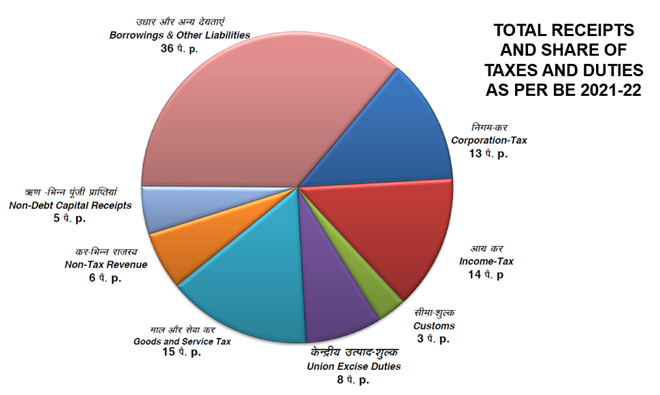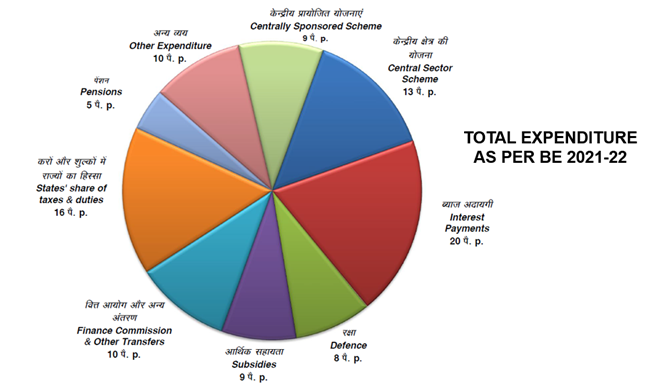 PM speaks to His Excellency Benjamin Netanyahu, Prime Minister of Israel
Prime Minister conveyed his strong condemnation of the terror attack near the Israeli Embassy in New Delhi on 29 January 2021. He assured Prime Minister Netanyahu that India accords the highest importance to the safety and security of Israeli diplomats and premises and would deploy all its resources to find and punish the perpetrators.
Last Date for Submission of Nomination for Nari Shakti Puraskar-2020 extended till 6th February 2021
'Nari Shakti Puraskar' are conferred every year on 'International Women's Day' i.e., 8th March, by the Ministry of Women and Child Development for recognizing exceptional work done by individuals etc. in the area of empowerment of women.
As per the Guidelines, any individual of at least 25 years of age and institutions having worked in the relevant field for at least 5 years are eligible to apply.
The Nari Shakti Puruskar is awarded to individuals/ groups/ NGOs/ institutions etc. for encouraging women to participate in decision making roles; women's skill development in traditional and non-traditional sectors; facilitating basic amenities for rural women; promoting women in non-traditional sectors like science and technology, sports, art, culture concretely and for the significant work towards safety and security, health and wellness, education, life skills, respect and dignity of women etc. The award carries a citation and a cash reward of Rs. 2 Lakh.
PM to inaugurate 'Chauri Chaura' Centenary Celebrations on 4th February 2021
The day marks 100 years of the 'Chauri Chaura' incident, a landmark event in the country's fight for independence.
PM will also release a postal stamp dedicated to the Chauri Chaura centenary during the event. Chief Minister of Uttar Pradesh will also be present on the occasion.
The centenary celebrations and various events planned by the State government will begin in all 75 districts of the State from 4th February 2021 and will continue till 4th February 2022.
What is the Chauri Chaura Incident?
The Chauri Chaura incident took place on February 4, 1922 at Chauri Chaura in the Gorakhpur district of British India. The Mahatma Gandhi-led Non-cooperation movement was underway then.
A large group of protesters participating in the Non-cooperation movement, clashed with police at Chauri Chaura who opened fire.
In retaliation the protestors attacked the police and set fire to the police station, killing all the policemen inside. At least 22 policemen and three civilians were killed in the incident.
Mahatma Gandhi, who was strictly against violence, called off the non-cooperation movement at the national level on February 12, 1922, after this tragic incident.
Ministry of AYUSH Research Collaborations with Foreign Countries
As of now, Ministry of AYUSH has signed 25 Country to Country MoUs for Cooperation in field of Traditional Medicine and Homoeopathy namely Nepal, Bangladesh, Hungary, Trinidad & Tobago, Malaysia, WHO Geneva, Mauritius, Mongolia, Turkmenistan, Myanmar, Germany (Joint declaration), Iran, Sao Tome & Príncipe, Equatorial Guinea, Cuba, Colombia, Japan (MoC), Bolivia, Gambia, Republic of Guinea, China, St. Vincent & The Grenadines, Suriname, Brazil and Zimbabwe.
23 MoUs for undertaking collaborative research in AYUSH systems of medicine have been signed with various foreign universities in countries namely Germany, United Kingdom, Canada, WHO Geneva, United States, Argentina, Israel, Brazil, Australia, Austria Tajikistan and Ecuador.
Ministry of AYUSH has signed 13 MoUs for setting up of AYUSH academic Chairs with foreign institutes/ universities in countries like Mauritius, Russia, Argentina, Malaysia, Bangladesh, Latvia, Trinidad & Tobago, etc.
Ministry of AYUSH is implementing Centrally Sponsored Scheme through State / UT Governments and providing financial assistance to them for development and promotion of AYUSH Systems as per the proposals received in their State Annual Action Plans (SAAPs).
Further, Public Health being State subject, creation of Health facilities comes under the purview of respective State / UT Government. However, under National AYUSH Mission (NAM), as per the proposal received from State / UT Governments, Ministry of AYUSH sanctioned setting up of 92 new upto 50 bedded integrated AYUSH Hospitals since inception of NAM till 2019-20.
During 2019-20, Ministry of AYUSH provided grant-in-aid of Rs. 494.91 Crore to States/ UTs for various components under NAM and States / UTs have reported an expenditure of Rs. 117.77 Crore.
On World Wetlands Day India gets its first Centre for Wetland Conservation and Management
On the occasion of the World Wetland Day and as a part of its commitment towards conservation, restoration and management of India's wetlands, the Minister of State for Environment, Forest and Climate Change, Sh. Babul Supriyo today announced the establishment of a Centre for Wetland Conservation and Management (CWCM), as a part of the National Centre for Sustainable Coastal Management(NCSCM), Chennai, an institution under the Ministry. The event was attended virtually by NCSCM, State Wetland Authorities and the knowledge partners of the Wetland Division.
Speaking at the launch the Minister of State for Environment highlighted the importance of wetlands in providing various ecosystem services. "The dedicated Centre which is launched today would address specific research needs and knowledge gaps and will aid in the application of integrated approaches for conservation, management and wise use of the wetlands." said Shri Supriyo.
India has nearly 4.6% of its land as wetlands, covering an area of 15.26 million hectares and has 42 sites designated as Wetlands of International Importance (Ramsar Sites), with a surface area of 1.08 million hectares. The year 2021 also commemorates the 50th anniversary of the signing of the Ramsar Convention on Wetlands on 2 February 1971 in Ramsar, Iran, celebrated annually as World Wetlands Day.
High Level Committee for Distribution and Administration of COVID-19 Vaccines
A National Expert Group on Vaccine Administration for COVID-19 (NEGVAC) has been establishe, which provides guidance on all aspects of COVID-19 vaccination including prioritization of population groups, procurement and inventory management, vaccine selection, vaccine delivery and tracking mechanism etc.
NEGVAC is chaired by Member (Health), NITI Aayog and co-chaired by Secretary (H&FW). NEGVAC has representation of Secretaries from Ministry of External Affairs, Department of Expenditure, Dept. of Biotechnology, Dept. of Health Research, Dept. of Pharmaceuticals, Ministry of Electronics and Information Technology, representative from five State Governments and technical experts.
NEGVAC has prioritized Health Care Workers and Front-Line Workers during the initial phase of COVID-19 vaccination followed by prioritized population groups of persons aged 50 years and above, and those aged less than 50 years with comorbidities. The vaccination of Health Care Workers is going on.
During the first phase of COVID-19 vaccination, the vaccine is being provided by the Central Government, free of cost to States and UTs for vaccination of Health Care Workers and Front-Line Workers.
Union Education Minister addresses the inaugural ceremony of the ASEAN India Hackathon
Addressing on the occasion, Shri Pokhriyal said that taking further the India and ASEAN ties the Ministry of Education has today launched the ASEAN-INDIA Hackathon. He recalled that Prime Minister Shri Narendra Modi during Singapore India Hackathon in 2019 had expressed his feelings about holding a hackathon with ASEAN Countries.
He said this Hackathon will provide a unique opportunity to India and ASEAN countries to solve their common identified challenges under two broad themes of "Blue Economy" and "Education" and thereby provide an opportunity to forward their economic and cultural ties through collaboration in education, science and technology.
This Hackathon will be enactment of six fundamental virtues of our civilisation: respect, dialogue, cooperation, peace, prosperity and innovation, he added.
The ASEAN-INDIA Hackathon is an initiative taken by Ministry of Education on the clarion call of Prime Minister of India Shri Narendra Modi. The ASEAN India Hackathon is being organized online from 1st -3rd February 2021 and prize distribution will take place on 4th February 2021. This unique hackathon offers opportunities for all the 10 ASEAN countries and India to forward their economic and cultural ties through collaboration in education, science and technology.
Union Textiles Minister inaugurates 8th India International Silk Fair on Virtual Portal
Textiles Minister Smriti Irani today inaugurated the 8th India International Silk Fair on Virtual Portal. The fair is considered to be India's biggest silk fair, being held under one roof on Indian Silk Export Promotion Council's virtual platform. The five days event is being held virtually due to COVID-19 pandemic.
Speaking on the occasion, Mrs Irani said that more than 200 overseas buyers have already registered and equal number of their representatives in India will be interacting with more than 100 renowned and big Indian companies manufacturing and trading silk and silk blended products. She called upon the exhibitors and overseas buyers to take part in this initiative to celebrate the beauty and vibrancy of Indian silk.
India has long history of silk production and is the 2nd largest producer of Silk. India is the only country in the world which produces all the four major varieties of silk – Mulberry, Eri, Tassar, and Muga.
Khelo India Zanskar Winter Sports and Youth Festival 2021
The 13-day long Khelo India Zanskar winter sports and youth festival concluded at Zanskar Valley of the Union Territory of Ladakh.
The festival, first of its kind was organized by the Department of Sports & Youth Services under the Khelo India banner in collaboration with the Ladakh Tourism Department.
The festival was organised to showcase potential in adventure tourism and sports and aims to open a new arena in Ladakh for adventure and economy.
It is one of the biggest events that has been organised to promote winter tourism in Ladakh. The 13day long festival was started on January 18th and concluded on Saturday, January 30th, 2021.
Member of Parliament (MP) Ladakh Jamyang Tsering Namgyal was the chief guest on the occasion & Councillor Cha Constituency Stanzin Lakpa was guest of honour.
MP said that in upcoming year the event will be prolonged for around 70 days including trekking on the Chadar Trek.
Secretary Sports Ravinder Kumar in his address appreciated the efforts of the MoS Youth Affairs and Sports, Kiren Rijiju, MP Ladakh Jamyang Tsering Namgyal, Department of Youth Services and Sports UT, Ladakh, Department of Tourism UT Ladakh, other concerned agencies and individuals besides the people of Zanskar for their efforts in making this event a successful one.
Vice President inaugurated National Tribal Festival "Aadi Mahotsav" on February 1, 2021 at New Delhi
The Festival Aadi Mahotsav at Dilli Haat, New Delhi is being held from February 1-15, 2021. Shri Arjun Munda, Minister for Tribal Affairs; Smt Renuka Singh, Minister of State for Tribal Affairs; Shri Faggan Singh Kulaste, MoS, Steel; Shri Ramesh Chand Meena, Chairman, TRIFED; Shri R. Subrahmanyam, Secretary, Ministry of Tribal Affairs, MD TRIFED Sh Pravir Krishna along with senior officers of the Ministry and TRIFED were present on the occasion.
Shri M. Venkaiah Naidu formally inaugurated the festival by lighting the traditional lamp. Speaking on the occasion, Shri M. Venkaiah Naidu called for a model of development that preserves the special identity of tribals. "Their culture is their identity", he said and wanted this culture to remain intact, while drawing the Adivasis into the mainstream.
The Aadi Mahotsav – A Celebration of the Spirit of Tribal Culture, Crafts, Cuisine and Commerce – is a successful annual initiative that was commenced in 2017. The festival was an attempt to familiarize the people with the rich and diverse craft, culture of the tribal communities across the country, in one place.
Tribes constitute over 8% of our population.
Agreement for financial support to STARS project signed between DEA and World Bank
Agreement for the financial support of the implementation of Strengthening Teaching-Learning and Results for States (STARS) project of Ministry of Education was signed between Department of Economic Affairs (DEA) and World Bank along with Ministry of Education. The total project cost of STARS project is Rs 5718 crore with the financial support of World Bank amounting to US $ 500 million (approximately Rs. 3700 crore) and rest coming as State share from the participating States, over a period of 5 years.
STARS project would be implemented as a new Centrally Sponsored Scheme under Department of School Education and Literacy (DoSEL), MOE. Earlier Union Cabinet has approved the proposal of STARS project on 14th Oct 2020. The project covers 6 States viz Himachal Pradesh, Rajasthan, Maharashtra, Madhya Pradesh, Kerala and Odisha. The identified States will be supported for various interventions for improving the quality of education.
The Program envisions improving the overall monitoring and measurement activities in the Indian school education system through interventions in selected states. STARS will draw on existing structure under Samagra Shiksha with the DoSEL, MoE as the main implementing agency at the national level. At the State level, the project will be implemented through the integrated State Implementation Society (SIS) for Samagra Shiksha.
PM addressed 125th anniversary celebrations of 'Prabuddha Bharata' on 31st January 2021
Prime Minister Shri Narendra Modi will address the 125th anniversary celebrations of 'Prabuddha Bharata', a monthly journal of the Ramakrishna Order, started by Swami Vivekananda in 1896, at around 3:15 PM on 31st January, 2021. The event is being organized by Advaita Ashrama, Mayavati.
About 'Prabuddha Bharata'
The journal 'Prabuddha Bharata' has been an important medium for spreading the message of India's ancient spiritual wisdom. Its publication was started from Chennai (erstwhile Madras), where it continued to be published for two years, after which it was published from Almora. Later, in April 1899, the place of publication of the Journal was shifted to Advaita Ashrama and it has been continuously published from there since then.
Some of the greatest personalities have left their imprint on the pages of 'Prabuddha Bharata' through their writings on Indian culture, spirituality, philosophy, history, psychology, art, and other social issues.
Luminaries like Netaji Subhas Chandra Bose, Bal Gangadhar Tilak, Sister Nivedita, Sri Aurobindo, Former President Sarvepalli Radhakrishnan, among others, have contributed to the Journal over the years.
The Advaita Ashrama is working towards making the entire 'Prabuddha Bharata' archive available online on its website.
Ministry of Tourism dedicates three virtual pavilions in Bharat Parv 2021
Ministry of Tourism has dedicated three virtual pavilions, Dekho Apna Desh, Statue of Unity & Incredible India in Bharat Parv 2021. Due to pandemic situation, this year the Bharat Parv has been organized on a Virtual platform www.bharatparv2021.com from 26th Jan to 31st Jan 2021 and was inaugurated by the Speaker Lok Sabha Sh. Om Birla in the presence of Union Minister of State (Independent Charge) for Tourism and Culture Sh. Prahlad Singh Patel.
Ministry of Tourism organizes Bharat Parv every year since 2016 in front of the ramparts of the Red Fort on the occasion of Republic Day Celebrations from 26th to 31st January. The mega event envisages generating patriotic fervor and showcases the rich and varied cultural diversity of the country. The Bharat Parv celebrates the "Essence of India".
The Statue of Unity pavilion in virtual Bharat Parv -2021 provides detailed information about the destination with High Resolution Videos, Images & E- Brochures etc. The 'Statue of Unity' Pavilion also exhibits the idea of 'Ek Bharat Shreshtha Bharat (EBSB)' with an aim to enhance interaction & promote mutual understanding between people of different States/UTs through the concept of State/UT pairing.
The second pavilion by the Ministry of Tourism is on 'Dekho Apna Desh' campaign in virtual Bharat Parv – 2021 with aim to promote domestic tourism and to increase the flow of domestic travellers. The pavilion exhibits information on various tourist destinations majorly focusing on 'lesser-known destinations' and excursions.
Further, 'Dekho Apna Desh' pavilion is poised to be the mainstay of Ministry's marketing communications for Domestic Tourism where in positioning travelling in India with safety measures as directed by the Government from time to time.
'Incredible India Pavilion' comprises information on UNESCO World Heritage Sites with link to official website of the Ministry of Tourism for more information on tourist destinations in the country and also videos on different themes & subjects.
The virtual Bharat Parv was inaugurated by the Speaker Lok Sabha Sh. Om Birla in the presence of Union Minister of State (Independent Charge) for Tourism and Culture Sh. Prahlad Singh Patel on 26th January 2021.
CSIR celebrates 20 years of India's Traditional Knowledge Digital Library, the first of its kind globally
The Council of Scientific and Industrial Research (CSIR) has launched a new campaign of highlighting 80 success stories from the organization as it is set to turn 80 years old in 2022. This campaign was launched recently as CSIR's Traditional Knowledge Digital Library (TKDL) completes two decades of safeguarding India's Traditional Knowledge. To commemorate the two decades' journey, a webinar "Two Decades of TKDL – Connecting to the Future" was organized.
This initiative was a follow up action to thwart misappropriation of India's valuable traditional knowledge, based on learnings from the patent battles with international patent offices over the grant of intellectual property rights on turmeric, neem, basmati rice and other such ancient knowledge and practices of the country. TKDL database contains more than 3.9 lakh formulations/ practices from the Indian systems of medicine (Ayurveda, Siddha, Unani and Sowa Rigpa) and Yoga.
The database is available to only patent examiners through TKDL Access (Non-disclosure) Agreement and so far, Access Agreements have been signed with 13 international patent offices including India. Significantly, 239 patent applications have either been set aside/ withdrawn/ amended, based on the prior art evidences present in the TKDL database. The valuable partnership with Ministry of Ayush and DPIIT and support from WIPO were acknowledged.
IBBI organizes a Workshop on "Committee of Creditors: An Institution of Public Trust"
The Insolvency and Bankruptcy Board of India (IBBI) jointly with the State Bank of India and the Indian Banks' Association organised this one-day virtual workshop.
This is the fifth such workshop in the series for the benefit of financial creditors who comprise Committee of Creditors (CoC) under the Insolvency and Bankruptcy Code, 2016 (Code). The workshop aimed at developing a better understanding of the role of and expectations from the CoC.
NCAVES India Forum 2021
In 2017, the European Union initiated a project, "Natural Capital Accounting and Valuation of Ecosystem Services" (NCAVES) in 2017 to help nations advance the knowledge on environmental-economic accounting, in particular ecosystem accounting, that can help in ensuring sustainable economic growth. The NCAVES Project is being implemented in five countries – India, Brazil, China, Mexico and South Africa – by the United Nations Statistics Division (UNSD), United Nations Environment Programme (UNEP) and the Secretariat of the Convention of Biological Diversity (CBD).
The Ministry of Statistics & Programme Implementation has taken up several initiatives under the NCAVES Project during the past three years. With a view to disseminate the activities taken up by the Ministry under the Project and to highlight the uses to which natural capital accounts can be put, especially in the areas of decision making and policy analysis, the Ministry is conducting NCAVES India Forum (in a virtual format), in collaboration with United Nations Statistics Division (UNSD), European Union and UN Environment.
Three live sessions of NCAVES India Forum 2021 are scheduled to be held on January 14, 21 and 28, 2021. The first session of the event held today was dedicated to the discussions on the efforts made by India and the international agencies in the domain of natural capital accounting and valuation of the ecosystem services. The session witnessed a remarkable participation from all over the globe. The recordings of the live event are available on web-portal – http://ncavesindiaforum.in.
National Marine Turtle Action Plan launched
Environment, Forest and Climate Change Minister Prakash Javadekar has released Marine Mega Fauna Stranding Guidelines and the National Marine Turtle Action Plan in New Delhi.
The documents contain ways and means to promote inter-sectoral action for conservation. It also suggests improved coordination amongst the government, civil society and all relevant stakeholders on the response to cases of stranding, injury or mortality of marine mammals and also conservation of marine turtles.
Speaking at the virtual launch event, Mr Javadekar said that both floral and faunal diversity including the marine biodiversity is the beauty of India and we need to conserve it with best possible action and interventions.
India has rich marine biodiversity along a vast coastline of over seven thousand 500 kilometer. From colorful fish, sharks, turtles and big mammals like whales, dolphins and dugongs to bright corals, marine habitats not only harbor diverse species but also provide resources essential for human wellbeing.
Union Education Minister addresses the Valedictory Function of Kala Utsav 2020
He appreciated the introduction of the Indigenous Toys and Games segment in Kala Utsav 2020 and emphasized that this promotes 'Vocal for Local'.
Students, when indulging in any form of art, use their imagination and try to realise it and give it life thus turning it into reality. Kala Utsav gives an opportunity to this process.
About Kala Utsav 2021:
It was launched online on 10 January 2021 through a digital platform.
A total of 35 teams have participated from different states, UTs, Kendriya Vidyalaya Sangathan and Navodaya Vidyalaya Samiti schools where 576 students demonstrated their talent.
In the competitions of Kala Utsav 2020 organised from 11 to 22 January 2021, a total of nine art forms, namely—
Classical singing,
Traditional folk song,
Classical instruments,
Traditional/folk instruments,
Classical dance,
Folk dance,
Visual Arts (Two-dimensional),
Visual Arts (Three-dimensional), and
Local games-toys are included.
PM addressed WEF's Davos Dialogue on 28th January 2021
More than 400 top industry leaders from across the globe attended the session, wherein the Prime Minister spoke on the Fourth Industrial Revolution – using technology for the good of humanity.
PM also interacted with the CEOs during the event.
The Davos Dialogue's agenda marks the launch of the World Economic Forum's Great Reset Initiative in the post COVID world.
PM chairs 35th PRAGATI interaction
35th edition of PRAGATI, the ICT based multi-modal platform for Pro-Active Governance and Timely Implementation, involving Central and State governments was chaired by PM. The Prime Minister also reviewed the Pradhan Mantri Bhartiya Jan Aushadhi Pariyojana.
In the meeting, ten agenda items were taken for review including nine projects and one program. Among the nine projects, three projects were from the Ministry of Railways, three from MORTH, and one project each from DPIIT, Power Ministry and Ministry of External Affairs. These nine projects have a cumulative cost of Rs. 54,675 crore concerning the 15 states viz. Odisha, Karnataka, Andhra Pradesh, Maharashtra, Chhattisgarh, Punjab, Jharkhand, Bihar, Telangana, Rajasthan, Gujarat, West Bengal, Haryana, Uttarakhand, and Uttar Pradesh.
India signs Strategic Partnership Agreement with International Energy Agency (IEA)
India and the International Energy Agency- IEA on January 27, 2021, signed a framework for a strategic partnership in order to strengthen cooperation and mutual trust and for enhancing global energy stability, security, and sustainability.
The Memorandum of Understanding was signed by Dr. Fatih Birol, Executive Director of International Energy Agency, and Sanjiv Nandan Sahai, Secretary (Power). Birol from IEA termed the signing of the agreement a historic and huge step forward for global energy governance.
The International Energy Agency Secretariat will be responsible for the implementation of the cooperative activities in India under the framework. The Secretariat will also facilitate the discussion between India and IEA members for further developing the strategic partnership in the energy sector.
As per the official statement by the Ministry of Power, the partnership between India and IEA will lead to an extensive exchange of knowledge in the energy sector. It will also be a stepping stone for India towards becoming a full member of the Paris-based IEA.
Through the framework agreement, the Indian government plans on taking essential steps to promote and encourage strategic and technical cooperation in the different areas of the energy sector.
Dr. Harsh Vardhan addresses the 4th edition of Future Investment Initiative Forum
Dr. Harsh Vardhan, Union Minister for Health and Family Welfare addressed the 4th edition of the Future Investment Initiative Forum, here today through Video Conference. The purpose of the forum being hosted in Riyadh was to find solutions on how business and government can expand access to healthcare, train healthcare workers, remove regulatory barriers and encourage investment in advanced health technologies.
Lauding the forum for its positive contribution to the world's welfare, Dr Harsh Vardhan underlined that "this dynamic platform has become an important part of the calendar of the business world". He reminded the audience of India's historical ties and contacts with Saudi Arabia which has led a strong foundation for their strategic partnership today.He also appreciated Saudi Arabia's contribution to the world economy and thanked the country for looking after the Indian minority during the Pandemic.
Dr Harsh Vardhan highlighted the five big trends which are emerging due to COVID-19 and influencing global business:
The impact of Technology and Innovation
Importance of Infrastructure for Global Growth
Changes coming in human resource and future of work
Compassion for environment
Business friendly governance with focus on whole of society and government approach
On India's indigenous innovations and contributions in digital health tools to monitor COVID management, Dr Harsh Vardhan noted, "The 'AarogyaSetu App' is being used by over more than 160 million Indians through their smart phones. Bluetooth tracing technology is used to analyse and find COVID hotspots and alert the local administration in advance under the ITIHAS+AS patch of AarogyaSetu App." Explaining this achievement in terms of the broader vision of integrating innovation in healthcare, he continued, "We have also tried at many levels to strengthen this culture through start-up challenges or Hackathons for the youth, where they experience innovation themselves. Today, a comprehensive eco-system from research and development to tech-entrepreneurship is being prepared in India."
Padma Awards 2021 List
PADMA VIBHUSHAN
No.
Name
Field
State/Country
1.
Shinzo Abe
Public Affairs
Japan
2.
S. P. Balasubramaniam (Posthumous)
Art
Tamil Nadu
3.
Dr. Belle Monappa Hegde
Medicine
Karnataka
4.
Narinder Singh Kapany (Posthumous)
Science and Engineering
The U.S.A.
5.
Maulana Wahiduddin Khan
Others- Spiritualism
Delhi
6.
B. B. Lal
Others- Archaeology
Delhi
7.
Sudarshan Sahoo
Art
Odisha
PADMA BHUSHAN
No.
Name
Field
State/Country
1.
Krishna Nair Shantakumari Chithra
Art
Kerala
2.
Tarun Gogoi (Posthumous)
Public Affairs
Assam
3.
Chandrashekhar Kambara
Literature and Education
Karnataka
4.
Sumitra Mahajan
Public Affairs
Madhya Pradesh
5.
Nripendra Misra
Civil Service
Uttar Pradesh
6.
Ram Vilas Paswan (Posthumous)
Public Affairs
Bihar
7.
Keshubhai Patel (Posthumous)
Public Affairs
Gujarat
8.
Kalbe Sadiq (Posthumous)
Others- Spiritualism
Uttar Pradesh
9.
Rajnikant Devidas Shroff
Trade and Industry
Maharashtra
10.
Tarlochan Singh
Public Affairs
Haryana
Union Education Minister inaugurated Agri-Food Techathon at IIT Kharagpur
Union Education Minister Shri Ramesh Pokhriyal 'Nishank' inaugurated the Agri-Food Techathon 2021 today virtually. He also laid the foundation for Agri-Business Incubation Centre (ABIC), which will incubate innovative ideas in the agriculture and food technology domain for creating 'Agri-preneures.' Prof. V.K. Tewari, Director, IIT Kharagpur, Mr. Dr. G.R. Chintala, Chairman, NABARD, and participants from across the country graced the occasion.
Addressing the inaugural event, Shri Pokhriyal congratulated IIT Kharagpur and NABARD for this unique initiative. He emphasized that the vision of incubating startups to create an ecosystem under the Agri-Food Techathon 2021 will bring together science and technology, and agriculture to support the farmers of our country. Such initiatives will help take the 'Vocal for Local and Local for Global' initiative to each corner of our country. Highlighting that the Agri-Food Techathon has immense possibilities, Shri Pokhriyal said this Techathon will lay the foundation of an Atmanirbhar Bharat and help India emerge as a Vishwaguru.
Stressing that New Education Policy 2020 (NEP) will make India a global leader, he was happy to note that IIT Kharagpur is taking progressive steps in furthering the vision of NEP. He called upon all the stakeholders to come to the forefront for the successful implementation of NEP.
"AYU SAMVAD" Campaign
"AYU SAMVAD"(My Health My Responsibility) is one of the largest public awareness campaign programs on AYURVEDA and COVID 19 PANDEMIC, organized by All India Institute of Ayurveda New Delhi, as envisioned & supported by Ministry of AYUSH. More than 5 lac lectures will be organized across the nation by Ayurveda Physicians for citizens of India.
Campaign will monitor through State AYUSH Directors & NAM team. The report of the Documentation part of lectures & various activities will be submitted by state AYUSH Director in first week of May 2021.
Veteran actor Biswajit Chatterjee crowned as Indian Personality of the Year at IFFI 51st Closing Ceremony
The 51st edition of the International Film Festival of India, Goa has conferred Shri Biswajit Chatterjee, veteran actor, producer, director and singer of Hindi and Bengali cinema, with the Indian Personality of the Year Award, in Goa today, January 24, 2021. The award has been presented to the actor at the closing ceremony today, together by Governor of Goa Shri Bhagat Singh Koshiyari, Chief Minister of Goa Dr. Pramod Sawant and Union Minister of State for Environment, Forest & Climate Change Shri Babul Supriyo.
The Award was announced by Union Minister for Information & Broadcasting, Shri Prakash Javadekar at the opening ceremony of the festival on January 16, 2021.
Biswajit Chatterjee is known for his roles of Kumar Vijay Singh in Bees Saal Baad, Raja Amit Kumar Singh in musical drama Kohra, Ashok in romantic film April Fool, Ramesh Kumar in Mere Sanam, Jeevan in Night In London, Shekhar in Do Kaliyaan and Vicky in Kismat. He was usually paired with notable actresses such as Asha Parekh, Waheeda Rehman, Mumtaz, Mala Sinha and Rajshree. Some of his Bengali films include Chowringhee (1968) and Garh Nasimpur with Uttam Kumar and Kuheli and much later, Srimaan Prithviraj (1973), Jai Baba Taraknath (1977) and Amar Geeti (1983). In 1975, Biswajit produced and directed his own film, Kahte Hai Mujhko Raja. Apart from acting and direction, he has also been a singer and a producer.
About 51st International Film Festival of India
Golden Peacock (Best Film): Into the Darkness
Silver Peacock:
Best Director: Chen-Nien Ko for Taiwanese film Silent Forest
IFFI Best Actor Award (Male): Tzu-Chuan Liu, film Silent Forest
IFFI Best Actor Award (Female): Zofia Stafiej for I Never Cry
Special Jury Award: February by Kamin Kalev
Best Debut Director: Valentina by Cássio Pereira dos Santos
Lifetime Achievement Award: Vittorio Storaro
Jury Special Mention: Kripal Kalita for the film Bridge
ICFT UNESCO Gandhi Medal: 200 Meters by Ameen Nayfeh
Prime Minister at Climate Adaptation Summit 2021
Here is the exact speech of PM Modi at the summit:
"We are targeting 450 gigawatt of renewable energy capacity by 2030.
We are promoting LED lights and saving 38 million tons of carbon-di-oxide emissions annually.
We are going to restore 26 million hectares of degraded land by 2030.
We are providing clean cooking fuel to 80 million rural households.
We are connecting 64 million households to piped water supply.
And our initiatives have not been restricted to India alone.
The International Solar Alliance and the Coalition for Disaster Resilient Infrastructure show the power of global climate partnership.
I call upon the Global Commission on Adaptation to work with CDRI to enhance infrastructure resilience globally.
And I invite all of you to the Third International Conference on Disaster Resilient Infrastructure later this year in India.
Excellencies,
India's civilizational values teach us that importance of living in harmony with nature.
Our ancient scripture Yajurveda teaches us that our relationship with planet earth is that of a mother and her child.
If we take care of mother earth, she will continue to nurture us.
To adapt to Climate Change, our lifestyles must also adapt to this ideal.
This sentiment should guide our way forward.
I thank you!"
2nd Edition of India Innovation Index launched
NITI Aayog, along with the Institute for Competitiveness, has released the Index on 20th January 2021.
Overall Delhi tops the list, Chandigarh Major Gainer, Karnataka and Himachal Pradesh lead in their respective categories.
The first edition of the index was launched in October 2019. The report examines the innovation capabilities and performance of the states and union territories.
New ant species discovered from Kerala named after evolutionary biologist Prof. Amitabh Joshi
The species of the ant genus Ooceraea found in Kerala, and Tamil Nadu add to the diversity of this rare genus. They differ from others of the same genus based on the number of antennal segments.
One of them found in the Periyar Tiger Reserve of Kerala, has been named Ooceraea joshii, in honour of Prof. Amitabh Joshi, a distinguished evolutionary biologist from Jawaharlal Nehru Centre for Advanced Scientific Research (JNCASR).
Status of Avian Influenza in the country
Till 28th January 2021 outbreaks of Avian Influenza (Bird flu) have been confirmed in 9 States (Kerala, Haryana, Madhya Pradesh, Maharashtra, Chhattisgarh, Uttarakhand, Gujarat, Uttar Pradesh and Punjab) for poultry birds.
In 12 States (Madhya Pradesh, Haryana, Maharashtra, Chhattisgarh, Himachal Pradesh, Gujarat, Uttar Pradesh, Uttarakhand, Delhi, Rajasthan, Jammu and Kashmir and Punjab) for Crow/Migratory/Wild birds.
CollabCAD software has been launched
The National Informatics centre and the Central Board of Secondary Education (CBSE) jointly launched it.
The CollabCAD software provides engineering solution for students and Faculty of Engineering Graphics curriculum.
It aims to provide a platform to students across the country to create and modify digital designs.
The software runs on zone Linux and OS platform .
It is available in both standalone and client server mode.
Arjun Munda Receives SKOCH Challenger Award
Shri Arjun Munda, Union Minister of Tribal Affairs will virtually receive "SKOCH Challenger Award" conferred to Ministry of Tribal Affairs for e-Governance for its IT-led initiatives and other transformational initiatives leading to outcome-based performance improvement.
It has digitalized all the processes leading to paperless office, monitoring is data driven, communication to states is online report system and is analytics based and a performance dashboard is updated on a real time basis.
Giant Rock Bee Honey added to Tribes India Collection
Apis dorsata, the giant honeybee, is a honeybee of South and Southeast Asia.
They are typically around 17–20 mm long. Nests are mainly built-in exposed places far off the ground, like on tree limbs, under cliff overhangs, and sometimes on buildings. Giant Rock Bee Honey, a unique variant of honey is sourced from Malayali Tribes of Tamil Nadu.
25th Amendment of US Constitution
This lays out how a US President or a Vice President can be replaced or succeeded.
It includes resolve issues revolving around unfortunate situations like death, resignation to removal of US President and actions to be taken after a President becomes disabled to such a degree that he is unable to fulfill his responsibilities.
This amendment was proposed in 1965 and was ratified by the states in 1967.
India's first double stack long-haul container train
The Prime Minister Narendra Modi has flagged off the first 360-km long double stack long-haul container train from New Ateli in Haryana to New Kishanganj (Rewari-Madar Section of the Western Dedicated Freight Corridor) in Rajasthan.
The train is 1.5 kilo metres long and is hauled by Electric traction.
The freight trains are operated at maximum speed of 75 kilometres per hour. The speed is to be increased to 100 km/hr.
The Indian Railways operated Mission Sheeghra. Under the mission, the trains attained a maximum permissible speed of 100 km/hr.
Japan will launch world's first wood based satellite
Japan's Sumitomo Forestry company and Kyoto University aims to launch the world's first wood-based space satellite.
The team is also working towards developing wooden materials extremely resistant to temperature changes and sunlight.
This is combat the space debris that can travel at a speed of more than 22,300 mph and can impact other satellites.
A Japanese astronaut and a professor at the Kyoto University, Takao Doi, told that all types of satellites that re-enter the Earth's atmosphere get burnt and release tiny alumina particles.
Virat Kohli won ICC Male Cricketer of Decade Award, MS Dhoni picked up Spirit of Cricket Award
Two Awards were bagged by Kohli – ICC ODI Men's Cricketer of the Decade and ICC Male Cricketer of the Decade.
MS Dhoni won the ICC Spirit of Cricket Award of the Decade.
Having hit more than 20,000 runs in the qualification period, Virat Kohli also won the Sir Garfield Sobers ICC Male Cricketer of the Decade Award. For his prolific record in 50-over format.
US President signed Tibetan Policy and Support Act
The US Congress had approved of the omnibus spending bill.
This legislation sends a powerful message of hope and justice to the Tibetans inside Tibet and bolsters US support for the protection of Tibetan people's religious freedom, human rights, environmental rights and exile Tibetan democracy like never. The bill calls upon the Secretary of State to not authorise any new Chinese consulate in the US.
International Blue Flag hoisted at 8 beaches
Minister for Environment, Forest and Climate Change Shri Prakash Javadekar virtually hoisted these.
Blue Flag certification is a globally recognised eco-label accorded by "Foundation for Environment Education in Denmark" based on 33 stringent criteria.
India started its journey by launching its beach cleaning campaign – "I Am Saving My Beach".
100 more such beaches will be made Blue Flag in coming 3-4 years.
List of the 8 beaches that were given the Blue Flag certification are:
Kappad beach (Kerala)
Shivrajpur beach (Gujarat)
Ghoghla beach (Diu)
Kasarkod beach (Karnataka)
Padubidri beach (Karnataka)
Rushikonda beach (Andhra Pradesh)
Golden beach (Odisha)
Radhanagar beach (Andaman & Nicobar Islands).
India's first pollinator park inaugurated in Haldwani
The country's first pollinator park with over 40 species of butterflies, honeybees, birds and insects has been developed over four acres at Nainital's Haldwani in Uttarakhand.
The objective behind developing the park is to conserve various pollinator species, create awareness among people in general about the importance of conservation of these species.
"TiHAN" – IIT Hyderabad – India's first Test bed for Autonomous Navigation Systems
Department of Science and Technology (DST) under the National Mission on Interdisciplinary Cyber-Physical Systems (NM-ICPS), Govt. of India has sanctioned this prestigious Technology Innovation Hub to IIT Hyderabad.
TiHAN means "Technology Innovation Hub on Autonomous Navigation and Data Acquisition Systems" which is India's first Test bed for Autonomous Navigation Systems (Terrestrial and Aerial).
Union Minister of Education Shri. Ramesh Pokhriyal Nishank has laid foundation stone of this. The Government of India has sanctioned Rs. 135 crores to IIT Hyderabad under the National Mission on Interdisciplinary Cyber-Physical Systems (NM-ICPS).
South Korea's 'artificial sun' breaks world record
Referred to as Korea's "artificial sun", the KSTAR, a superconducting fusion device, uses magnetic fields to produce and stabilize super-hot plasma, with the end goal of making nuclear fusion power a reality, which is possibly a limitless source of clean energy that could revamp the way we power our lives, given we can get it to work as intended.
The KSTAR was able to achieve a temperature of over 6.6 times more than that of Sun's. It achieved the same temperature in 2018 too, but only for one and a half seconds (now 2). No one has been able to sustain a plasma nearly as hot as this for a long period of time.
The KSTAR, placed at the Korean Institute of Fusion Energy (KFE), is a joint research project with Seoul National University (SNU) and Columbia University of the US, which achieved this milestone on November 24.
KFE, according to the report, aims to achieve fusion ignition for 300 seconds at a time by 2025. The institute achieved its first fusion in 2008.
E-Committee of Supreme Court bags the Platinum Award for Excellence in Digital Governance
It was conferred by the President of India.
E-Courts project was visioned and implemented by the e-Committee.
Supreme court of India along with Department of Justice and NIC is a Mission Mode Project of Government of India.
The committee consists of
Patron-in-Chief: Mr. Justice Sharad Arvind Bobde, Chief Justice of India.
Chairperson: Dr. Justice Dhananjaya Y Chandrachud, Supreme Court Judge.
Vice-Chairperson: Mr. Justice R.C. Chavan, Former Judge, Bombay High Court.
And four members.
IFSCA becomes member of IOSCO
The International Financial Services Centres Authority (IFSCA) has become an Associate Member of the International Organization of Securities Commissions (IOSCO).
The IOSCO is the international organization that brings together the world's securities (financial) regulators.
The membership of IOSCO would provide IFSCA the platform to exchange information at the global level and regional level on areas of common interests.
The IOSCO platform would enable IFSCA to learn from the experiences.
List of other Financial Regulators in India:
Securities and Exchange Board of India (SEBI)
Reserve Bank of India (RBI)
Ministry of Finance (MoF)
Ministry of Corporate Affairs (MoCA)
Insurance Regulatory and Development Authority of India (IRDAI)
Pension Fund Regulatory and Development Authority (PFRDA)
40th Indian Scientific Expedition to Antarctica
Ministry of Earth science launched this under GoI.
Ice class vessel MV Vasiliy Golovin has been deployed.
The expedition will take a team of 40 members to Antarctica and return by April 2021. XL Indian Antarctica expedition has been Limited due to existing challenges of covid-19.
World's largest floating solar energy project in India
The project is to be constructed at Omkareshwar Dam on Narmada river. The project will begin its power generation by 2022 to 2023.
The project is to have floating solar panels of 600 megawatts of power generation capacity. The electricity is to be generated in about two thousand hectares of water area by installing solar panels in the dam.
Prime Minister inaugurated the National Atomic Scale at the National Meteorology Conclave
Atomic Time provides the exact speed at which the clock ticks. In technical words, it measures the actual length of a second. Atomic Clocks deviate only one second in up to 100 million years.
The International System of Units (SI unit) define one second (in atomic time) as the time taken by the Cesium-133 atom in the ground state to oscillate 9,192,631,770 times. In simple words, the atomic clocks count one second after the Cesium-133 atom has oscillated 9,192,631,770 times.
With the newly inaugurated National Atomic Time, India has become self-reliant in measuring time within the range of nanosecond. It has now achieved the accuracy level of 2.8 Nanosecond matching the International Standard Time.
Global Economic Prospects Report 2020
According to the report the Indian economy is to contract by 9.6% in 2020-21.
The Indian economy is to recover 5.4% in 2021-22.
The contraction in Indian economy will be mainly due to sharp decline in household spending and private investment.
World economy is to expand by 4% in 2021.
The services and manufacturing sector are gaining Momentum.
Faustin-Archange Touadera re-elected President of Central African Republic
He was re-elected with more than 53% votes.
The 63-year-old president has been in power since 2016.
About the country:
The Central African Republic is a producer of gold and diamonds and has a population of 4.7 million.
It is bordered by Chad to the north, Sudan to the northeast, South Sudan to the southeast, the Democratic Republic of the Congo to the south, the Republic of the Congo to the southwest and Cameroon to the west. The CAR covers a land area of about 620,000 square kilometres (240,000 sq mi) and had an estimated population of around 4.7 million as of 2018. As of 2021, the CAR is the scene of a civil war, ongoing since 2012.
Capital: Bangui
Currency: Central African CFA Franc.
International Akhand Conference 'EDUCON-2020'
Union Education Minister Ramesh Pokhriyal Nishank has inaugurated this two-day Virtual conference.
It is being organized by the Central University of Punjab, Bathinda (CUPB) in collaboration with the Global Educational Research Association (GERA).
The focal theme of EDUCON-2020 is Envisioning Education for Transforming Youth to Restore Global Peace.
12 January 2021 – National Youth Parliament Festival
Prime Minister Shri Narendra Modi addressed the valedictory function of the second National Youth Parliament Festival via video conferencing.
NYPF is based on the idea given by Prime Minister in his Mann Ki Baat.
The Finals of NYPF 2021 were held in the Central Hall of the Parliament.
Prime Minister Shri Narendra Modi addressed the valedictory function of the second National Youth Parliament Festival via video conferencing.
NYPF is based on the idea given by Prime Minister in his Mann Ki Baat. The Finals of NYPF 2021 will be held in the Central Hall of the Parliament.
National Youth Festival is celebrated every year from 12 to 16 January. 12th January being the birth anniversary of Swami Vivekananda, is observed as National Youth Day.
The National Youth Festival is to bring youth of the country together to showcase their talents, provide them an arena, by creating a mini-India, where youth interact in formal and informal settings and exchange their social and cultural uniqueness.
The 24th National Youth Festival is being held in virtual mode. 'YUVAAH – Utsah Naye Bharat Ka' is the theme of this year's festival, which suggests, the youth bring alive the celebration of New India.
ISRO to adopt 100 Atal Tinkering Labs across country
The Department of Space (DOS) and Atal Innovation Mission, NITI Aayog, announced that out of 100 ATLs, ISRO adopted 45 in phase 1 on January 11 and the remaining 55 will be adopted soon, to promote education in STEM, space education and space technology related innovation for school students.
NASA is to launch the most powerful rocket in world
Named as the "Space Launch System", this to carry the first woman and the next man to the moon. This is to be hauled into the LEO.
It will generate 39.1 mega Newtons of thrust at launch. This is 15% more than Saturn V and is the highest thrust level ever achieved.
The rocket will stand 98m (322ft) tall in its initial, or Block 1, configuration. It can send more than 27 tonnes (59,500 pounds) to lunar orbits – the equivalent of 11 large sports utility vehicles (SUVs)
NASA's Space Launch System (SLS), the most powerful and capable rocket NASA has ever built, will send missions farther and faster through space. SLS, along with NASA's Orion spacecraft, the Gateway in lunar orbit and, the human landing system are the agency's backbone for deep space exploration and the Artemis lunar program. SLS is the only launch vehicle that can send Orion, astronauts and supplies to the Moon in a single mission.
For the first mission of SLS and Orion, Artemis I, the rocket is capable of sending more than 27 metric tons (59,000 pounds) to the Moon. As the SLS evolves, it will have even more power and will be capable of lofting even heavier payloads to orbit.
To fulfill America's future needs for deep space missions, SLS will evolve into increasingly more powerful configurations. SLS is designed for deep space missions and will send Orion or other cargo to the Moon, which is nearly 1,000 times farther than where the space station resides in low-Earth orbit. The rocket will provide the power to help Orion reach a speed of 24,500 miles per hour; the speed needed to send it to the Moon.
Every SLS configuration uses the core stage with four RS-25 engines. The first SLS vehicle, called Block 1, can send more than 27 metric tons (t) or 59,500 pounds (lbs.) to orbits beyond the Moon. It will be powered by twin five-segment solid rocket boosters and four RS-25 liquid propellant engines. After reaching space, the Interim Cryogenic Propulsion Stage (ICPS) sends Orion on to the Moon. The first three Artemis missions will use a Block 1 rocket with an ICPS.
Block 1B crew vehicle, will use a new, more powerful Exploration Upper Stage (EUS) to enable more ambitious missions. The Block 1B vehicle can, in a single launch, carry the Orion crew vehicle along with large cargos for exploration systems needed to support a sustained presence on the Moon.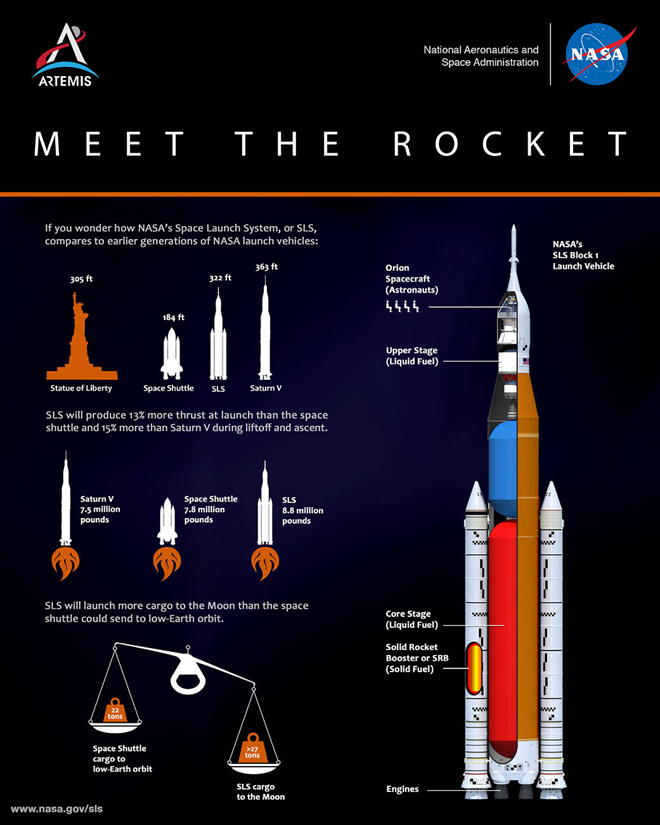 US names Cuba as State Sponsor of Terrorism
The United States lists the countries that repeatedly provide support for acts of international terrorism under the State Sponsors of Terrorism.
The list was first released in 1979 with Iraq, Libya, Syria and South Yemen in it.
The other countries that are currently in the list of state sponsors of terrorism are: Iran, Syria and North Korea.
Sudan was recently removed from the list.
Henley Passport Index launched by the IATA
The index is released based on the number of destinations the holders can access without visa.
Nepal at rank 104 and Pakistan at 107 continue to be the "Worst passports to hold" category.
The Japanese citizens can travel to 191 countries and Japan was the top performer.
Singapore was in second position with a score of 190.
India ranked 85th in the Henley Passport Index.
One Planet Summit was held
The United Nations, World Bank and France organize the One Planet Summit.
This summit is an international event that focused on biodiversity to mobilize commitments to protect the ecosystems and make links to human health.
It aims to promote worldwide ecological transformation.
France hosted the summit this year.
Awangbow Newmai has launched COSFOM Website
The Forest, Environment and Climate Change Minister of Manipur, Awangbow Newmai, launched website for the Community-based Sustainable Forest Management (COSFOM) for Water Resource Conservation in Manipur.
COSFOM is a component under the Indo-German Programme 'Climate Change Adaption in the Himalaya' with a focus on sustainable community forestry, soil and water conservation.
Pradhan Mantri Kaushal Vikas Yojana 3.0
It was launched on January 15, 2021 in 600 districts across all states of India by Union Skill Development Minister Mahendranath Pandey, in the presence of the Minister of State, Raj Kumar Singh
The third phase will be spearheaded by the Ministry of Skill Development and Entrepreneurship (MSDE). It will focus on new-age India and COVID-related skills.
About PMKVY:
Launched in 2015, it is a flagship program of Ministry of Skill Development and Entrepreneurship (MSDE).
National Skill Development Corporation (NSDC) implements it with the help of training partners.
It aims to mobilize youth to take up skill training with the aim of increasing productivity and aligning the training and certification to the needs of the country.
Owing to the success of PMKVY 1.0 wherein more than 19 lakh students were trained as against the target of 24 lakh, the scheme was relaunched as PMKVY 2.0 (2016-2020) with an allocated budget of Rs. 12000 Crores that aims to train 10 million youth by the year 2020.
The third phase will focus on training eight lakh candidates during the scheme period of 2020-2021 with an outlay of Rs. 948.90 crore.
Key Components of PMKVY:
| | | |
| --- | --- | --- |
| No. | Type of Training | Description |
| 1. | Short Term Training | Training as per National Skills Qualification Framework (NSQF) is provided to school/college dropouts or unemployed |
| 2. | Recognition of Prior Learning (RPL) | Assess and certify an individual with a certain set of skills or with prior learning experience with grade according to the NSQF. |
| 3. | Special Projects | Ensures training in special areas and premises of government bodies and corporate. It aims to encourage training in vulnerable and marginalized groups of society. |
Training Partners (TPs) are mandated to organize Kaushal and Rozgar Melas every six months, thus providing placement assistance to certified ones.
India's first 'Fire Park' in Bhubaneshwar
To educate and bring awareness on basic fire safety measures among the people, particularly the students, The Chief Minister of Odisha, Naveen Patnaik virtually inaugurated a first of its kind 'Fire Park'.
The 'Fire Park' is located inside the premises of the Odisha Fire and Disaster Academy in Bhubaneswar.
The Fire Park aims to spread awareness on fire safety measures. It will be opened for public on every Saturday. The park is equipped with all fire safety gears. Demonstrations on use of fire fighting equipments will likely to be given.
The minister also launched an online portal, 'Agnishama Seva' of Odisha Fire Service.
Six-member working group to regulate digital frauds
RBI has set up this working group to study digital lending activities of the regulated and unregulated players, due to the growing instances of frauds in digital lending space.
The six-member panel comprises of following four RBI internal and two external members are: Jayant Kumar Dash, Ajay Kumar Choudhary, P Vasudevan, Manoranjan Mishra, Vikram Mehta, Rahul Sasi.
The group will evaluate digital lending activities.
REVIEW QUESTIONS
First ever digital Union Budget was presented in which year?
2012
2013
2020
2021
ANSWER: D
Which among these is not a plan of action under PM Atmanirbhar Swasth Bharat Yojana recently declared in the Speech of Union Budget?
17,788 rural and 11,024 urban Health and Wellness Centers
4 regional National Institutes for Virology
15 Health Emergency Operation Centers and 2 mobile hospitals
Integrated public health labs to be destroyed and newly reconstructed.
ANSWER: D
Multipurpose Seaweed Park is going to be set up in which state to promote seaweed cultivation?
Andhra Pradesh
Odisha
Gujarat
Tamil Nadu
ANSWER: D
'Nari Shakti Puraskar' are conferred every year on 'International Women's Day' i.e., on
08 March
10 March
04 April
16 April
ANSWER: A
Under the total receipts and share of taxes and duties as per BE 2021-22, which tax has the largest share?
Income Tax
Goods and Services Tax
Corporation Tax
Union Excise Duties
ANSWER: B
As of now, Ministry of AYUSH has signed 25 Country to Country MoUs for Cooperation in field of
Traditional Medicine
Homoeopathy
Both A and B
Neither A nor B
ANSWER: C
World Wetlands Day is celebrated on
02 February
03 February
04 February
05 February
ANSWER: A
Prabuddha Bharata has been an important medium for spreading the message of India's ancient spiritual wisdom. It was first started by which prominent figure?
Swami Dayanand Saraswati
Raja Ram Mohan Roy
Swami Vivekananda
Mahatma Gandhi
ANSWER: C
Which pavilion of Ministry of Tourism in the Virtual Bharat Parv 2021 exhibited the idea of 'Ek Bharat Shrestha Bharat (EBSB)'?
The 'Statue of Unity' Pavilion
The 'Incredible India' Pavilion
The 'Dekho Apna Desh' Pavilion
All the above
ANSWER: A
NCAVES India Forum 2021 was organised by
Ministry of Shipping
Ministry of Statistics and Programme Implementation
Ministry of Finance
Ministry of Commerce
ANSWER: B
Who among these recent awardees of the Padma Vibhushan is a foreigner?
S. P. Balasubramaniam
Dr. Belle Monappa Hegde
Narinder Singh Kapany
Maulana Wahiduddin Khan
ANSWER: C
The Ministry of Environment Forest and Climate Change (MoEF&CC) has released a National Action Plan in New Delhi based on which marine animal?
Dolphin
Turtle
Whale
Shark
ANSWER: B
The Davos Dialogue's agenda:
Launch of the Great Reset Initiative in the post COVID world
Our health, livelihoods and economies depend on nature
The circular transition is crucial to building a resilient economy
Reducing waste, stimulating business growth, and creating jobs.
ANSWER: A
Strengthening Teaching-Learning and Results for States (STARS) project will receive financial support of
ASEAN Development Bank
International Monetary Fund
World Bank
None of the above
ANSWER: C
Which veteran actor has been crowned as Indian Personality of the Year at IFFI 51st Closing Ceremony?
Naseeruddin Shah
Biswajit Chatterjee
Nana Patekar
Pankaj Kapur
ANSWER: B
Dr. Harsh Vardhan addresses the 4th edition of Future Investment Initiative Forum. This forum was hosted at
Washington DC
Geneva
Riyadh
Shanghai
ANSWER: C
Who among these is the only person t be awarded Padma Bhushan in the field of Art in 2021?
Krishna Nair Shantakumari Chithra
Tarun Gogoi (Posthumous)
Chandrashekhar Kambara
Sumitra Mahajan
ANSWER: A
Union Education Minister inaugurated Agri-Food Techathon at
IIT Kanpur
IIT Varanasi
IIT Kharagpur
IIT Hyderabad
ANSWER: C
Which movie has bagged Golden Peacock Award in 51st IFFI in Goa?
Silent Forest
Into The Darkness
I Never Cry
February
ANSWER: B
From which state Giant Rock Bee Honey, a Unique Variant of Honey Sourced?
Tamil Nadu
Sikkim
Gujarat
Goa
ANSWER: A
Who has won ICC Male Cricketer of Decade Award?
MS Dhoni
Virat Kohli
Rashid Khan
Steven Smith
ANSWER: B
India has launched which campaign for its beach cleaning?
My Beach My Water
India's Beaches – Life source for Exotics
I Am Saving My Beach
We Must Save Our Beaches
ANSWER: C
India's first Test bed for Autonomous Navigation Systems is to set up in?
Mumbai
Bangalore
Kolkata
Hyderabad
ANSWER: D
Which among these has become a member of International Organization of Securities Commissions (IOSCO) recently?
Industrial Development Bank of India (IDBI)
International Financial Services Centres Authority (IFSCA)
World Trade Organization (WTO)
TCL Technology
ANSWER: B
Which country's 25th Constitutional amendment has been laid out recently?
Pakistan
Japan
India
USA
ANSWER: D
The Government of India recently formed a committee to protect language, land, culture of Ladakh. Who is the head of that committee?
G Satish Reddy
G Kishan Reddy
Ajay Gupta
Deepak Kumar
ANSWER: B
What is the length of the India's first double stack long-haul container train?
10.5 km
1.5 km
2.5 km
8.6 km
ANSWER: B
Which country is going to launch world's first wood-based satellite?
USA
India
China
Japan
ANSWER: C
Who has been recently re-elected as the president of Central African Republic?
Archange Touadera
Bambari
Kim Bangassou
Jhon Batangafo
ANSWER: A
What is the theme of International Akhand Conference 'EDUCON-2020'?
Envisioning Education for Transforming Youth to Restore Global Peace
Youth to Restore Global Peace
Education for Transforming Youth
Transforming Youth
ANSWER: A
National youth parliament festival to be celebrated on which date?
12 January 2021
10 January 2021
11 January 2021
13 January 2021
ANSWER: A
Which organization is to adopt 100 Atal Tinkering Labs across the country?
DRDO
ISRO
Tata Group
L & T
ANSWER: B
Which space agency is all set to launch the most powerful rocket in the world?
SpaceX
ISRO
NASA
JAXA
ANSWER: C
The Geological Survey of India has found promising concentrations of Vanadium in which state?
Assam
Sikkim
Arunachal Pradesh
Maharashtra
ANSWER: C
Which country has been removed from the list of state sponsors of terrorism?
Sudan
Iran
Syria
All of above
ANSWER: A
India ranked at which place in the Henley Passport Index?
80
85
101
99
ANSWER: B
Which organisation has organized One Planet Summit?
UN
World Bank
France
All the above
ANSWER: D
PMKVY was launched in which year?
2010
2014
2015
2016
ANSWER: C
India's first 'Fire Park' has been inaugurated in which state?
Odisha
Karnataka
Assam
Kerala
ANSWER: A
Recently, RBI has set up a six-member working group to check what type of frauds?
Cash payment and withdrawal
Digital banking and interface
Management of bank passbooks
Insurance and safety policies
ANSWER: B