When you see someone fight hard, it makes your life seem easy. One such fight with destiny is of Flying Officer Animesh Jha, who recently graduated from the Air Force Academy. With a dream of ruling the skies, Animesh joined Air Force Academy in the year 2019. During the phase of training, he suffered multiple injuries to his right knee and 8 months into the training, he was opined to be boarded out of service and declared permanently unfit for military duties. The dream for which he had lived since his childhood was shattered.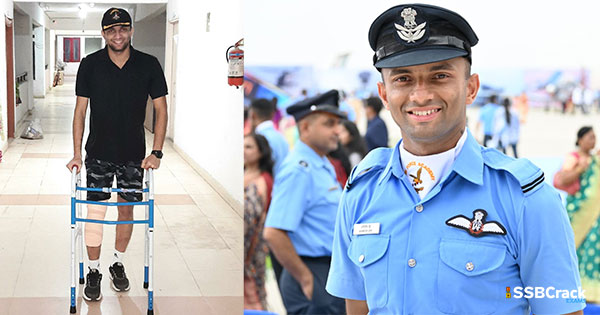 The next few months saw him writing numerous applications requesting higher authorities for a chance to prove his fitness. Finally, the then Chief Of Air Force Staff, decided to give the determined young warrior one last shot wherein he had to undergo surgery, and depending upon the recovery, the final decision of his re-absorption into the service was to be made.
That was all he needed. A year-long rehabilitation plan, consisting of weight training, strengthening, mobility training, running, swimming, etc started, and in the year 2021, his medical category was upgraded.
As the young man gets commissioned, that too in the flying branch which requires optimum medical and physical fitness, the smile on his face shows his unshakeable determination and passion for the service and proves again the old saying -"Tough times don't last, tough men, do".
So we have seen the entries like NDA, CDS, AFCAT exam, and NCC Entry. through which you can join the Indian Air Force as an officer. To prepare for these written exams, do not forget to download SSBCrackExams Learning App.
To join Indian Air Force as an Officer and crack the AFSB interview, You can join our SSB interview live classes batch and we recommend you to Enroll SSB INTERVIEW ONLINE COURSE. Trusted by thousands of defence aspirants.