The National Defence Academy (NDA) is the joint services academy of the Indian Armed Forces, where cadets of the three services, the Army, the Navy and the Air Force train together before they go on to respective service academy for further pre-commission training.
Location: Khadakwasla, Pune, Maharashtra.
It is the first tri-service academy in the world.
To mark the occasion of the raising day, a wreath-laying ceremony will be organised at the Hut of Remembrance for gallant officers from the academy.
Every year, two batches of cadets pass out from the tri-services military academy to continue with one year of pre-commissioning training at academies of their respective forces — Indian Military Academy in Dehradun, Air Force Academy in Dundigal and Indian Naval Academy in Ezhimala. Till now, the academy has produced more than 39,000 officers who have served over land, sea and air over the years.
Genesis of NDA:
The academy was up as the Joint Services Wing (JSW) of the armed forces on January 1 in 1949 at Clement Town in Dehradun.
While the first course had commenced on January 9 the same year, the academy was shifted to the present campus at Khadakwasla in October 1954.
The NDA was inaugurated by Morarji Desai, the then Chief Minister of Bombay, on January 16, 1955.
A complete timeline has been give in the following flow chart: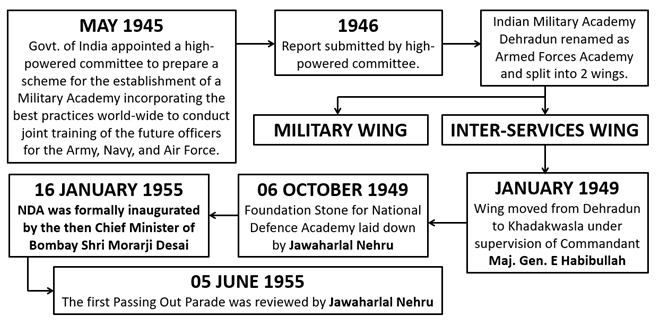 Insignia and Motto of NDA
The motto has been inspired and extracted from the Bhagavat Gita:
Karmanevadhikaraste ma phaleshu kadachana
(Your duty is action with no eye on the fruits it will bring)
In the fifties it was decided to do away with an English motto and have a corresponding Sanskrit version, keeping in line with the Indian culture. So 'Service Before Self' was translated as 'Seva Parmo Dharma'.
Mission of NDA
Provide highest standards of focused training in the professional, intellectual, physical and leadership spheres as also moral and ethical grooming to cadets using innovative cadets, technologies, corporate and modern practices with a view to providing the Armed Forces, competent potential junior leaders with high standard of integrity, equipped to function in battlefield of the future and capable of leading troops to victory.
How to get into NDA?
An Entrance Examination is conducted by the Union Public Service Commission (UPSC) in "offline" mode twice a year for aspirants of 16½ to 19½ years who have completed or are in the final year of their 10+2 (or equivalent) class.
4 lakh aspirants write this exam every year competing for approximately 420 vacancies in both the academies.
Download the SSBCrack Exams learning app and subscribe to NDA course to get complete content related to the examination.
Education in NDA:
A major portion of the curriculum is conducted in the academic class rooms. The academic syllabus is so formulated that it is an integrated one, designed to meet the specific requirements of the Armed Forces. Cadets are taught a large number of subjects of Science, Computer Science and Social Science.
The aim is to provide broad based education to widen horizons and make them capable of understanding and tackling problems that may confront them in their service careers. They are also given training in military science so that they understand the military technology in order to exploit the modern weapon-systems in the Armed Forces.
The Academy has a full-fledged Computer Science Department. Limited vacancies are available for the cadets to undergo B.Sc with Computer Science. These vacancies are allotted on the basis of a screening test held at the end of the first week of the commencement of the term.
Considerable emphasis is laid on outdoor and other extracurricular activities. The extensive facilities available for games and sports include two Olympic size swimming pools, a stadium, a well-equipped gymnasium, several squash and tennis courts, a golf course and a large number of fields for hockey, football, cricket, basket-ball, polo and other games. The Khadakwasla Lake adjoining NDA provides excellent facilities for water sports throughout the year. The Academy has large number of horses, a wide inventory of water sports equipment including boats, and powered gliders for training the cadets. It also has an indoor shooting range for training the cadets in air rifle and air pistol shooting.
The 21st century is a knowledge century; NDA Education Branch has always promoted technology oriented, innovative learning processes, to hone the skills of cadets, develop their spirit of enquiry, logical reasoning and lateral thinking. The objective is to sharpen their analytical abilities and make them capable of taking well informed decisions. This takes into consideration the need to develop their personalities as 'Soldier-Scholars', emerging as confident leaders not only contributing to National Security, but also to the overall development of our Nation.
Recent innovation includes the renovation of Vyas Library, construction of new academic block (Raman Block) for conduct of B Tech degree, modernization of practical laboratories, access of e-learning study materials for cadets using e-tabs, Smart Class Room concept built upon Interactive audio/video based screens and access to e-resources through NKN (National Knowledge Network – as a part of Digital India) for effective teaching-learning.
Gallantry Awards of the Alumni
Param Vir Chakra awardees who were NDA Alumni:

| | | | | |
| --- | --- | --- | --- | --- |
| RANK | NAME | UNIT | COURSE | SQN |
| CAPT | G S SALARIA (POSTHUMOUS) | 3/1 GR | 10 | B |
| 2 LT | ARUN KHETRAPAL (POSTHUMOUS) | 17 HORSE | 38 | F |
| CAPT | MANOJ KUMAR PANDEY (POSTHUMOUS) | 1/11 GR | 90 | M |
Ashoka Chakra Awardees include:
| | | | | |
| --- | --- | --- | --- | --- |
| RANK | NAME | UNIT | COURSE | SQN |
| 2 LT | POLUR MUTHUSWAMY RAMAN | 3 SIKH LI | 6 | A |
| 2 LT | RAKESH SINGH (POSTHUMOUS) | 22 GRENADIERS | 79 | B |
| CAPT | AS JASROTIA, SM (POSTHUMOUS) | 9 PARA (SF) | 73 | E |
| 2 LT | PUNEET DATT (POSTHUMOUS) | 1/11 GR | 87 | E |
| CAPT | HARSHAN R (POSTHUMOUS) | 2 PARA (SF) | 101 | G |
| COL | N J NAIR, KC (POSTHUMOUS) | 16 MARATHA LI | 38 | I |
| MAJ | MOHIT SHARMA, SM (POSTHUMOUS) | 1 PARA (SF) | 95 | I |
| SQN LDR | RAKESH SHARMA | IAF | 35 | J |
| MAJ | SUDHIR KUMAR, SM (POSTHUMOUS) | 9 PARA (SF) | 72 | J |
| MAJ | RK JOON, SC (POSTHUMOUS) | 22 GRENADIERS | 78 | K |
| MAJ | DINESH RAGHU RAMAN (POSTHUMOUS) | ARMD | 95 | N |
| MAJ | SANDEEP UNNIKRISHAN (POSTHUMOUS) | 7 BIHAR | 94 | O |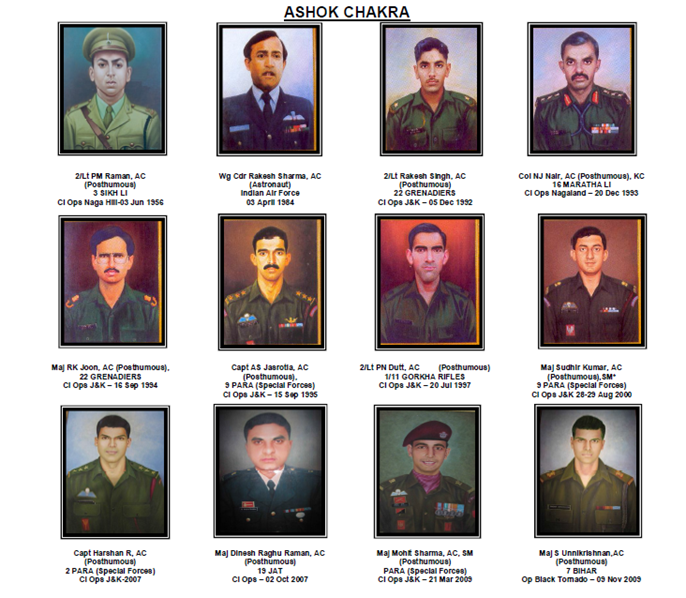 31 Maha Vir Chakras, 162 Vir Chakras, 44 Kirti Chakras and 152 Shaurya Chakras were awarded to NDA Alumni as of now for their indomitable work in various battle and tough theatres.
NDA provided 33 Chiefs of Staff to our Army, Navy & Air Force. Interestingly, present service chiefs are all NDA alumni from the same course.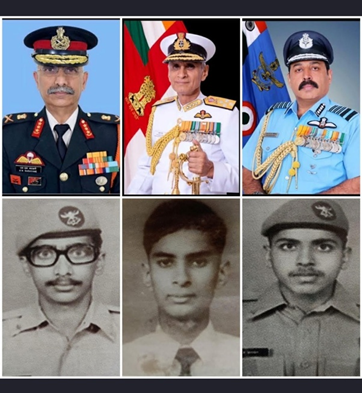 Making Vibrant Men Since Inception…
The National Defence Academy is an iconic institution and hallmark of global excellence in the sphere of military education.
Over the years it has emerged as a unique military academy, attracting the best of youth from our nation and also from friendly foreign countries and transforming them into officers and gentlemen.
During the last six decades of its glorious existence, the National Defence Academy has grown both in grace and grandeur and from its portals have emerged 'Leaders of Men', who have demonstrated the essence of inter-services camaraderie and jointmanship thereby vindicating the faith and vision of its founding fathers.
Apart from leaders of men, the alumni have proved to be great mountaineers, cosmonauts, sportsmen, researchers, creative writers, artists, corporate honchos and more recently, olympic champions. Their achievements are all pervading and showcased in every echelon of our Armed Forces and also in the civil society.
The 'Cradle' has indeed rocked the nascent youth and groomed them into 'Leaders' who have lived up to its ethos: 'Seva Paramo Dharma'.
The National Defence Academy has the unique distinction of being the first institution in the world to impart joint training to officer cadets of the Army, Navy & Air Force.

The 'Cradle' has indeed rocked the nascent youth and groomed them into 'Leaders' pic.twitter.com/Lnq7eo0c8z

— SSBCrackExams (@SSBCrackExams) January 16, 2021
Happy NDA Day to all the Ex-Cadets.

The National Defence Academy is an iconic institution, a global brand of excellence in the sphere of military education.

It is established to educate and develop future military leaders.

Motto:|| sēvā paramō dharma" || Service Before Self || pic.twitter.com/VSFkDXHOR4

— SSBCrackExams (@SSBCrackExams) January 16, 2021