Hey folks! This article will list out some of the most common things that we, the fauji's at heart have. Now you may either be a defence aspirant, or you may be already being a recommended guy waiting for the joining instruction. Some of you may be under training officers and some already an officer. While some may have crossed that age limit to join defence yet and obviously they love Fauj from their heart. So read on!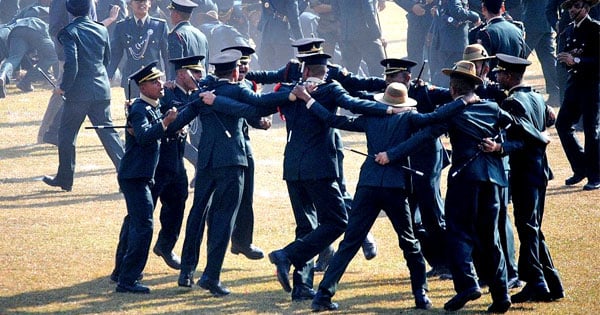 21 Signs that You are a Fauji at Heart
You get absolutely crazy when you see the uniform. Just the sight of the uniform makes you super excited and your wish to 'earn it' increases.
Independence Day and the birthdays of martyr's or apparently any such day related to patriotism are celebrated by you with a lot of joy and enthusiasm.
You are keener to celebrate the 'patriotic' festivals than any other regular festival like Diwali, Eid, and Christmas. And of course you celebrate these festivals with super happiness and pride.
Patriotic songs like "Mere vatan ke logon" make you super sentimental, almost into tears.
You listen to patriotic songs almost every day, and not only on 26th Jan or 15th August.
No matter which band or firangi song you like, your favorite will always be our national anthem, 'Bharat mata teri kasam' and 'kadam kadam badhaye ja'.
You social networking is filled with lots of patriotic shares, likes and status.
95% of you have one time or the other used a Fauji photo as your cover, profile picture on Facebook.
You Facebook likes comprise more of fauj related likes than Bollywood.
Picture of a Bollywood/Hollywood hero shown along with a Fauji's picture which have caption "he is a real hero" are always 'liked' by you.
You love to read military quotes and remember a lot of them, often you put them as you status or use them in normal conversation.
You know a lot of stuff about the aircraft, ships, artillery and infantry equipment. Not only this, you constantly read about the latest acquisitions and technological advancements of the tri-services.
One or the other time the thought of joining defence has crossed your mind.
Your movie collection has Lakshya, Border and LOC as a must in a very good print. You like to watch them once in a while.
You are not afraid of any of the extremes of temperature, be it hot or cold.
There is an adventure spirit inside you, making you love to travel in India anywhere. You want to practice all kinds of adventure sport.
You love to meet new people and you can easily adjust in any atmosphere.
You would rather be loved to call an Indian than being called a Gujrati, Punjabi, Bengali, Up-wala, Bihari etc.
Those aviators and that bullet make you crazier!
It might not be totally astonishing if your bed time stories consist of reading stuff about Fauj mostly on Wikipedia or on other websites.
You have liked SSBCrack and you were reading this article, trying to compare each and every point with yourself!
If you are a defence aspirant and preparing for the exams like NDA, CDS, AFCAT, INET and more. Download the SSBCrackExams learning App.