The Indian Air Force is the Air Arm of the Indian Armed Forces. It is the 4th most Powerful Airforce of the World. Its primary mission is to secure Indian Airspace and conduct Aerial Warfare during Armed Conflict.
It is established on 8th October 1932 as an auxiliary Air Arm of the British Armed Forces as Royal Indian Air Force. But after independence, the prefix 'Royal' was removed.
IAF has participated in 4 wars with Pakistan and 1 war with China and many operations.
It also works in United Nations Peacekeeping Missions.
Supreme Commander of Indian Air Force is the President of India.
There are 1,39,576 active personnel in IAF as of 2017. This number has increased by now.
IAF is divided into 5 Operational and 2 Functional Commands. Operational Commands are those which conduct military operations within their areas of responsibility. Functional Commands are those which keep all the operational commands and various task forces of IAF combat ready.
Every Command is headed by an "Air Officer Commanding-in-Chief" (shortly known as AOC-in-C). The rank of AOC-in-C is "Air Marshal".

CENTRAL AIR COMMAND – PRAYAGRAJ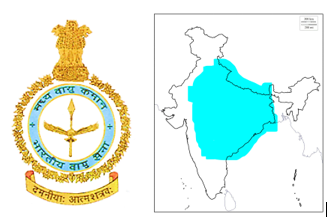 Fig: Logo of the Command and Airspace generally covered by the Command
Initially raised at Rani Kutir, near Calcutta, CAC shifted its headquarters to Allahabad (Uttar Pradesh) in Central Air Command (CAC) in 1966.
It controls air operations in all of central India, from Delhi to Bengal. This command was reduced in size with the establishment of the Southern Air Command.
It has permanent airbases at Agra, Bareilly, Gorakhpur, Allahabad, Gwalior, Nagpur and Kanpur.
Air Defence Squadrons consisting of the Mirage 2000, SU30-MKI, Jaguar. It is the main transport command with aircrafts like – the An-32, IL-76MD and the Dornier Do-228 which are used in the utility role.
Helicopter squadrons include the Mi-8 & Mi-17 and the heavy lift Mi-26 too.
Motto: 'Damniyah Atmashatravah' (Vanquish the Enemy).
AOC-in-C of Central Air Command is Air Marshal Rajesh Kumar AVSM VM ADC.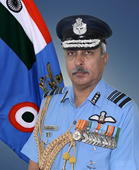 ---
EASTERN AIR COMMAND – SHILLONG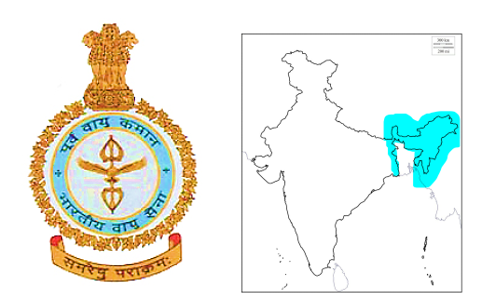 Fig: Logo of the Command and Airspace generally covered by the Command
First raised at Rani Kutir in Calcutta, it was shifted to Tezpur in 1963. By the end of 1963, the HQ was shifted to Shillong (Meghalaya).
EAC controls air operations in the eastern sector which includes West Bengal, Assam, Mizoram and the other eastern states bordering Bangladesh, Burma and Tibet.
Permanent airbases at Chabua, Guwahati, Bagdogra, Barrackpore, Hashmira, Jorhat, Kalaikunda and Tezpur with forward airbases at Agartala, Calcutta, Panagarh and Shillong.
EAC features AD squadrons consisting of the SU-30 MKI, Avro 748M, C-130J Hercules, AN-32 aircrafts.
Helicopters include MI-8, MI-17, HAL Dhruv, HAL Chetak.
Motto: "Samareshu Parakramah" (Victory in Battle)
Air Marshal Rajiv Dayal Mathur is the AOC-in-C of Eastern Air Command.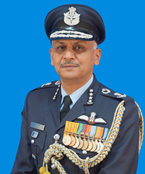 WESTERN AIR COMMAND – NEW DELHI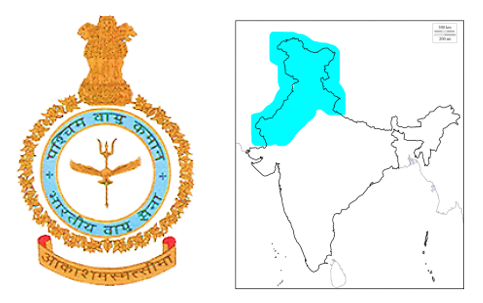 Fig: Logo of the Command and Airspace generally covered by the Command
Western Command was raised as No.1 Operational Group on Independence 27 Sep 47.
In 1949, it was IAF western command re-designated as Operations Command.
In 1962, with the raising of Central Air Command, Operations Command was renamed as Western Air Command.
WAC is the most important of the five regional commands.
Some of the major operations handled are Kashmir Operations 1947-48, Sino-Indian Conflict 1962, Indo-Pak War 1965, Indo-Pak War 1971, Operation Pawan 1986 (Sri Lanka) and Operation Safed Sagar 1999 (Kargil)
It controls air operations north of Jaipur, including the capital and Punjab, from Kashmir south to Rajasthan.
There is an Air Operations Group at the Udhampur AFB, formed in 1982, dedicated to the defence of Jammu & Kashmir and includes Ladakh.
There is an advanced headquarters located near the Army's Western Command at Chandigarh.
Permanent airbases at Adampur, Ambala, Avantipur, Chandigarh, Halwara, Hindan, Leh, Palam, Srinagar and Pathankot with forward base support units (FBSUs) at Amritsar, Bhatinda, Sarsawa, Sirsa, Siachen Glacier and Udhampur.
Aircrafts operating under this command include MIG 21, MIG 21 Bison, Dassault Rafael, MIG-29, SU30 MKI, Jaguar. Some other transport aircrafts include Avro 748, Dornier Do-228M, IL76, AN32.
Helicopters include MI26/Chinook, HAL Cheetah, HAL Dhruv, Boeing Apache, MI 17.
Motto: "Akasha Pasmatsoma".
Air Marshal B Suresh PVSM AVSM VM ADC is the current AOC-in-C of the Western Command of the Indian Air Force.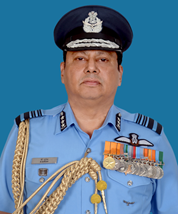 SOUTHERN AIR COMMAND – THIRUVANANTHAPURAM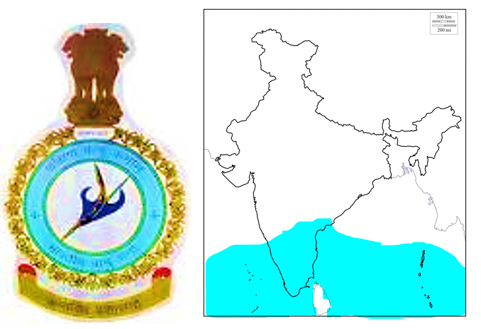 Fig: Logo of the Command and Airspace generally covered by the Command
Born on 19 July 1984 out of the changed geopolitical situation around Southern peninsula.
During the 1980's there were many attempts to destabilize the coastal states and the Sri Lankan ethnic problems have been continuing since ages.
Such kind of situations compelled the Air Force to establish this strategic command so that our island territories and maritime trade and security is maintained properly.
Accordingly, on 20 July 1984, Smt. Indira Gandhi, the then Prime Minister, inaugurated Headquarters of Southern Air Command at Trivandrum at "Belhaven Palace", an old palace of Maharaja of Travancore located in the heart of Thiruvananthapuram city.
Initially, the Command exercised control over 5 lodger units. In a short span of 15 years, the Command has grown and now, it has 17 lodger units under its jurisdiction.
Air Defence Squadrons include the aircrafts like AN-32, HAL Tejas and SU30 MKI.
Helicopters include MI-8, MI-17 V5.
The SAC has its bases in Sulur, Thanjavur and Car Nicobar.
Motto: "Antariksham Prashasmahe" (Meaning: We Command the space).
Air Marshal Amit Tiwari AVSM VM is the current AOC-in-C of the Southern Air Command.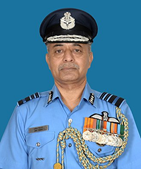 SOUTH-WESTERN AIR COMMAND – GANDHINAGAR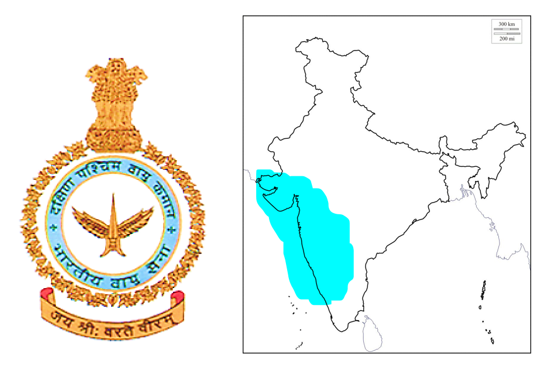 Fig: Logo of the Command and Airspace generally covered by the Command
SWAC was converted from the No.1 Ops Group of WAC which was previously located at Jodhpur.
In May 1998, IAF moved its HQ to Gandhinagar. It controls air operations in the south western air sector, which includes most of Rajasthan, and south through Gujarat to Saurashtra, and Kutch to Pune.
Its task has been largely air defence; however, it is now reported to have a strike mission profile.
Permanent airbases at Bhuj, Jaisalmer, Nalia, Jamnagar, Jodhpur, Barmer and Poona with forward airbases at Ahmedabad, Nal, Suratgarh and Uttarlai.
Air Defence Squadrons consist of the MiG-21, MiG-29 and SU-30 MKI. The ground attack squadrons consist of the MiG-21 and the MiG-23. SWAC also has a maritime attack squadron, which consists of the Jaguar IM.
Transport aircrafts include Avro 748M, IL-76MD.
Helicopters include MI-8, HAL Chetak, MI 35.
Motto: Jai Shree Varate Veeram (Meaning: Victory embraces the brave).
Air Marshal Surendra Kumar Ghotia AVSM VSM is the current AOC-in-C of the South-Western Air Command.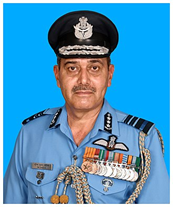 TRAINING COMMAND – BENGALURU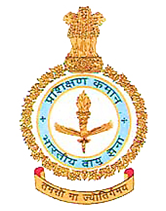 Fig: Logo of the Command
Training Command traces out its lineage from the No. 2 Training Group which was set up immediately by IAF after Independence.
Training Group was re-designated as Training Command in 1949.
Although its headquarters is located at J C Nagar, Bangalore (Karnataka) most of the flying and ground training establishments are in central and southern India.
Motto: Tamaso Maa Jyotirgamaya (Meaning: Lead us from the darkness to the light).
Air Marshal Aravindra Singh Butola is the AOC-in-C of Training Command.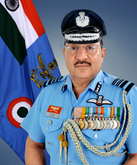 MAINTAINANCE COMMAND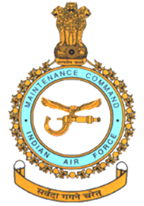 Fig: Logo of the Command
This Command was raised as Maintenance Group at Chakeri in Kanpur in 1950. In 1955, it was designated as Maintenance Command.
Its current headquarters is located at Vayusena Nagar in Nagpur (Maharashtra).
It handles the repair, overhaul and maintenance of all aircraft, helicopters, and other equipment through its 9 Base Repair Depots (BRDs).
It has Base Repair Depots (BRDs) at Kanpur, Gwalior, Chandigarh, Coimbatore, Tughlaqabad, Pune, Ojhar, Jodhpur – all that can do the Maintenance, Repair and the Overall of various aircrafts of the IAF.
Motto: Sarvada Gagane Charetu (Always Flying in the Sky).
Air Marshal Shashikar Choudhary AVSM VSM is the AOC-in-C of Maintenance Command.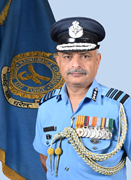 OVERVIEW: