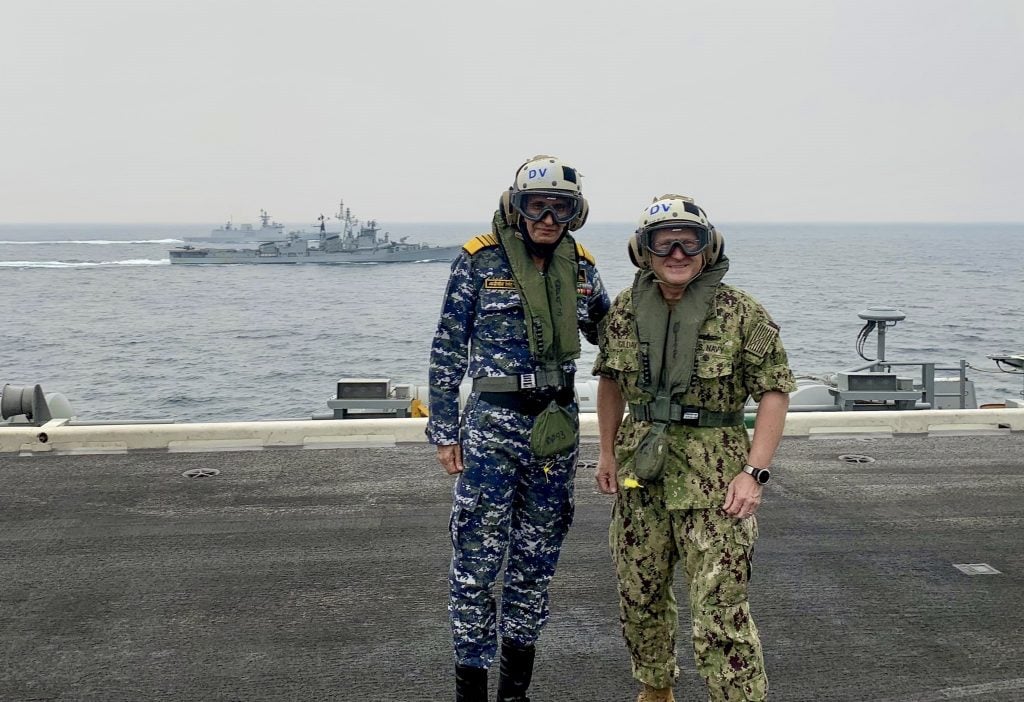 Chief of the Naval Staff (CNS) Admiral Karambir Singh on Sunday hosted Chief of Naval Operations (CNO) of United States, Adm Mike Gilday, amid the US Navy chief's five days visit to India.
The Chief of naval staff said that strategic partnership and engagement between Indian and US navies have seen increased vibrancy in past few years.
"'An honour and privilege to host @USNavyCNO. Strategic partnership and engagement between our navies has seen increased vibrancy in past few years. I am confident that our interactions will pave way for focused outcomes, taking our relationship on an even higher trajectory' Adm Karambir Singh CNS," Navy tweeted.
On Friday, US Navy chief Mike Gilday had reaffirmed the strong strategic relationship between India and United States.
"Make no mistake, the @indiannavy is one of our closest strategic partners, and our relationship is a stronghold of a #FreeandOpenIndoPacific," US Navy CNO tweeted on Friday.
During his visit to Mumbai, Gilday also met with Vice Adm. Hari Kumar, Flag Officer Commanding-in-Chief Western Naval Command, where they discussed areas for mutual cooperation and reaffirmed the growing level of naval collaboration and partnership between the two nations.
Chief of Naval Operations – Chief of Naval Operations (CNO) Adm. Mike Gilday hosted 12 senior Indian Navy officers aboard USS Carl Vinson (CVN 70) on October 14 during Exercise Malabar. The visit to the aircraft carrier, which included Chief of Naval Staff Adm. Karambir Singh and Vice Adm. A.B. Singh, Commander in Chief, Eastern Naval Command, took place during the second phase of the exercise off the coast of India.
"This visit to Carl Vinson during Malabar was an important opportunity to see first-hand the integration between our two navies at sea," Gilday said. "By our navies continuing to exercise together, as we are doing right now alongside Japanese and Australian naval forces, there is no doubt our partnership will only continue to grow. Cooperation, when applied with naval power, promotes freedom and peace, and prevents coercion, intimidation, and aggression."
Chargé d'Affaires Patricia Lacina, who also participated in the visit to Carl Vinson, expressed similar sentiments.
"Exercise Malabar is a showcase example of defense collaboration between our four partnering countries, demonstrating what we can accomplish when we work together to advance our common interests in the Indo-Pacific," she said. "We stand committed to ensure peace, security, and economic prosperity in the region and beyond."
Rear Adm. Dan Martin, Commander, Carrier Strike Group 1, said he was honored to host the visitors aboard Carl Vinson.
"We value the bonds and personal relationships we have developed during Exercise Malabar," said Martin. "Hosting today's visit was the capstone to a positive and successful high-end maritime exercise and it has been a pleasure to work with our Indian maritime partners as we exchanged tactics, techniques, and procedures in a multitude of disciplines and complex warfighting events."
Exercise Malabar was first conducted in 1992 and this year includes Royal Australian Navy, Japan Maritime Self-Defense Force, Indian Navy, and U.S. Navy forces. This exercise builds on progress made during previous iterations and is designed to strengthen maritime security cooperation, improve the participating nations' ability to conduct joint/bilateral operations, and improve military-to-military coordination.
Carl Vinson is on a scheduled deployment operating in the U.S. 7th Fleet area of operations to enhance interoperability through alliances and partnerships while serving as a ready-response force in support of a free and open Indo-Pacific region.
Chief Of Naval Staff Adm. karambir Singh & 12 senior leaders from the Indian Navy abroad on USS Carl Vinson during ExerciseMalabar. pic.twitter.com/HYH65HFLqE

— SSBCrackExams (@SSBCrackExams) October 17, 2021