You can prepare for the upcoming Air Force Common Admission Test (AFCAT 1 & 2 2023) in a systematic manner with the help of AFCAT Online Coaching Lessons from SSBCrackExams's Exam Prep, where you will receive a series of online classes, a preparation strategy, advice, tips, and techniques. With the help of SSBCRACKEXAMS Exam Prep's AFCAT Live video course, you may now achieve exam scores of more than 220. You can now efficiently manage your time and keep up with the competition thanks to AFCAT Online Classes.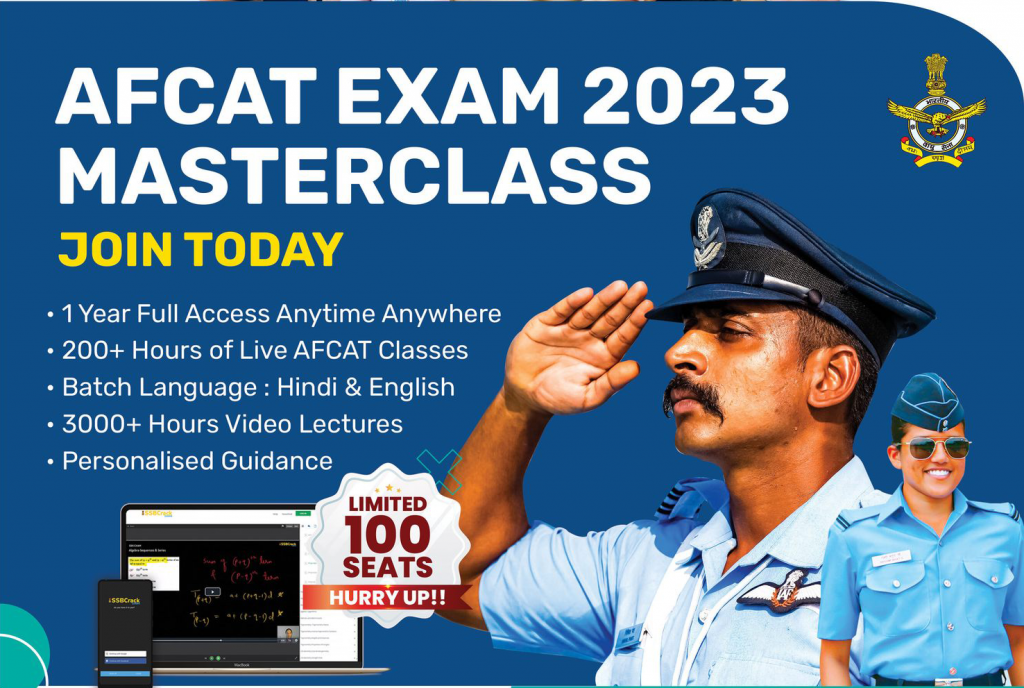 REGISTER FREE FOR AFCAT 2023 CLASSES
Many candidates experience difficulty trying to study for multiple exams at once. You will have a wealth of live lessons and practise exams at your disposal while you study for the AFCAT exam and other defence exams with SSBCRACKEXAMS Exam Prep Online Classroom Program AFCAT. A membership to the SSBCRACKEXAMS Exam Prep AFCAT Online Classroom Program is a one-stop shop for all of your preparation needs because it offers live classes, practise exams, quizzes, in-depth reading materials, revision notes, and frequent performance reviews.
AFCAT 2023 Online Caching Classes: Features
Comprehensive Study Plan
You will receive a comprehensive 150-Day Study-Plan created by the knowledgeable faculty with AFCAT Online Coaching by SSBCRACKEXAMS Exam Prep. Learning is effective because the 200+ hours of live classes are available to participate from anywhere at any time. By participating in the live session for doubt clearing, you can even ask questions.
Study Notes, Quizzes, PDFs
You may access 180+ PDFs based on the most recent pattern and curriculum, detailed study notes on every topic, quizzes to evaluate your knowledge, and AFCAT Live Classes. 3500+ practise questions will aid in the analysis of your sections' strengths and weaknesses.
Improve Speed & Accuracy
The most important thing to remember while taking the exam is time management while retaining accuracy. With the help of the AFCAT 1 Live Course from SSBCRACKEXAMS Exam Prep, you can not only gauge your degree of readiness but also work on improving your accuracy and speed in order to get a high score faster.
Mock Tests
The easiest approach to prepare for the AFCAT 2023 exam is to take mock tests. You review the material by responding to several questions based on the crucial subjects of AFCAT mock exams. A total of 10 mock tests and 8 sectional tests will be given to you.
AFCAT Exam Master Class 2023
1 Year Full Access Anytime Anywhere
200+ Hours of Live AFCAT Classes
Batch Language : Hindi & English
2000+ Hours Video Lectures
Personalised Guidance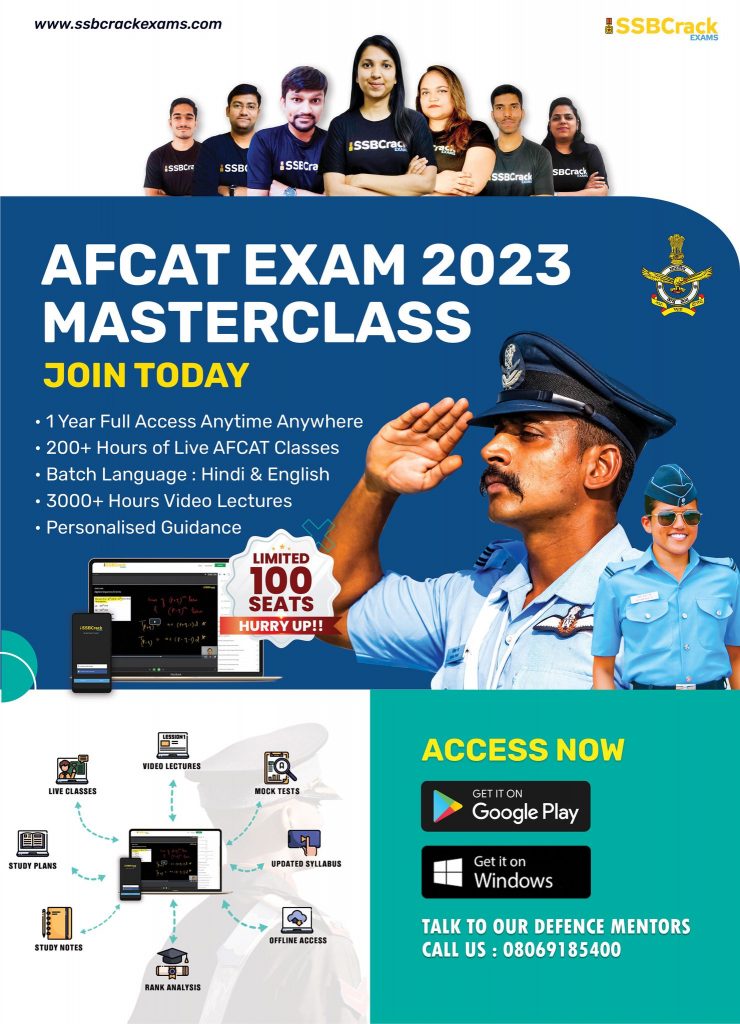 AFCAT Course
No. of Lessons
Study Material
Exam Overview
28 Lessons
Answer Keys
483 Lessons
Study Plan and Analysis
13 Lessons
Defence/Current Affairs
924 Lessons
Numerical Ability
259 Lessons
Reasoning/Military Aptitude
868 Lessons
English
774 Lessons
Static GK
272 Lessons
History
104 Lessons
Polity
119 Lessons
Geography
74 Lessons
Biology
259 Lessons
Chemistry
194 Lessons
Physics
117 Lessons