Hello everyone, I VIKAS TEOTIA from Bulandshahar, Uttar Pradesh got recommended for the National Defence Academy NDA 145 course from 34 SSB Allahabad in my 4th and last attempt and will be joining the prestigious Academy next week. The journey till recommendation had really been interesting and full of learning. I was never screened out but got conferenced out in my earlier 3 attempts. My father is a JCO in Indian Army and was an instructor at NDA and I was lucky to see and live in the academy for three years and from there I made my mind to be a part of it.
I dreamt of wearing the olive green uniform with shining stars on it.
SSB is all about improving yourself in future attempts. I realised that this is the last chance of being in the academy and introspected my mistakes and started working on myself. I started yoga, running, reading books, newspapers in the lockdown and became a better version of myself. I improved my psychology from SSBCrack books and website and practised upon it. I would like to thank SSBCrack for motivating all the aspirants during the Journey. I used to read the success stories and dreamt of writing mine one day.
Coming to my SSB, It was on 12th December 2020 SCE Allahabad. 60 Candidates reported on the first day. I was quite confident of my screening and 27 including me were screened in. On Day 2 we had a Psychology test. I did 12 TAT, 60 WAT and 48 SRT, I had prepared my SD well in advance so overall my Psych test went well.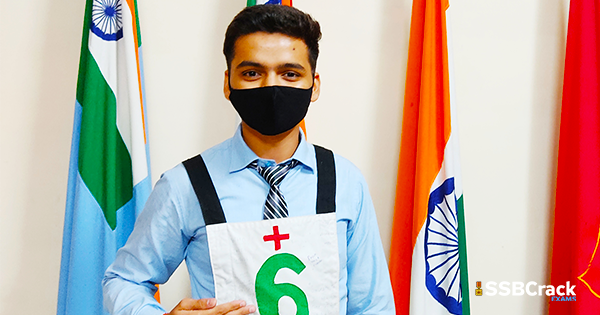 My interview was scheduled for the same day, I was asked about my family, education, friends, a question from gk and current affairs, military deals with foreign countries, questions from my previous attempts and it went well. After the PI the officer said you are a deserving candidate, all the best for your next Tasks. This increased my confidence to another level.
Day 3 (GTO-1) We had 2 rounds of GD's, I put my valuable points, listened well to others, gave chance to everyone and I was nominated by the group to narrate the solution in the GPE and it went well. Overall I was confident of my performance.
Day 4 (GTO-2) I did 9 obstacles. In the command task, GTO gave me the task that there is your joining letter of NDA in the box inside and you have to get it out. He exerted little pressure on me he said me to try and other methods and told me to count reverse from 10 regularly while doing the task.
Now finally the Conference day comes. All of us got ready. One by one candidate was called. I was asked only basic questions regarding stay and suggestion.
We waited eagerly for the result. At last, an officer came with the result and said that 6 candidates have made it.
He started announcing chest numbers and then he said CHEST NUMBER 23. I was filled with joy. I waited 2 years for this moment and finally, I made it.
I called my father and said Papaji Ho Gaya my father replied Thank you Beta and this was the best moment for me.
A winner is just a loser who tried one more time. Work for your dreams with full dedication and you will achieve them one day. JAI HIND.