What are the advantages of Aerial Seeding?
Aerial Seeding: Aerial seeding is a technique of plantation wherein seed balls – seeds covered with a mixture of clay, compost, char and other components – are sprayed on the ground using aerial devices, including planes, helicopters or drones.
Working of the Technique:
Seeds balls/pellets are dispersed in a targeted area by low-flying drones.
They fall to the ground with the help of the coating of clay, compost, char and other material, that provides the required weight for seeds to drop on a predetermined location rather than disperse in the wind.
These pellets sprout when there is enough rain, with nutrients present within them helping in initial growth.
Advantages:
Target inaccessible and difficult areas – Areas that are inaccessible, have steep slopes, are fragmented, or disconnected with no forest routes
"Fire and Forget" way of plantation – The process of the seed's germination and growth is such that it requires no attention after it is dispersed
They eliminate any need for ploughing and do not need to be planted since they are already surrounded by soil, nutrients, and microorganisms.
The clay protects them from birds, ants, and rats.
Aerial Seeding in Aravalli Region
Recently, the Haryana government has employed aerial seeding techniques to improve green cover in the Aravalli area of the state.
The project is being carried out on a pilot basis to regenerate the low vegetation density or denuded areas on inaccessible or difficult sites of Aravalli and Shivalik hills.
Using this method plantation on 100 acres is planned to be attempted during the pilot project.
Aravalli these days is severely inundated due to heavy mining and has undergone rapid development and construction activities.
Aravalli Range
Mountain range running approximately 692 km in a south-west direction, starting near Delhi, passing through southern Haryana and Rajasthan, and ending in Gujarat.
The highest peak is Guru Shikhar at 1,722 meters (5,650 ft).
Fold Mountain.
'Gramodyog Vikas Yojana'
Ministry of Micro Small and Medium Enterprises (MSME), Government of India, approved a programme for the benefit of artisans involved in manufacturing of Agarbatti and to develop village industry under 'Gramodyog Vikas Yojana' .
Initially four Pilot Projects will be started, including one in North Eastern part of the country.
Each targeted cluster of artisans will be supported with about 50 Automatic Agarbatti making machines and 10 Mixing machines.
Accordingly, a total of 200 Automatic Agarbatti making machines and 40 Mixing machines will be provided to the artisans.
This decision will help to boost the indigenous production of 'Agarbatti' and will pave way to generate rural employment.
Earlier two major decisions by Govt of India:
Placing the 'Agarbatti' item from "Free" trade to "Restricted" trade in the import policy and
Enhancing the import duty from 10% to 25% on 'round bamboo sticks' used for manufacturing of Agarbatti.
PM to address Grand Finale of Smart India Hackathon 2020
Prime Minister Shri Narendra Modi will address the Grand Finale of Smart India Hackathon 2020 today, via video conferencing. He will also be interacting with students on the occasion.
The Smart India Hackathon is a nationwide initiative to provide students with a platform to solve some of the pressing problems we face in our daily lives, and thus inculcate a culture of product innovation and a mindset of problem-solving.
The first edition of Smart India Hackathon 2017 saw participation of 42000 students which increased to 1 lakh in 2018 and to 2 lakhs in 2019.
Gandhi-King Exchange Act
The United States Congressional committee passed bill to promote legacies of Mahatma Gandhi, Martin Luther King Jr.
It was authored by John Lewis, the civil rights leader Democratic member of the House who died last week.
Mr. Lewis visited India to mark the 50th anniversary of Dr Martin Luther King Jr's trip to India in the year 1959.
This bill written by Mr. Lewis got final approval of the key congressional committee on 29th July in the US.
Provisions under the Bill:
Establish annual scholar and student exchange programs for Indians and Americans to study the leaders' legacies and visit historic sites in India and the U.S., relevant to the India's freedom struggle and the U.S.'s civil rights movement.
Establish the Gandhi-King Global Academy, a conflict resolution initiative based on the principles of nonviolence.
Establish the United States-India Gandhi-King Development Foundation set up by the U.S. Agency for International Development (USAID) and the government of India, organized under Indian law.
1st August: Muslim Women's Rights Day
1st August is a day which made Muslim women free from social evil of Triple Talaq. Hence 1st August has been recorded in the country's history as Muslim Women Rights Day.
Triple Talaq also known as "talaq-e-biddat" was a special provision bestowed upon Muslim man by the Muslim Personal Law (Shariat) Application Act of 1937.
The law legalized and allowed the practice of Triple Talaq which gave Muslim husband some special privileges over his wife.
Several Muslim-majority nations of the world had declared Triple Talaq as illegal and un-Islamic much earlier. Egypt was the first Muslim nation which abolished this social evil in 1929.
Under the Bill, any man whosoever practices Triple Talaq mode of divorce shall be punished with an imprisonment of three years or fine or both. The offence is non-bailable and entitles the married woman to take custody of her minor children.
AUGUST 1st – 7th: World Breastfeeding Week
World Breastfeeding Week is celebrated every year from 1 to 7 August to encourage breastfeeding and improve the health of babies around the world.
It commemorates the Innocenti Declaration signed in August 1990 by government policymakers, WHO, UNICEF and other organizations to protect, promote and support breastfeeding.
Current COVID19 Situation in India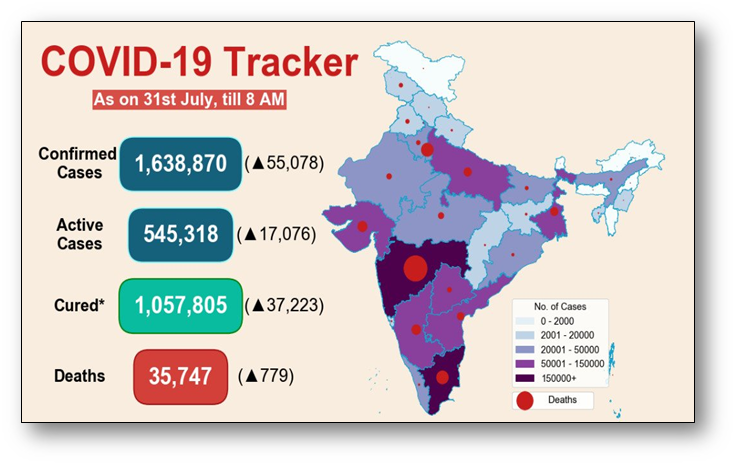 QUIZ TIME
Which of the following is the highest peak of Aravalli?
Doddabetta
Annamalai
Guru Shikhar
Mount Abu
Answer – C
'Gramodyog Vikas Yojana' is the initiative of:
MSME
Niti Ayog
Ministry of Rural Development
Ministry of Finance
Answer – A
When does Muslim Women's Rights Day is celebrated?
1st July
1st August
1st September
1st October
Answer – B
Question of the Day
What is a Fold mountain?
Answer in next session…