What are the key features of National Mental Health Program?
The Government of India launched the National Mental Health Programme (NMHP) in 1982.
Need: Huge burden of mental disorders and shortage of qualified professionals in the field of mental health.
NMHP has 3 components:
Treatment of Mentally ill
Rehabilitation
Prevention and promotion of positive mental health.
Objectives
Ensure availability and accessibility of minimum mental health care for particularly to the most vulnerable and underprivileged sections of population.
Encourage application of mental health knowledge in general health care
Promote community participation in the mental health services development and to stimulate efforts towards self-help in the community.
Union Cabinet approves 3 Labour Codes amendment
GoI, Union Cabinet formally approved amendments to Three Labour Codes.
These 3 labour codes were proposed in Industrial Relations Code, 2019.
The 3 codes are:
Occupational safety
Health, social security
Industrial relations.
Under these Codes GoI seeks to provide pension and medical benefit to gig workers.
Also, will define areas and conditions under which fixed-term employment shall be allowed.
The bill seeks to replace three labour laws namely, the Industrial Disputes Act, 1947; the Trade Unions Act, 1926; and the Industrial Employment (Standing Orders) Act, 1946.
Conditions for strike: Employee can strike only after providing notice 14 days prior to strike.
Factories, mines or plantations needs to take permission from central or state government before firing their worker.
Establishment of industrial Tribunals for the settlement of industrial disputes.
Real Mango Software
Railway Protection Force (RPF) has disrupted the operation of illegal software called "Real Mango"
Real Mango software is an illegal software developed for booking Tatkal tickets.
This software logs into the IRCTC website through multiple IDs.
It auto-fills the passenger details and payment details in in the forms and synchronizes bank OTPs with help of a mobile app.
It was sold through a five-tiered structure.
In most of the cases the software developer accepts the payment through Bitcoins only.
Report on Child Mortality Rate
Recently, new mortality estimates released by UNICEF, the World Health Organization (WHO), the Population Division of the United Nations Department of Economic and Social Affairs and the World Bank Group.
Mortality Rate in India has declined substantially 4.5 % between 1990 and 2019.
The infant mortality rate in India declined from 89 in 1990 to 28 in 2019.
India along with Nigeria is still accounted for almost a third of all under-five deaths in 2019.
The number of under-five deaths in India dropped from 3.4 million in 1990 to 824,000 in 2019.
Child Mortality Rate:
Child mortality is the mortality of children under the age of five.
The child mortality rate, also 'under-five mortality rate.
It refers to the probability of dying between birth and exactly five years of age expressed per 1,000 live births
International day to protect education from attack
The first-ever International Day to Protect Education from Attack is celebrated on September 9, 2020.
Theme: "Protect Education, Save a Generation."
The day aims to highlight the importance of safeguarding schools as places of protection and safety for students and educators
The day was established by a unanimous decision of the UN General Assembly.
UNESCO and UNICEF were called on to raise awareness of the plight of millions of children living in countries affected by conflict.
According to the Global Coalition to Protect Education from Attack (GCPEA), in past five years, there have been more than 11,000 reported attacks on education in over 36 countries.
22,000 students, teachers and academics were killed, injured, arrested or otherwise harmed in attacks between 2015 and 2019.
10 September: World Suicide Prevention Day
World Suicide Prevention Day is observed on 10 September every year to raise awareness about acting worldwide to prevent the cases of suicides.
In 2003, the International Association for Suicide Prevention (IASP) collaborated with the World Health Organisation (WHO) and the World Federation for Mental Health (WFMH) to host the first ever World Suicide Prevention Day.
According to the suicide data collection done by the WHO, close to 800,00 people die each year, due to suicide.
Current COVID19 Situation in India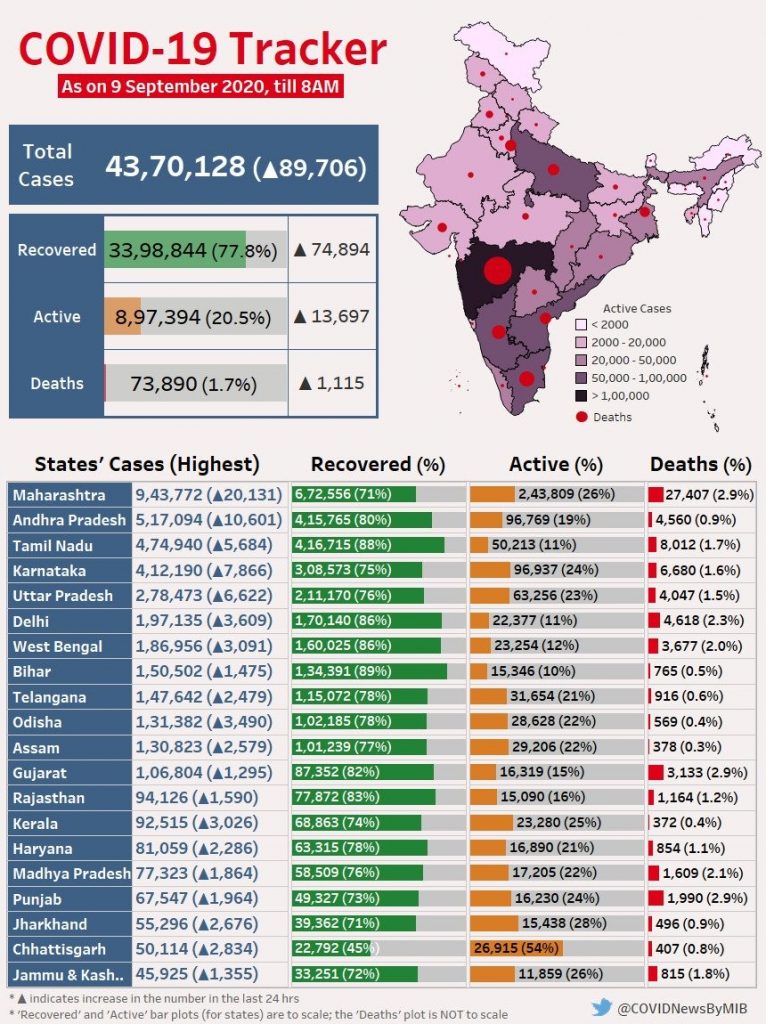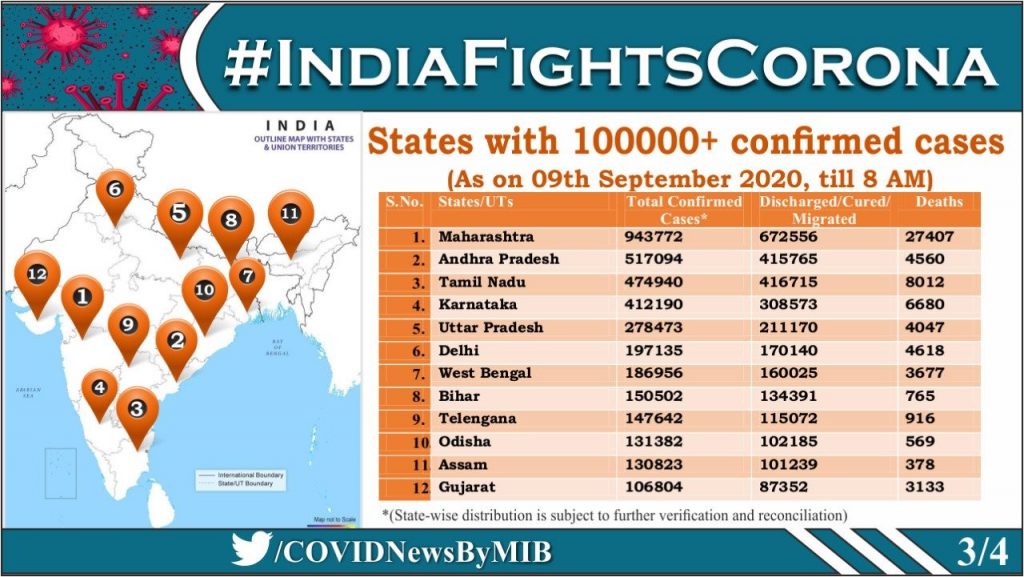 QUIZ TIME
Industrial Relations Code, 2019 is going to replace:
Industrial Disputes Act, 1947
Trade Unions Act, 1926
Industrial Employment (Standing Orders) Act, 1946
All of the above
Answer – D
What is Real Mango?
Mobile App
Illegal Software
Virus
Malware
Answer – B
How much Mortality Rate in India has declined between 1990 and 2019?
1 %
4 %
5.5 %
4.5 %
Answer – D
When International day to protect education from attack is observed?
10 September
9 September
8 September
7 September
Answer – B
Question of the Day
What is Solar Charkha Mission?
Answer in next session…