What is the Shangri-La Dialogue?
It is a Track One inter-governmental security forum.
It is held annually by an independent think tank, the International Institute for Strategic Studies (IISS).
Attended by defense ministers, permanent heads of ministries and military chiefs of 28 Asia-Pacific states.
Summit was initiated in 2002
Originally known as the Asia Security Summit
Aimed at building confidence and fostering practical cooperation between Asia-Pacific.
The forum gets its name from the Shangri-La Hotel in Singapore where it has been held
Climate Smart Cities Assessment Framework 2.0
Shri Hardeep Singh Puri, Minister of State for Housing and Urban Affairs has launched the Climate Smart Cities Assessment Framework (CSCAF) 2.0, along with the 'Streets for People Challenge'
Virtual event organized by the Smart Cities Mission, Ministry of Housing and Urban Affairs (MoHUA).
Objective: To provide a clear roadmap for cities towards combating Climate Change while planning and implementing their actions, including investments.
Initiative intends to inculcate a climate-sensitive approach to urban planning and development in India.
Implementation: The Climate Centre for Cities under National Institute of Urban Affairs (NIUA) is supporting MoHUA in implementation.
The framework has 28 indicators across five categories namely;
Energy and Green Buildings
Urban Planning, Green Cover & Biodiversity
Mobility and Air Quality
Water Management
Waste Management.
Streets for People Challenge
It is the response to the need for making our cities more walkable and pedestrian friendly.
The Challenge will support cities across the country to develop a unified vision of streets for people in consultation with stakeholders and citizens.
Cities will also be guided to launch their own designs to gather innovative ideas from professionals for quick, innovative, and low-cost tactical solutions.
Ranking of States 2019 on support to Startup Ecosystems
Recently, Minister of Commerce & Industry and Railways Shri Piyush Goyal released the Results of the second edition of Ranking of States on Support to Startup Ecosystems.
Conducted by: Department for Promotion of Industry and Internal Trade (DPIIT).
Objective: To foster competitiveness and propel States and Union Territories to work proactively towards uplifting the startup ecosystem.
Ranking has 7 broad reform area, ranging from Institutional Support, Easing Compliances, Relaxation in Public Procurement norms, Incubation support, Seed Funding Support, Venture Funding Support, and Awareness & Outreach.
States are classified into 5 Categories: Best Performers, Top Performers, Leaders, Aspiring Leaders and Emerging Startup Ecosystems.
Best Performer: Gujarat
Top Performers: Karnataka and Kerala
Leaders: Bihar, Maharashtra, Odisha and Rajasthan.
Aspiring Leaders: Haryana, Jharkhand, Punjab, Telangana and Uttarakhand.
Emerging Startup Ecosystems: Andhra Pradesh, Chhattisgarh, Himachal Pradesh, Mizoram, Tamil Nadu, Assam, Delhi, Madhya Pradesh, Sikkim and Uttar Pradesh.
Global Economic Freedom Index, 2020
Recently, an annual report on The Economic Freedom of the World, 2020 has been released which was prepared by Fraser Institute in Canada.
In India, the report was co-published by Delhi-based Centre for Civil Society.
The report measures the 'economic freedom', or the ability of individuals to make their own economic decisions in a country, by analyzing policies and institutions of these countries.
The report is based on the 2018 data.
Topped by Hongkong and Singapore.
India slipped 26 places to 105 among 162 countries and territories on the index of global economic freedom.
India was at 79th position in the 2019 edition of the report.
10 lowest ranked countries are African Republic, Democratic Republic of Congo, Zimbabwe, Republic of Congo, Algeria, Iran, Angola, Libya, Sudan and Venezuela.
India has reported reduction in size of,
Government from 8.22 to 7.16.
legal system and property rights from 5.17 to 5.06.
Freedom to trade internationally from 6.08 to 5.71 and
Regulation of credit, labour and business from 6.63 to 6.53.
SAROD-Ports launched
Society for Affordable Redressal of Disputes – Ports launched by the Union Shipping Ministry.
It is established under Societies Registration Act, 1860.
'SAROD-Ports' is similar to provision available in Highway Sector in the form of SAROD-Roads constituted by National Highways Authority of India (NHAI).
It is Affordable Dispute Redressal Mechanism for all kind of disputes of maritime sector.
Objectives:
Affordable and timely resolution of disputes in fair manner.
Enrichment of Dispute Resolution Mechanism with the panel of technical experts as arbitrators.
Current COVID19 Situation in India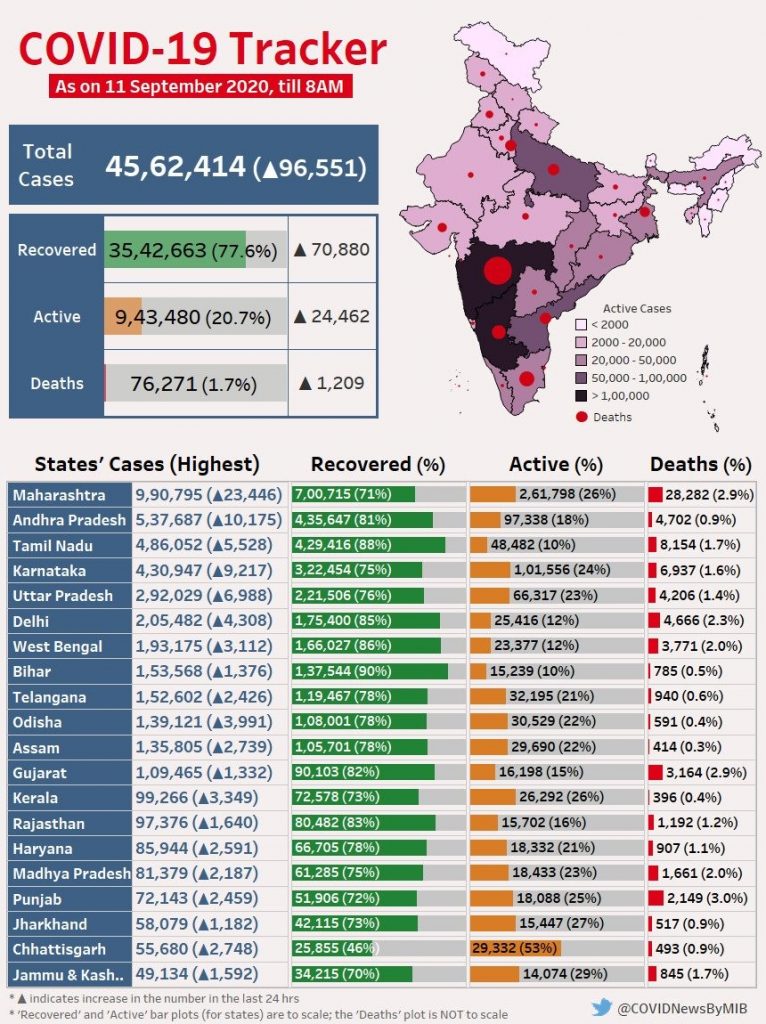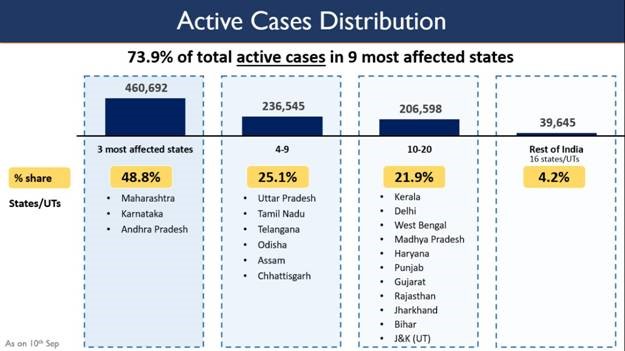 QUIZ TIME
Ranking of States 2019 on support to Startup Ecosystems conducted By:
NITI Ayog
Department for Promotion of Industry and Internal Trade
Both A and B
None
Answer – B
Which state ranked as Best Performer in Ranking of States 2019 on support to Startup Ecosystems?
Gujarat
Maharashtra
Uttar Pradesh
Kerala
Answer – A
What is India's rank in Global Economic Freedom Index, 2020?
102
104
105
109
Answer – C
Which country secured top position in Global Economic Freedom Index, 2020?
Hongkong
Singapore
India
China
Answer – A
Question of the Day
What is Start-Up Village Entrepreneurship Programme?
Answer in next session…