Innovative Low-Cost PPE developed by Indian Navy
In a major step towards rapid mass production of the Medical PPE developed by the Indian Navy, a patent has been successfully filed by the Intellectual Property Facilitation Cell (IPFC) of Min of Defence, in association with National Research Development Corporation (NRDC), an enterprise under Min of Science & Technology.
The low-cost PPE has been developed by a Doctor of Indian Navy, posted at the recently created Innovation Cell at Institute of Naval Medicine (INM), Mumbai.
Made of a special fabric which affords a high level of protection along with high 'breathability' as against other PPEs available in the market.
Concerted efforts are now ongoing by a core team of Navy, IPFC and NRDC to commence mass production of this low-cost PPE. Eligible firms are being identified by NRDC for taking up licensed production of the PPEs on a fast track
IR will to issue limited waiting lists tickets for Special Trains being introduced
Indian Railways has decided that there shall be no RAC (Reservation against cancellation) in special trains restored w.e.f. 12.05.2020.
Indian Railways has taken some other decisions with respect to Special Trains which are as under:
Other rules concerning waiting list shall be applicable.

No Tatkal/Premium Tatkal Quotas shall be defined.

Senior Citizen Quota, Ladies Quota and Quota for Divyangjans (HP) shall be defined as per extant instructions.

The refund rules i.e. cancellation up to 24 hours with refund of 50% of fare and NIL refund within 24 hours of train departure shall be discontinued and extant refund rules i.e. Railways Cancellation and Refund rule 2015 shall be made applicable.

The above changes shall be made applicable for the trains starting on 22nd May, 2020 i.e. booking for which shall commence from 15th May, 2020.
Dr. Harsh Vardhan dedicates COBAS 6800 testing machine to the Nation
Dr. Harsh Vardhan, Union Minister of Health & Family Welfare visited the National Centre for Disease Control (NCDC) and dedicated the COBAS 6800 testing machine to the nation, here today. This is the first such testing machine that has been procured by the Government for testing of COVID-19 cases and is installed at the National Centre for Disease Control.
The Union Health Minister also visited the Control Room and the Testing Laboratories, and reviewed the current status of COVID-19 testing with Dr. S K Singh, Director (NCDC) and senior officials. Highlighting the achievements in ramping up the testing capability, Dr. Harsh Vardhan said, "We have now developed a capacity to conduct 100,000 tests per day. Today marks an important milestone as we have tested nearly 20 lakh tests for COVID-19 mark at more than 500 laboratories including 359 Government laboratories and 145 private laboratories in the country". He further added, "NCDC has been now equipped with the COBAS 6800, a fully automated, high end machine for performing real time PCR testing COVID-19 in the service of nation. COBAS 6800 will provide quality, high-volume testing with a high throughput of test around 1200 samples in 24 hours. It will largely increase the testing capacity with reduction in pendency."
Highlighting its other features, Dr. Harsh Vardhan said that COBAS 6800 is a sophisticated machine enabled with robotics that minimizes the chance of contamination as well as the risk of infection to the health care workers since it can be operated remotely with limited human intervention. As the machine requires a minimum BSL2+ containment level for testing, it cannot be placed at just any facility. COBAS 6800 can also detect other pathogens like Viral Hepatitis B & C, HIV, MTb (both rifampicin and isoniazide resistance), Papilloma, CMV, Chlamydia, Neiserreia etc.
Expressing his deep gratitude to the selfless services being rendered every day since the beginning of the pandemic, Dr. Harsh Vardhan said, "I salute the pathologists, lab technicians, scientists and other staff who are our 'Corona Warriors' and working under tremendous risky conditions in their line of duty, day and night to save the fellow countrymen." He added that the nation needs to shun stigma and applaud the contribution of these frontline healthcare providers.
COVID19 current update in India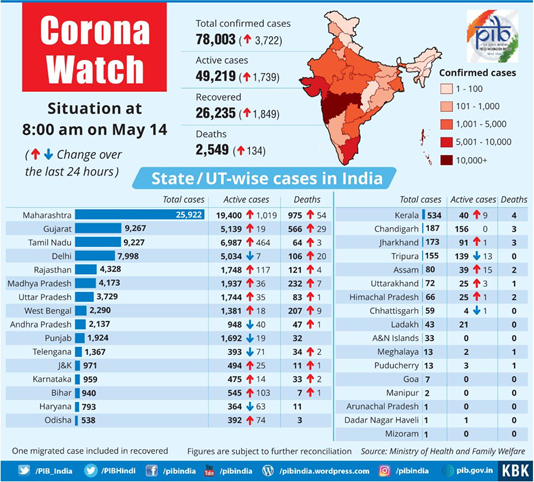 QUIZ TIME
Name of the automated testing machine launched by Health Minister at NCDC, Delhi?
COBAS 1800
COBAS 6800
COBRA 6800
None
Answer: B
National Research Development Corporation (NRDC), is an enterprise that works under:
Ministry of Defence
Ministry of Home Affairs
Ministry of Science & Technology
None
Answer: C
Also Read: