Textiles Committee produces fully indigenous PPE Testing Equipment
Textiles Committee, Mumbai too will now test and certify PPE body coveralls required for healthcare workers
The inclusion of Textiles Committee as the ninth approved laboratory to test and certify body coveralls has been announced by the Ministry of Textiles yesterday evening.
The machine conceptualized and designed completely in-house and ourselves produced the vital equipment viz. Synthetic Blood Penetration Testing equipment, required for Determination of the resistance of Protective Clothing materials to penetration by blood and body fluids.
The Ministry of Textiles, under the leadership of the Textiles Minister Smt. Smriti Zubin Irani, has been taking several steps to ensure that both quality & quantity of PPE coveralls going up to the desired levels within a very short span of time of two months, thereby catapulting India into the world's 2nd largest manufacturer of body coveralls, next only to China.
The Textiles Committee is a statutory body established in 1963 through an Act of Parliament and is under the administrative control of the Ministry of Textiles, Government of India. It has been formed to ensure the quality of textiles and textile machinery both for internal consumption and export purpose.
Alternative dwarfing genes in wheat can eliminate rice crop residue burning
In India, close to 23 million Tonnes of leftover rice residues are annually burnt by farmers to get rid of the straw and prepare their fields for sowing wheat, which is the next crop, resulting in air pollution.
To overcome these problems, Scientists at Pune based Agharkar Research Institute (ARI), an autonomous institute of the DST, have mapped two alternative dwarfing genes Rht14 and Rht18 in wheat. These genes are associated with better seedling vigour and longer coleoptiles.
Local to Global: Khadi Masks to Hit Foreign Markets
The Khadi and Village Industries Commission (KVIC) will now explore the possibility of exporting the Khadi cotton and silk face masks to foreign countries after the Ministry of Commerce and Industries lifted the ban on export of non-medical/ non-surgical masks of all types. A notification in this regard was issued on May 16, by the Directorate General of Foreign Trade (DGFT)
The move comes days after the Prime Minister Shri Narendra Modi's "Local to Global" call in wake of the "Atmanirbhar Bharat Abhiyan". Keeping in view the huge demand of face masks during the global Covid-19 pandemic, the KVIC has developed double layered and triple-layered Cotton as well as Silk face masks respectively
82 UG and 42 PG Non-Engineering MOOCs to be offered in the July 2020, Sem. on SWAYAM
Union HRD Minister Shri Ramesh Pokhriyal 'Nishank' informed that the Students enrolled in Universities and affiliated colleges may undertake SWAYAM courses and avail credits by completing these courses as per University Grants Commission (UGC)'s present regulations on credit framework for online learning courses.
He added that these courses cover subject areas such as Biochemistry/Biotechnology/Biological Sciences & Bioengineering, Education, Law, Computer Science and Engineering, Commerce, Management, Pharmacy, Mathematics , History, Hindi, Sanskrit, etc.
The Minister further said that in the prevailing COVID-19 pandemic scenario, Students, Teachers, Life-long learners, Senior Citizens and Homemakers may enroll and avail the benefits of SWAYAM courses to widen their horizon of learning.
SWAYAM (Study Webs of Active Learning for Young Aspiring Minds) is a programme initiated by Government of India and designed to achieve the three cardinal principles of Education Policy viz., access, equity, and quality
COVID19 current update in India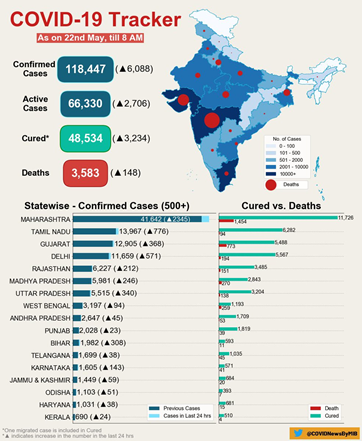 QUIZ TIME
Who is the Current Textile Minister of India?
Jai Shankar Sharma
Nitin Gadkari
Smriti Irani
None
Answer: C