What are the roles and functions of International Financial Services Centres Authority?
It is a statutory body established in 2020.
It works under the Department of Economic Affairs, Ministry of Finance.
Headquartered in Gandhinagar, Gujarat.
Function is to develop and regulate the financial products, financial services and financial institutions located/performed in the International Financial Services Centres in India.
The Authority is empowered to exercise the powers of RBI, SEBI, IRDAI and PFRDA in respect of financial services, financial products and financial institutions performed/located in the international financial services centres in the country.
Govt increases expenditure limit of candidates contesting Lok Sabha
The poll spending limit for candidates contesting Lok Sabha and Assembly elections has been enhanced by 10 percent.
An amendment to the Conduct of Elections Rules, 1961 in this regard has also been notified.
The last time the expenditure ceiling was enhanced was in 2014 just ahead of the Lok Sabha polls.
Centre has approved this based on the recommendation of the Election Commission that contestants be allowed to spend more on campaigning keeping in mind difficulties they may face due to COVID-19 curbs.
For Assembly election, it has been hiked from Rs. 28 lakh to Rs. 30.80 Lakh.
Adoption of Jammu and Kashmir Panchayati Raj Act
Union Cabinet approved the adoption of Jammu and Kashmir Panchayati Raj act.
The move will establish three tiers of grass-root level democracy in Jammu and Kashmir like in other parts of the country.
Other reforms:
The Cabinet also approved productivity linked bonus and non-productivity linked Bonus for the non-gazetted central government employees for 2019-2020.
The bonus will be given in a single installment before Vijaydashmi.
Union Cabinet also approved the extension of market intervention scheme to the union territory of Jammu and Kashmir.
Under this the procurement of Apple from the region will be done by the national agricultural Cooperative marketing federation.
Indigenous Software solution for VTS and VTMS
Union Minister for Shipping e-launched the development of Indigenous Software solution for Vessel traffic services (VTS) and Vessels Traffic Monitoring Systems (VTMS).
VTS and VTMS is a software which determines vessel positions, position of other traffic or meteorological hazard warnings and extensive management of traffic within a port or waterway.
Vessel Traffic Services (VTS) contribute to safety of life at sea, safety and efficiency of navigation and protection of the marine environment, adjacent shore areas, work sites and offshore installations from possible adverse effects of maritime traffic.
VTMS is mandatory under IMO Convention SOLAS (Safety of Life at Sea).
India International Science Festival 2020
The 6th India International Science Festival to be held in Virtual format from 22nd to 25th December 2020
It will be a reflection on Indian Science & Technology Innovations for Atmanirbhar Bharat and Global welfare
The first and second IISF were held in New Delhi, the third in Chennai, the fourth in Lucknow, and the fifth IISF was held in Kolkata.
IISF is an annual event
Organised jointly by science & technology-related Ministries and Departments of the Government of India and Vijnana Bharati (Vibha).
IISF is a festival to celebrate the achievements of India's scientific and technological advancements with students, innovators, craftsmen, farmers, scientists and technocrats from India and abroad.
CuRED
Union Health and Science and Technology Minister Dr Harsh Vardhan launched CuRED.
CuRED is a website that gives comprehensive info about the numerous COVID-19 clinical trials that the Council of Scientific & Industrial Research (CSIR) is engaged in partnership with industry, other government departments and ministries.
CSIR is also working with Ministry of AYUSH for clinical trials of AYUSH drugs including AYUSH-64.
CSIR Ushered Repurposed Drugs (CuRED) provides information about the drugs, diagnostics and devices including the current stage of the trials, partnering institutions and their role in the trials and other details.
Current COVID19 Situation in India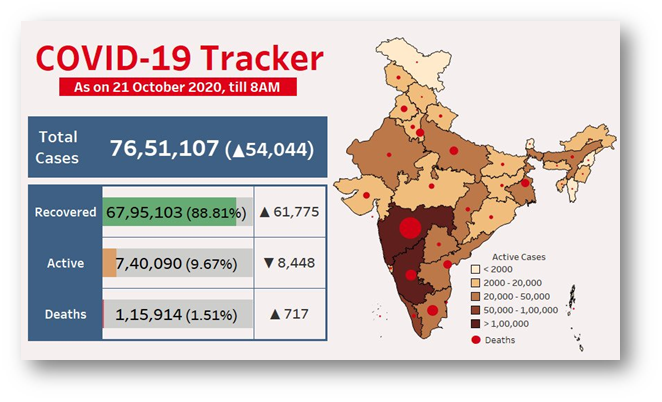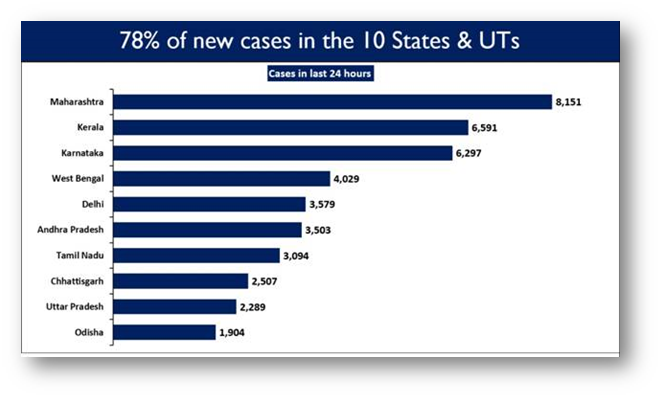 QUIZ TIME
India International Science Festival is organised by:
NITI Ayog
IIT Delhi
IIT Mumbai
Ministry of science and technology
Answer – D
What is CuRED?
Vaccine
Website
Virus
Malware
Answer – B
The poll spending limit for candidates contesting Lok Sabha and Assembly elections has been enhanced by?
20%
10%
50%
60%
Answer – B
Question of the Day
What is Frontier Technologies Cloud Innovation Center?
Answer in next session…