Since the AFCAT exam turned online from offline mode, after every AFCAT result many candidates report dissatisfaction with the AFCAT marks that they have scored. Some candidates report an error with the online test portal of CDAC and say glitches in it causes the error with their result as they were expecting more marks. After AFCAT 2 2020 result was declared, many candidates are reaching us and asking how they can get their AFCAT exam rechecked as they are not satisfied with their marks. Here are a few things we need to know first:
Since AFCAT went online, the whole testing process is taken care by CDAC also known as Centre for Development of Advanced Computing. CDAC conducts many other competitive exams too. CDAC conducts AFCAT online exam on behalf of the Indian Air Force. Earlier, when the AFCAT was an offline exam (OMR based), IAF used to conduct it by themselves after managing tons of other exam related things, now they have handed over the testing process to CDAC.
Even the registration portal for AFCAT i.e. AFCAT CDAC website is handled by CDAC only. So, the whole process from AFCAT registration till conducting the AFCAT online exam is the responsibility of CDAC, IAF does look into this whole process that is handled by the CDAC and they also have AFCAT C-DAC Cell.
Can I Check my AFCAT Answer Sheet under RTI Act 2005?
Many candidates who are not satisfied with their AFCAT marks are suggested to get their answer sheet under RTI act 2005.
As per this act, every Indian citizen has the right to information, especially when it comes to your career, you can seek information regarding your answer sheet under this act.
Below we have prepared a document for the AFCAT RTI that aspirants can use to check their AFCAT answer sheet under RTI Act 2005.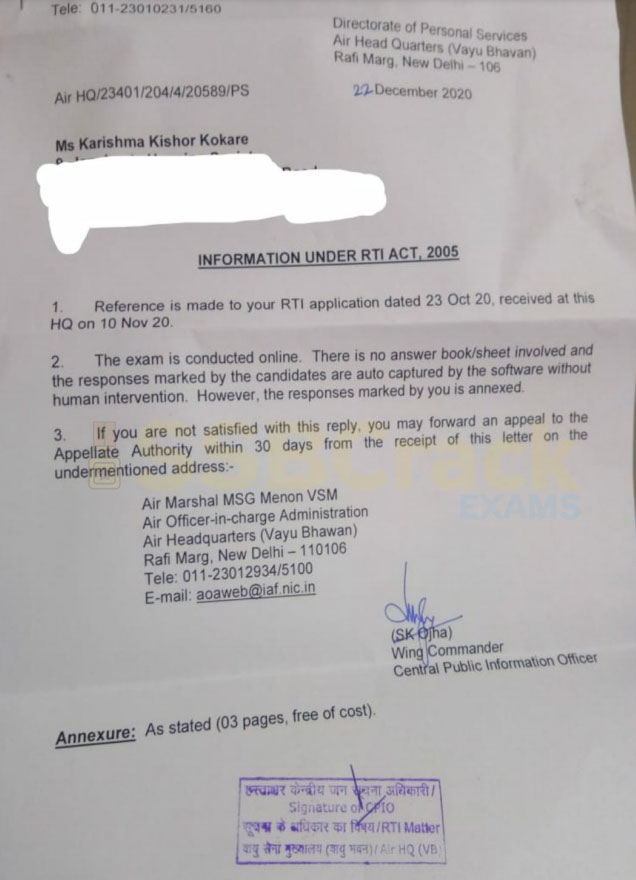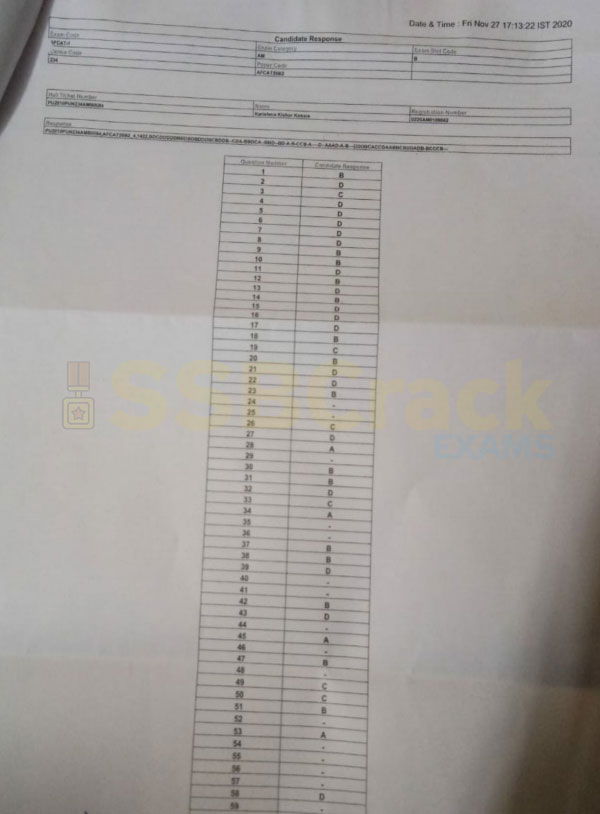 Reaction of unsatisfied AFCAT candidates:
You can read all comments here: Click Here
One should keep in mind that there is nothing mentioned officially about rechecking your AFCAT marks, applying for recorrection or getting a copy of your answer sheet. Candidates who reached us are also suggested to contact the Disha Cell, AFCAT cell and AFCAT CDAC Cell as mentioned below:
DISHA CELL, IAF
(For queries/ clarifications regarding eligibility, advertisement, submission of documents after recommendation/medical, merit list and joining instructions)
Address – Air Headquarters (Vayu Bhawan), Motilal Nehru Marg, New Delhi – 110106
Toll Free no. 1800-11-2448,
Tele: 011 – 23013690 (Direct), 23010231 Extn 7610, 7645, 7646.
Fax – 011 – 23017918
E- Mail :
Tele Timings: 9 am – 1 pm & 2 pm – 5 pm ( Monday to Friday, except holidays)
AFCAT CELL, IAF
(For queries/ clarifications regarding scheme & syllabus of AFCAT)
Address – Director of Education, West Block – VI, Air HQs(RKP), RK Puram, New Delhi – 110066
Tele: 011 – 23010231 Extn:2112- 6245, 6246
E– Mail:
Tele Timings: 9 am – 1 pm & 2 pm – 5 pm ( Monday to Friday, except holidays)
AFCAT CELL, C-DAC
(For queries/ clarifications regarding registration/ application for online AFCAT, payment issues, admit card and AFCAT centres)
Tele: 020 – 25503105, 06
Toll Free no. 1800-11-2448
E- Mail
Tele Timings: 9 am – 1 pm & 2 pm – 5 pm ( Monday to Friday, except holidays)