Where is Dibru Saikhowa National Park located?
The sprawling Dibru Saikhowa National Park, is located close to the eastern border of Assam, straddling both the districts of Dibrugarh and Tinsukia.
It was designated a Biosphere Reserve in July 1997
The park is bounded by the Brahmaputra and Lohit Rivers in the north and Dibru river in the south.
It mainly consists of moist mixed semi-evergreen forests, moist mixed deciduous forests, canebrakes & grasslands.
It is the largest Salix swamp forest in north-eastern India, with a tropical monsoon climate with a hot & wet summer & cool and usually dry winter.
President Of India Flags Off Red Cross Relief Supply For Flood Affected People
The President of India, Shri Ram Nath Kovind, flagged off nine trucks of Red Cross relief supplies from Rashtrapati Bhavan
The President of India is the President of Indian Red Cross Society (IRCS).
These relief supplies for the people of Assam, Bihar and U.P. shall be carried from Delhi to the concerned states by train and will be received by the state Red Cross branches of respective states.
The relief material included items such as tarpaulins, tents, saris, dhotis, cotton blankets, kitchen sets, mosquito nets, bed sheets, buckets and two water purification units.
In addition, COVID-19 protection items such as surgical masks, PPE kits, gloves and face shields are also part of the relief material.
Home Minister Distributed 100 Electric Potter Wheels Under Kumhar Sashaktikaran Yojana
Distributed 100 electric potter wheels to 100 trained artisans under the Kumhar Sashaktikaran Yojana of the Khadi and Village Industries Commission (KVIC).
Initiative would help in strengthening the marginalized potters' community by incorporating technology to improve productivity while also reviving the traditional art of pottery.
Indian Railways to RFID Tag all wagons by Dec. 2022
The Indian Railways will complete this process of fitting Radio – Frequency Identification Tags (RFID) in all the wagons by December 2022. These tags will be used for tracking all wagons.
So far 23000 wagons have been covered under RFID project.
Need of RFID:

Currently, IR is maintained such data manually, which leaves scope for errors. Using RFID devices will be easier for the railways to know the exact position of all the wagons, locomotives, and coaches.

While the RFID tag will be fitted in the rolling stock, trackside readers will be installed at stations and key points along the tracks to read the tag from about two meters and transmit the wagon identity over a network to a central computer.

With the introduction of RFID, the issue of shortage of wagons, locomotives and coaches is expected to be addressed in a more transparent and expeditious manner.
Ministry of Shipping Waives Waterways Usage Charges to Promote Inland Water Transport
MoS has decided to waive waterway usage charges with immediate effect considering the GOI's vision to promote inland waterways as a supplementary, eco-friendly, and cheaper mode of transport.
The charges are waived initially for three years.
Currently only 2% of total cargo traffic moves through waterways.
Decision of waiving waterway charges will attract the industries to use the national waterways for their logistical needs.
As the mode of transport is eco-friendly and cheaper, it will not only reduce the burden on other transport modes but also promote the ease of doing business
Estimated increase to 110 MMT in 2022-23.
It will benefit the economic activities & development in the region.
Current COVID19 Situation in India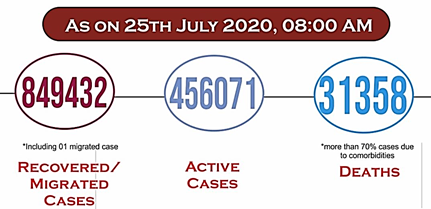 QUIZ TIME
Electric potter machines has been distributed by the government comes under?
KVIC Initiatives
Kumhar Sashaktikaran Yojna
Both
None
Answer – B
Dibru Saikhowa National Park is situated and bounded by which of the following rivers?
Ganga
Godavari
Brahmaputra
None
Answer – C
Who is the president of the India Red Cross Society?
Prime Minister of India
President of India
Union Health Minister
None
Answer – B
Question of the Day
When was Indian Red Cross Society formed and came into existence?
Answer in next session…