What is Know India Programme?
The KIP is a 25-day orientation programme organized by the Ministry of External Affairs in partnership with the states of India.
It is for engagement with Indian origin youth (between 18-30 years) to enhance their awareness about India, its cultural heritage, art and to familiarise them with various aspects of contemporary India.
The KIP offers a platform for the young PIOs to visit India share their views, expectations and experiences and forge closer bonds with the India of present times.
Minimum qualification required for participating in KIP is graduation from a recognized University /Institute or enrolled for graduation and ability to speak in English.
Vaccine portal for COVID-19
Union Health Minister Dr. Harsh Vardhan inaugurated the vaccine portal for Covid-19 to create awareness among masses.
The portal will provide vaccine related information.
Currently 3 vaccines are undergoing clinical trials in India for COVID-19.
COVAXIN developed by Bharat Biotech International Limited which is at second phase of human trial
COVISHIELD developed by Oxford University and manufactured by Serum Institute of India is under phase III of clinical trial
Zydus Cadila developed vaccine is under the process of receiving approval to conduct third phase of clinical trials.
The Health Minister also launched the ICMR history timeline depicting 108 year journey of the Council which displays key milestones and captures policy and program interventions by ICMR.
The Minster also launched a data collection programme called "Mapping of nutrition and health status". The programme will collect data on dietary intake through crowd sourcing approach.
A report titled "What India Eats" was also released. The report provided information about dietary patterns in India.
Health in India Report
The Ministry of Statistics and Programme Implementation has released the report of a survey titled 'Health in India'.
Main objective of the report was to gather basic quantitative information on India's health sector.
It showcased role played by government and private sector facilities, and also contains health information for separate religious communities.
Key findings:
Around 7.5 % of Indians reported that they were suffering from ailments.
While in rural India only 6.8 % said that they were suffering from an ailment, this number in urban India was 9.1 %.
Religion based classification:
The Zoroastrian community remains the most susceptible to ailments.
Results from the National Sample Survey (NSS)'s 75th Round released in July show that 31.1 % of Zoroastrians reported that they were suffering from an ailment at the time the survey was conducted.
This number for other communities is: Jains, 11.2 %; Sikhs 11 %; Christians 10.5 %; Muslims 8.1 %; Buddhists 8 %; and Hindus 7.2 %.
Sex based classification:
Women remain more susceptible to suffering from ailments than men.
Rural India: 6.1% of males and 7.6% of women
Urban India: 8.2% of males and 10% of females
The survey defines ailment as any deviation from a person's state of physical and mental well-being.
The 'Proportion of Persons who Responded as Ailing', or PPRA, in a 15-day period when they were approached by the surveyors, were registered as those suffering from ailments.
Radio Pathsala
Recently, the state government of Odisha has decided to reach out to children in remote areas through the radio
The reason is as online classes fail to reach most students due to poor mobile connectivity.
The "Radio Pathsala" programme will be held every day from Monday to Friday between 10 am to 10:15 am from September 28
It has been highlighted that a student can cover six pages of his textbook within 15 minutes of a radio programme.
The audio programme will also be uploaded in the central government's DIKSHA online platform.
Three hours of classroom instruction are also available through Doordarshan.
The state government had decided to reduce the syllabus by 30 per cent for the 2020-21 academic year.
Positive Pay System
The Reserve Bank of India has announced that it will launch "Positive Pay System" for Cheque Truncation System from 01st January, 2021.
It will be developed by National Payments Corporation of India (NPCI)
Will be available to participant banks.
The system makes it mandatory to re-confirm key details of cheques that need payments beyond Rs 50,000.
According to the RBI new system, the issuer of the cheque will now have to submit details of the cheque including the name of the beneficiary, date, amount of the drawee bank through a cheque.
Cheque Issuer can also submit the details through internet banking, mobile app or ATM.
These details will be cross-checked by the costumer branch banks before the cheque is presented for payment.
The RBI had announced the Positive Pay mechanism in order to prevent frauds with high value cheques.
The system is already in use in India.
The ICICI bank has been following this procedure since 2016.
29 September: World Heart Day
World Heart Day is observed annually on 29th September.
This day informs people about the heart disease and stroke which is the world's leading cause of death.
Theme: Use Heart to beat Cardiovascular Disease
Current COVID19 Situation in India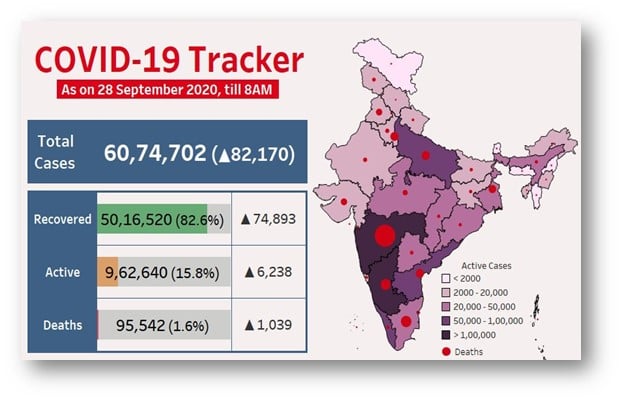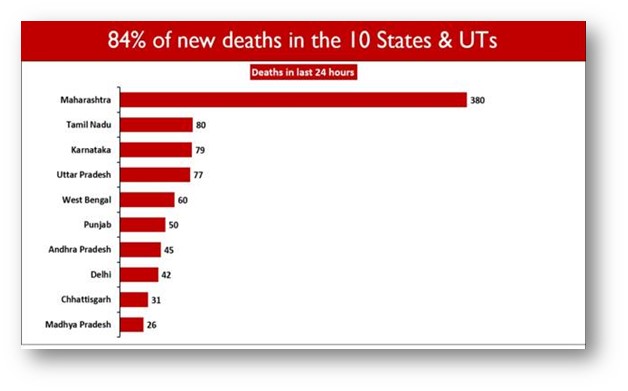 QUIZ TIME
Data collection programme called "Mapping of nutrition and health status launched by:
Ministry of Health
Ministry of Women's and Child Development
Ministry of Social Justice
None of the above
Answer – A
Radio Pathsala is initiative of which state?
Madhya Pradesh
Uttar Pradesh
Odisha
Maharashtra
Answer – C
World Heart Day is observed on:
28 September
29 September
27 September
26 September
Answer – B
Question of the Day
What is Silk Samagra scheme?
Answer in next session…