What is Swadesh Darshan Scheme?
Launched By: Ministry of Tourism.
Objective: To develop theme-based tourist circuits in the country.
These tourist circuits will be developed on the principles of high tourist value, competitiveness, and sustainability in an integrated manner.
The scheme is 100% centrally funded.
Funding of individual project will vary from state to state.
Indian Railways to introduce "Kisan Rail"
Indian Railways is introducing first "Kisan Rail" from Devlali (Maharashtra) to Danapur (Bihar).
The train will run on weekly basis.
This train is a step towards realizing the goal of doubling farmers' incomes by 2022.
This train will help in bringing perishable agricultural products like vegetables, fruits to the market in a short period of time.
The train will have frozen containers and is expected to build a seamless national cold supply chain for perishables, inclusive of fish, meat and milk.
Indian Railways have earlier run single commodity special trains like Banana Specials etc.
But this will be the first ever multi commodity trains and will carry various fruits and vegetables.
Online patriotic film festival
Organized by National Film Development Corporation.
It is first of its kind, online patriotic film festival.
The festival, a part of Independence Day Celebrations 2020 by Ministry of Information and Broadcasting.
It will begin on 7th August 2020 and will run till 21st August.
The festival will showcase Indian history that marks the bravery of our freedom fighters and aims to create a festive and patriotic mood among Indians across the globe.
The festival will showcase high quality Independence Day themed patriotic films daily at the website www.cinemasofindia.com freeof cost.
Movies like Gandhi, Chittagong, The Legend of Bhagat Singh etc. will be showcased in the festival.
IBBI amends liquidation process regulations
The Insolvency and Bankruptcy Board of India (IBBI) amended regulations for liquidation process, providing more clarity on fee payable to liquidators.
Now fee payable to the liquidator will be fixed by committee of creditors.
Where the fee has not been fixed, the Regulations provide for a fee as a percentage of the amount realized and of the amount distributed by the liquidator.
This amendment clarifies that if a liquidator realises any amount, but does not distribute the same, he shall be entitled to a fee corresponding to the amount realized by him.
Insolvency and Bankruptcy Board of India
Statutory Body: Insolvency and Bankruptcy Code, 2016
Established: 1 October 2016
It is a key institution in implementing the IBC, which provides for market-linked and time-bound resolution of stressed assets.
RBI to set up 'Innovation Hub'
The hub is being launched to promote the startups in the country.
It will help in ideation and incubation of new capabilities to promote financial inclusion and promote efficient banking services.
Hub will create viable and innovative financial products.
Following will be the benefits:
The hub will help achieve efficient banking
Business continuity in times of emergency
Strengthening consumer protection
Similar initiatives taken by RBI like Regulatory Sandbox.
The regulatory sandbox allows live testing of new products or services in a controlled or test regulatory environment.
Where regulators may (or may not) permit certain relaxations for the limited purpose of testing.
Bangas Awaam Mela
It was held in J-K's Handwara to mark anniversary of abrogation of Article 370.
The Annual Festival saw the participation of hundreds of Gujjars, Bakarwals and other Kashmiri sightseers.
The first day Village Games were held which saw competitions like Horse Racing, Sheep Shepherding Challenge, Tugs of War, etc.
The Veterinary and Medical Camp was organized to provide basic health care facilities along with medicines to the locals who are residing in the remote region of Bangus valley.
On the second day of the festival, the audience enjoyed folk songs by the Gujjar community.
August 7: National Handloom Day
The day is celebrated to honour the handloom weavers in the country.
Also, the day highlights handloom industry in India which is key to women empowerment as over 70% of handloom weavers and allied workers are women.
7th August was chosen as the National Handloom Day to commemorate the Swadeshi Movement which was launched on the same date in the year 1905.
This day was first declared as National Handloom Day in 2015.
Current COVID19 Situation in India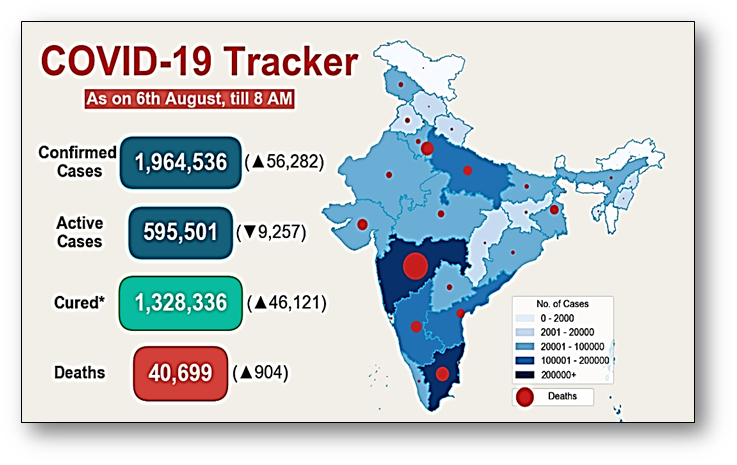 QUIZ TIME
Online patriotic film festival organized by:
National Film Development Corporation
Film Division of India
Children's films society
Film and television institute of India
Answer – A
Insolvency and Bankruptcy Board of India established on:
October 2019
October 2017
October 2016
October 2015
Answer – C
Which of the following allows live testing of new products or services in a controlled environment?
Regulatory Paybox
Regulatory Sandbox
SandBox
Innovation Hub
National Handloom Day is celebrated on:
1st August
7th August
6th August
5th August
Answer – B
Question of the Day
What is Hamara Ghar-Hamara Vidyalaya campaign?
Answer in next session…