NDA – NA Exam is an entrance examination conducted by the Union Public Service Commission (UPSC) twice a year for the young aspirants to join the National Defence Academy or Naval Academy of the country. The candidates applying for the examination should ensure that they fulfill all the eligibility conditions for admission to the Examination. Verification of eligibility conditions with reference to original documents is taken up only after the candidate has qualified the written test and is called for SSB Interview.
SEX, MARITAL STATUS & NATIONALITY CRITERIA :
A candidate must be Unmarried Male. Candidates must undertake not to marry until they complete their full training. A candidate who marries subsequent to the date of his application though successful at this or any subsequent Examination will not be selected for training. A candidate who marries during training shall be discharged and will be liable to refund all expenditure incurred on him by the Government.
A candidate also must be
a citizen of India, or
a subject of Nepal, or
a Tibetan refugee who came over to India before 1st January 1962 with the intention of permanently settling in India, or
a person of Indian origin who has migrated from Pakistan, Burma, Sri Lanka and East African Countries of Kenya, Uganda, the United Republic of Tanzania, Zambia, Malawi, Zaire and Ethiopia or Vietnam with the intention of permanently settling in India.
A candidate belonging to categories (ii), (iii) and (iv) shall be a person in whose favour a certificate of eligibility has been issued by the Government of India.
Certificate of eligibility will not, however, be necessary in the case of candidates who are Gorkha subjects of Nepal.
CRITERIA FOR AGE LIMITS :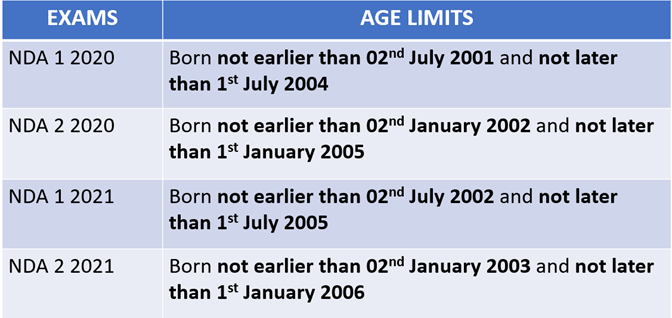 CRITERIA FOR EDUCATIONAL QUALIFICATIONS :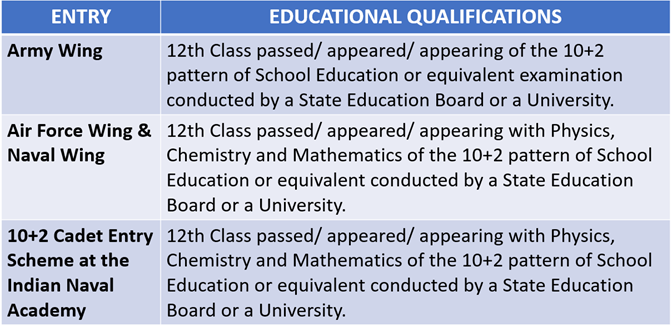 CRITERIA FOR PHYSICAL STANDARDS :
Candidates must be physically and mentally fit according to the prescribed physical standards. Candidates are therefore advised in their own interest to get themselves medically examined before submitting their applications to avoid disappointment at the final stage.
IMPORTANT POINTS TO NOTE :
Candidates appearing in the 11th class exam are not eligible for this examination.
Candidates who are debarred by the Ministry of Defence from holding any type of Commission in the Defence Services shall not be eligible for admission to the examination and if admitted, their candidature will be cancelled.
Those candidates, who have failed CPSS/ PABT earlier, are eligible for Air Force in Ground Duty branches if they fill their willingness in the Online Application Form available at the Commission's website.
A candidate who has resigned or withdrawn on disciplinary grounds from any of the training academies of Armed Forces is not eligible to apply.