Delivery date of Indian Navy Aircraft Carrier INS Vikrant once again delayed
The first phase of the warship's trials – termed basin trials – was initially scheduled to begin on March 12 at Cochin Shipyard Ltd, where INS Vikrant has been constructed. However, construction delays caused that to be moved back to April. Then, with the Covid-19 crisis, the navy says trials are unlikely to begin before September/October.
The long-delayed warship was scheduled to be ready by the end of 2018, but due to delay in getting aviation equipment from Russia, the delivery date has been postponed. For the record, the engines onboard the first Indigenous Aircraft Carrier being constructed at Kochi have been fired up.
In his Navy Day press meeting last December, the Navy Chief, Admiral Karambir Singh, said the navy would have a fully operational INS Vikrant before the end of 2022. The Covid-19 pandemic has already pushed that back to 2023 and further delays are possible.
INS Vikrant, also known as Indigenous Aircraft Carrier 1, is an aircraft carrier under construction by Cochin Shipyard in Kochi, Kerala for the Indian Navy. It is the first aircraft carrier to be built in India. The name Vikrant means "courageous".
Indian Army defies rumours and explains that there is no plan of creating a separate Himachal Regiment
The Indian Army, on Monday, clarified that it has 'no plans' of creating a separate Himachal Regiment. "There is NO such plan of creating a separate Himachal Regiment in the Indian Army," Additional Directorate General of Public Interface (ADGPI), the official Twitter handle of the Indian Army said in a post.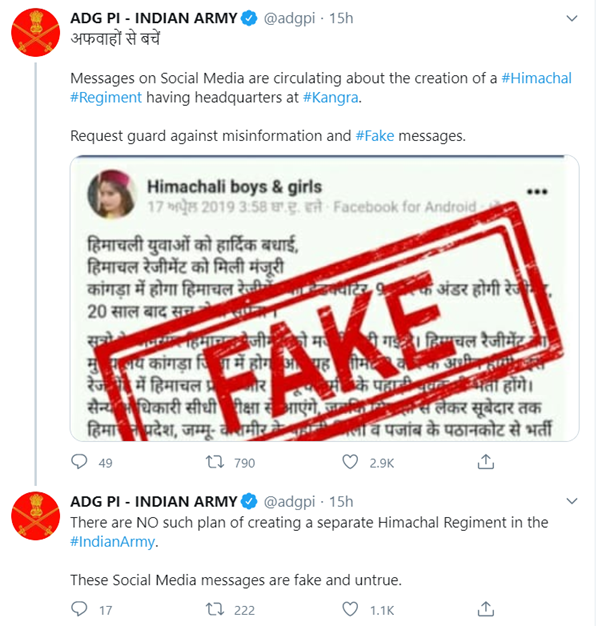 A clarification by the Indian Army was offered after messages surfaced on social media, claiming that a special regiment was being created for the youth of the mountain state.
LAC remains tense, satellite images show China's troop build-up
The situation along the Line of Actual Control (LAC) in the Ladakh region remains tense as thousands of troops remain deployed at the front after a series of Chinese transgressions in the Galwan and Pangong Tso areas of Ladakh since early this month.
Over the past days, the Indian side has reinforced troops, including plans to move in formations from other theatres to bolster formations in Sub Sector North (SSN) that has been facing unusual pressure after China moved in several hundred troops into the Galwan valley. The Chinese side has also commenced construction of bunkers at the touristic Pangong Tso lake into what India has firmly referred to as its territory.
Reports about enhanced Chinese deployments in the region have been confirmed by recent satellite images that show over 80 tents as well as heavy vehicles that have crossed the LAC.
China to evacuate citizens from India amid pandemic, rising border tension
China is planning to evacuate its citizens from India amid the spreading Covid-19 pandemic in the country, a notice issued by the Chinese embassy in New Delhi said on Monday.
The notice, published on the embassy website said that students, tourists, and businessmen who have been stranded in India will be allowed to fly back to China on special flights.
The number of Chinese citizens currently studying or staying and working in India was not immediately available. Beijing has asked its citizens willing to return to China to register by the morning of May 27.
It includes Chinese citizens who are in India to practice yoga or had come to India for the Buddhist religious circuit pilgrimage.
It did not specify when or from where the special flights would take off.
The evacuation notice also comes in the backdrop of rising tension between India and China along the disputed boundary between the two countries.
The notice put out in Mandarin on Monday morning said those taking the flights will have to pay for the tickets and for their 14-day quarantine once they land in China.
Nepal Defence Minister says Indian Army Chief's remark on Lipulekh issue an insult to their history
Criticising Indian Army Chief Manoj Mukund Naravane's remarks on Kathmandu acting on "behest of someone" over the Lipulekh issue, Nepal defence minister Ishwor Pokhrel has said that the statement was an insult to the nation's history and was made ignoring its social characteristics and freedom.
On May 15, General Naravane had suggested that Nepal might be raising the issue of road construction via Lipulekh to Mansarovar at "behest of someone else" after Kathmandu protested against India's newly built road passing through Lipulekh area.
Indian Army with Assam police bust a recruitment racket of ULFA militants
In a major breakthrough, the troops of Indian Army in a joint operation with Assam police busted a recruitment racket of ULFA (Independent) and rescued a minor from Charaideo District of Upper Assam.
United Liberation Front of Assam (independent) is a proscribed militant outfit.P Khongsai Public Relation Officer (Defence) Guwahati said, "Based on a specific input, the joint teams launched a well-coordinated operation spread over Charaideo and Dibrugarh Districts of Assam.
During the operation, the teams apprehended one hardcore cadre and four Over Ground Workers (OGWs) belonging to the proscribed group. The apprehended persons were allegedly involved in a recruitment racket in the region.
How Rafale Class reference will eliminate most of the jets in the race in India
Air Chief Marshal RKS Bhadauria spelled out for the first time that Indian Air Force is looking for a jet in the middleweight and is in the Rafale class to procure 114 jets for the IAF in Global Tender what is often described has world's biggest fighter jet competition.
Mikoyan MiG-35, Dassault Rafale, and Eurofighter Typhoon are only 3 jets which are under 25 tonnes in Max take-off weight (MTOW), while Gripen E and F-16-V are both below 20 tonnes in MTOW.
Sukhoi Su-35, F-15EX which are usually classified as Heavy Weight Class fighter have MTOW over 35 tonnes which clearly will be rejected.
In the previous MMRCA Tender, only Dassault Rafale and Eurofighter Typhoon jets had cleared all Technical Trials.
REVIEW QUESTIONS
Defence Minister of Nepal:
Yuba Raj Khatiwada
Ghanashyam Bhusal
Ishwor Pokhrel
KP Sharma Oli
ANSWER: C
Indigenous Aircraft Carrier 1 is being constructed at:
Mazagon Dock Limited
Cochin Shipyard Limited
Hindustan Shipyard Limited
Mumbai Naval Dockyard
ANSWER: B
Which among these aircrafts is not under 25 tonnes of Maximum Take-off Weight (MTOW), one eligible under MMRCA tender?
Mikoyan MiG-35
Dassault Rafale
Eurofighter Typhoon
Sukhoi Su-35
ANSWER: D