Army Commanders' Conference 2020
The first phase of the conference is scheduled from 27 to 29 May 2020 and the second phase in last week of June 2020.
The apex level leadership of Indian Army will brainstorm on current emerging security and administrative challenges and chart the future course for Indian Army.
Raksha Mantri Shri Rajnath Singh speaks with Australian Defence Minister over phone on mitigating COVID-19
Shri Rajnath Singh informed Ms Linda Reynolds on India's contribution to international efforts against COVID-19 and discussed areas of cooperation in the global fight against the pandemic and discussed about few bilateral defence security initiatives.
OASIS is launched by Indian Army for Officers
OASIS (Officers Automated & Structured Information System) has been launched by AG/MP 5&6 on Indian Army Intranet. OASIS will facilitate officers to view service records, raise observations, also view & download monthly Statements of Accounts, Form-16 & DSOP Fund statements.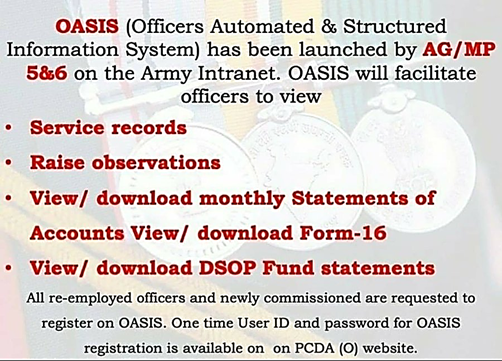 Canadian Army to equip its ACSVs with newest generation remote weapon station
General Dynamics Land Systems – Canada and Kongsberg Defence & Aerospace have signed a contract for delivery of the Protector Remote Weapon Stations (RWS) which will be integrated on Canada's fleet of Armored Combat Support Vehicles.
Kongsberg has, for more than two decades, been the leading global supplier of Remote Weapon Stations. Leveraging millions of hours of operational use in all conditions, based on 20,000 delivered systems for 23 countries. The Protector RWS has continuously evolved to meet increasingly demanding requirements, utilizing technological advancements in order to meet new threat scenarios.
The Canadian Army will receive the latest generation Protector RWS, a Remote Weapon Station prepared for wireless control, counter UAS capability, multi-sensor fusion, as well as other new functions required by the expanding user community. The systems for Canada will be produced in parallel with five other programs, creating synergies in supply base and project execution for the benefit of the customers.
The Government of Canada will procure 360 ACSV to replace the Bison LAV and M113 Tracked LAV fleets. These vehicles will support a range of operations which include domestic disaster relief and overseas peace keeping missions.
The ACSV are based on the LAV 6.0 platform and will integrate with and support the existing LAV 6.0 platform currently in use by the CAF. This will provide a number of advantages including reduced training and sustainment costs, as well as the availability of common spare parts to fix vehicles quickly during operations.
German submarine U33 operates under NATO command in the Eastern Baltic Sea
German submarine U33 has just concluded a several-week-long assurance measure deployment under NATO in the Eastern Baltic Sea. It arrived back to the naval base and home port of Eckernförde on Monday, 25 May 2020.
The submarine, under the leadership of Lieutenant Commander Tobias Eikermann, in the past few weeks has operated under NATO Maritime Command (MARCOM).
The patrol was part of the NATO Assurance Measures focused on monitoring the activities of the Russian fleet. U33 is one of the first German submarines detached to MARCOM for this purpose in the Baltic Sea.
Assurance measures are a sign of the Alliance's cohesion internally and of its strength and readiness externally; they are a pillar of the NATO Readiness Action Plan going back to the 2014 Wales Summit, where the Allies agreed to increase their presence at NATO's eastern flank.
Senior Indian and Chinese military commanders in talks to defuse situation at LAC
High-level Indian and Chinese military commanders have met at designated points along the LAC (line of actual control) on May 22nd and May 23rd to defuse the current situation in Eastern Ladakh. Sources have confirmed to ANI that parallel diplomatic channels in New Delhi and Beijing are also working towards a peaceful resolution.
Since the beginning of May several aggressive incidents have taken place in Eastern Ladakh by the Chinese army along the LAC.
While the Indian and Chinese military commanders are talking face-to-face in Ladakh, and diplomatic efforts are underway in the country capitals to resolve the situation the Indian army has been effectively responding by building and deploying its own capabilities in Eastern Ladakh including the Galwan sector.
Sources have told that no compromise will be made with regard to maintaining the sanctity of India's borders and that while India believes in peace, it is firm and resolute when it comes to defence of its territory.
This has been reflected in spirit even in the four or more agreements between India and China, which have historically formed the mechanism for border management. The mechanisms are still in place and working at a bilateral level. Two of them are of 1993 and 1996 and there is a CBM (Confidence Building Measures) in place since 2005 and a border agreement since 2013.
These agreements form the framework under which border talks have been held between India and China and not resulted in a full-blown conflict. They have also figured in the summit level meetings held between PM Modi and President Xi and previous Prime Ministers and Presidents of the two countries.
However, this is not the first time that the Chinese army has taken an aggressive posture in this region and provoked a face-off with Indian troops since the 1962 China-India war.
There was Sikkim in 2008, Depsang in 2013, Chumar in 2014, Doklam, by far the first since 1962, in 2017. China has not been comfortable with the construction of the Darbuk-Shyok-DBO Road in the Indian side of the LAC. The construction of the 255km road began in 2000 and was to be completed by 2014, but after several hiccups, the entire road finally was ready for use recently.
The current face-off is believed to be in reaction to India steadily building infrastructure in Ladakh and the increase in local civilian activity on the Indian side of LAC. For China, this is an irritant because India is rapidly narrowing down the infrastructure gap in Ladakh. While India has not obstructed in any manner the activities of the Chinese on their side of the LAC, whether it is putting up of the prefabricated structures or an increase in their patrolling.
If this face off in Eastern Ladakh is a similar strategy then sources indicate that the Indian army is well prepared for bringing in the required forces to ensure that its national security is not compromised even for a minute. China has built up its forces along its side of the LAC as is evidenced from satellite imagery available in open source intelligence data.
It has not hesitated in pushing its troops back and forth in the LAC to provoke a response from the Indian side. These mind games are often played by troops when they are at eyeball-to-eyeball levels in non-demarcated borders like the LAC.
However, sources indicate that this time the Chinese side seems to be playing more than normal eye games. Hence the Indian army has moved men and material as much or more than is required in clear view of the Chinese army.
It is incorrect and naive to assume, say sources, that the Indian army was caught napping due to Covid-19 conditions. Those conditions prevail on both sides of LAC, in fact probably more on the other side, hence, to say that troops levels are low or lower is an inaccurate assumption say sources.
The Indian armed forces are prepared for a scenario that this standoff could not be a short-termed one. If anything the Doklam episode has been a learning experience for India in that China doesn't back down easily, no international badgering works on them and they like to keep testing India on how long and how much pressure it can withstand. Sources indicate that contrary to some reports; Indian frontline commanders have been quick in their response and firmness and continue to hold their ground at the LAC.
No. 18 Squadron IAF Operationalised
The CAS Air Chief Marshal RKS Bhadauria flew the LCA Tejas fighter this morning with 45 Squadron at Air Force Station Sulur. He is on a visit to the Station for operationalization of 18 Squadron.
Remembering Operation Safed Sagar
The Indian Air Force launched Operation Safed Sagar in support of the mobilization of Indian land forces on 26 May 1999.
This was the first time any air war was fought at such high altitudes globally, with targets between 6-18,000′ AMSL.
Remembering Operation Vijay
21 years ago, India – Pakistan Kargil War along LoC from Zoji La to Turtuk (Siachen) for evicting Pakistani intrusion was fought above 12000ft.
Indian Armed Forces fought legendary battles, braving harshest terrain & weather.
Operationalisation of Chinook Helicopters in IAF
On 25 March 2019, the IAF formally inducted the CH 47 F(I)- Chinook heavy lift helicopters into its inventory at Air Force Station Chandigarh.
Air Chief Marshal BS Dhanoa PVSM AVSM YSM VM ADC, Chief of the Air Staff was the Chief guest and the event was attended by various dignitaries.
REVIEW QUESTIONS
Which operation saw the first large scale use of air power in J&K since Indo-Pak war of 1971?
Operation Meghdoot
Operation Vijay
Operation Parakram
Operation Safed Sagar
ANSWER: D
On 25 March 2019, the IAF formally inducted the CH 47 F(I)- Chinook heavy lift helicopters into its inventory at:
Air Force Station Jodhpur
Air Force Station Begumpet
Air Force Station Chandigarh
Air Force Station Jamnagar
ANSWER: C
German submarine U33 recently operated under NATO command in which sea to review activities of Russian fleet?
Baltic Sea
Bering Sea
Mediterranean Sea
Black Sea
ANSWER: A
Defence Minister of Australia:
Senator Mathias Cormann
Linda Reynolds
Dan Tehan
David Littleproud
ANSWER: B
Indigenous Aircraft Carrier 1 is being constructed at:
Mazagon Dock Limited
Cochin Shipyard Limited
Hindustan Shipyard Limited
Mumbai Naval Dockyard
ANSWER: B