PMMSY to enhance fish prod'n to 220 LMT with an investment of over Rs.20,000 crores
The Pradhan Mantri Matsya Sampada Yojana (PMMSY) aims to enhance fish production to 220 lakh metric tons by 2024-25 from 137.58 lakh metric tons in 2018-19 at an average annual growth rate of about 9%.
The Union Minister for Fisheries, Animal Husbandry and Dairying, Shri Giriraj Singh, today said the ambitious scheme will result in doubling export earnings to Rs.1,00,000 crore and generate about 55 lakhs direct and indirect employment opportunities in fisheries sector over a period of next five years.
Insurance coverage for fishing vessels is being introduced for the first time.
A scheme to bring about Blue Revolution through sustainable and responsible development of fisheries sector in India.
Thrust will be given towards enhancement of fish production and productivity, quality, sustainability, technology infusion, post-harvest infrastructure, modernization and strengthening of value chain, standards and traceability in fisheries sector from 'catch to consumer', establishing a robust fisheries management framework, fishers' welfare, enhancement of fisheries export competitiveness.
PFC signs MoU with NBPCL to fund projects worth ₹ 22,000 crore for hydroelectric projects
Power Finance Corporation (PFC), and India's leading NBFC, today entered into an agreement with Narmada Basin Projects Company Ltd. (NBPCL), a wholly-owned company of Govt. of Madhya Pradesh, to fund projects worth Rs.22,000 crore for 225 MW hydro-electric projects & multipurpose projects in the State of Madhya Pradesh.
The funds will be deployed by NBPCL for setting up hydroelectric projects of 225 MW and power components of 12 major multipurpose projects in Madhya Pradesh.
The MoU will help PFC to actively partner with NBPCL and provide finance for hydro-electric plants totaling 225 MW along with power components of multipurpose projects as part of state government's endeavor to implement twelve major multipurpose projects.
Some of the major multipurpose projects that will be financed under the MoU are Basaniya Multipurpose Project Dindori, Chinki Boras Multipurpose Project Narsinghpur Raisen Hoshangabad, Sakkar Pench Link Narsinghpur Chhindwara, Dudhi Project Chhindwara Hoshangabad, etc.
INST scientists find route to fabricate precisely controlled nanostructures of desired geometry
Researchers at Institute of Nano Science and Technology (INST) Mohali, under the DST have found a straightforward and unique route to fabricate precisely controlled nanostructures of desired geometry and location on 2D materials, through a rapid one-step low power laser writing process.
INST group developed a hybrid Surface-enhanced Raman spectroscopy(SERS) platform of Molybdenum disulfide (MoS2) nanostructure decorated with gold nanoparticles, where direct laser writing is used to engineer the artificial edges on the surface of MoS2.
This created localized hotspots with remarkable precision and control.
Surface-enhanced Raman spectroscopy (SERS) is a technique for molecular detection and characterization that relies on the enhanced Raman scattering of molecules that are adsorbed on SERS-active surfaces, such as nanostructured gold or silver.
The team is now exploring various applications of 2D material nanostructures in the field of catalysis, sensing, and optoelectronics devices.
This research in SERS sensing will open a new avenue for the development of commercialized SERS substrate with a localized detection capability of analytes.
The artificial edges of the 2D layers can be functionalized with an antibody with adequate coating and linkers for the SERS detection of various biomarkers.
CSIR-IIIM & Reliance Industries Limited (RIL) to develop RT-LAMP based test for Coronavirus
CSIR-IIIM, Jammu a constituent laboratory of CSIR has partnered with Reliance Industries Limited (RIL) to develop and scale-up a new Reverse Transcriptase-Loop Mediated Isothermal Amplification (RT-LAMP) based COVID-19 diagnostic kit.
COVID-19 RT-LAMP test is a nucleic acid-based test carried out from nasal/throat swab sample from patients.
The test recipe has been developed and successfully demonstrated using synthetic templates.
It is rapid (45-60 min), cost effective and accurate test. It has been tested with a small number of patient samples and validating the kit on a greater number of patient samples is planned and will be done together with RIL.
Advantage: RT-LAMP based COVID-19 kit components are easily available and these can be completely manufactured in India. While the, the current COVID-19 testing is done by real-time PCR their components are mostly imported. Further these tests are expensive; require highly trained manpower, costly instruments and a relatively high-end lab and cannot be deployed at remote locations in quarantine centers, airports and railway stations, etc.
On the other hand, the RT-LAMP test can be done in a single tube with minimal expertise in a basic lab setup like mobile units / kiosks for testing at Airports, Railway Stations, Bus Stands and other public places.
The end detection of the test is a simple colored reaction, which is easily visible in UV light, and now is being modified such that it can be detected in regular light.
COVID19 current update in India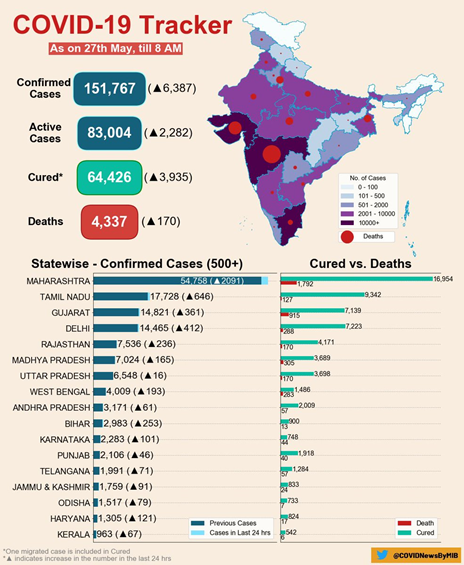 QUIZ TIME
Narmada River is a:
West Flowing River
East Flowing River
Himalayan River
None
Answer: A
'RT Lamp' Covid19 kit stands for

Reverse Transverse-Loop Mediated Isothermal Amplification

Reverse Transported-Loop Mediated Isothermal Amplification

Reverse Transcriptase-Loop Mediated Isothermal Amplification
Answer: C