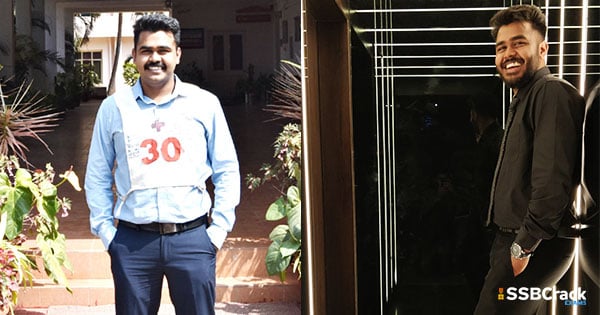 "So gentlemen, we have recommended one candidate…
Chest no. 14…(I didn't respond, I was numb)
Who is chest no. 14?"
I stood up, walked towards him, told him my name & DOB, that's it!
That was the moment, the moment I have been dreaming and waiting for a long long time.
I was all emotional, my life just flashed in front of my eyes after getting my first success of life and tears were rolling down continuously because I was able to recall all the stages where I failed.
Let's have a look at that! (The reason why I want to tell my story)
Class 10th 10 pointer
Class 12th 75%
Backlog in college graduated with 67%
Failed NDA twice, JEE twice, CDS Thrice, AFCAT thrice, INET once, Campus Placements (rejected by all the companies, even mass recruiters) so no job backup.
Also no army background at all, neither Sainik school nor NCC.
Also no sports background.
And yet I was dreaming to become an officer in the Indian Army, yes I always had that question at the back of my mind,
'How will I do it?'
With a thought that 'Here I'm unable to clear such initial platforms and aiming for the SSBs'
Definitely, my confidence was smashed, lying beneath the ground.
Well I just did one simple yet very effective thing
"I REFUSED TO GIVE UP!"
And kept working.
Hello friends
Myself, Chitransh Kaithwas from Bhopal, and I got recommended for SSC TECH-56 from 17 SSB Banglore (8th Feb-12th Feb) in my 2nd attempt.
(1st attempt INET entry, 33 SSB Bhopal, Conference out).
I started my SSB journey with ssbcrack.com reading success stories from my 2nd year and later ordered SSBCrack's book (LET'S CRACK SSB INTERVIEW), which opened my mind regarding the SSB.
Also from my 1st attempt, I learnt a lot of things and understood the requirements at SSB.
So 177 candidates reported, 20 screened-in, 1 recommended.
This time during PPDT I made a simple positive story on group discussion regarding Final Year College project, which I also wrote in my blank story, which is also my own story too (and I was asked regarding this in conference).
Narration is very important.
For GD, listen to everyone carefully while narration, put out common points, this how the group will accept your point.
OIR Test was easy.
PSYCHOLOGY
12/12 TATs, again simple and positive (without accidents, NGOs, becoming collector, gallantry medals 😅)
60/60 WATs
60/60 SRTs (I reached 57, but I read the last 3 SRTs before passing the booklet and completed it while writing Self Description 😅)
Self-description simple and honest.
Tip: If you have a positive approach towards life, you'll do good in psych too, understand what psychology an officer (a good leader, problem solver) should have and go accordingly.
INTERVIEW
The same day after psych, went for 45 mins (7:15 pm to 8:00 pm)
Answered genuinely what I knew.
Questions- Meaning of my name, academics, roles and responsibilities, directions, co-curricular, current affairs, technical knowledge, army knowledge.
My attitude was not to impress the interviewer but to have a healthy interaction.
(FUN THING:
As per my PIQ, I mentioned film making, so IO searched my work on youtube and watched it by fast-forwarding so if you lie you die.)
TIP: Be what you are, be honest, fill the PIQ form to provide information, not to impress.
GTO
Cooperated, did not dominate anyone, gave the ideas only when I was coming with one.
We had very calm and healthy GDs, GPE, because our group had a very good connection, we let everyone speak.
Individual obstacle 8/10.
TIPS: See the obstacle(PGT, HGT, FGT, CT) from the endpoint, the solution will come faster.
Be simple, genuine, don't show off, it's all matter of teamwork, have an attitude of getting your whole group recommended not just your individual recommendation and most importantly enjoy all the tasks.
CONFERENCE
(Goosebumps day, because there are so many uniforms with medals and senior ranks🔥)
It went for 25 minutes!!!
First question, what is the reason behind your wide smile?
I said, sir because I always choose to stay cheerful.
And second question, OKAY THEN TELL US A JOKE
And I came up with such a lame joke, that my pride in having excellent humour washed away😅
Awkward silence.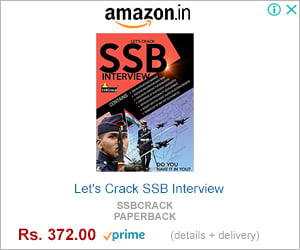 Only two of the GTO officers gave me a pity laugh like BECHARA.
Other questions were on College projects, film making, role in the army, family background, directions, favourite life moment, single SRT with multiple modifications, time speed calculation, any suggestion.
I was asked for the suggestion(s), I said no, he said it's mandatory, then I said, if we could use our mobile phones at the cafeteria. He asked why, I said, Bhaiya charges 1Rs. Per-minute for call and this is too much. Here I saw them laughing.
I was completely blown after the conference because I have heard that the conference goes for like 1-2 minutes, hardly 5 min, some say the borderline case, well who cares until you are getting recommendation, so better experience yourself whatever it is.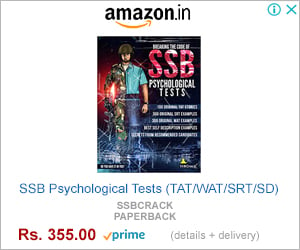 All I'll say is take SSB as a subset of life, it expects just an average being with a logical and positive approach towards life.
And it seems impossible until it's done.
And when you decide it in your subconscious mind, that thing will definitely fall in place.
And When it's truly your dream, it can be seen through your sparkling eyes, so be honest with what you do.
My whole attitude during SSB and life was/is to do the कर्म without expecting any फल.
Special thanks to my parents.
And my close friends have been the constant support, they never stopped believing in me.
That is why I'll say, at this or any point of life, friends are the most required elements of life.
Also, I took guidance from repeaters, officers, ex-officers, youtube channels.
"NO MATTER HOW MUCH IT HURTS, HOW DARK IT GETS, HOW HARD YOU FALL
YOU ARE NEVER OUT OF THE FIGHT"
JAI HIND