Indian Coast Guard (ICG) has published the CGCGAT 2022 admit card for the ICG Assistant Command aspirants who are going to write the CGCGAT 2022 online exam which is being conducted for the first time. The Exam Date and name of Exam City for Assistant Commandant 01/2023 is available on your login.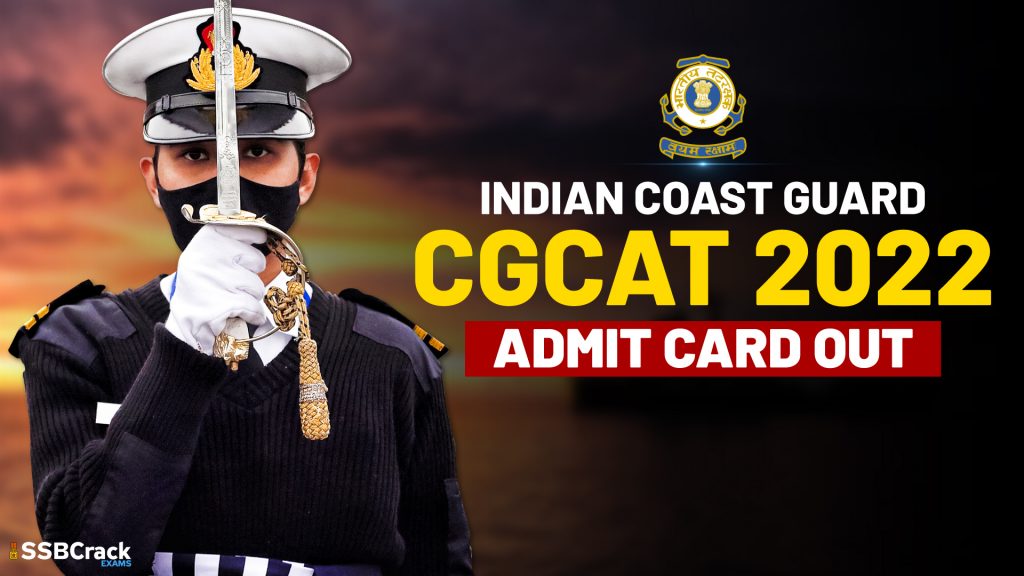 Admit Card will be available for downloading through Candidate login only 72 to 48hrs prior to the date of exam at the website joinindiancoastguard.cdac.in In this article, you can find out the important instructions and ways to download your CCAGAT 2022 admit card which is very important for you all.
Also Read: Indian Coast Guard Assistant Commandant Notification 2023 Batch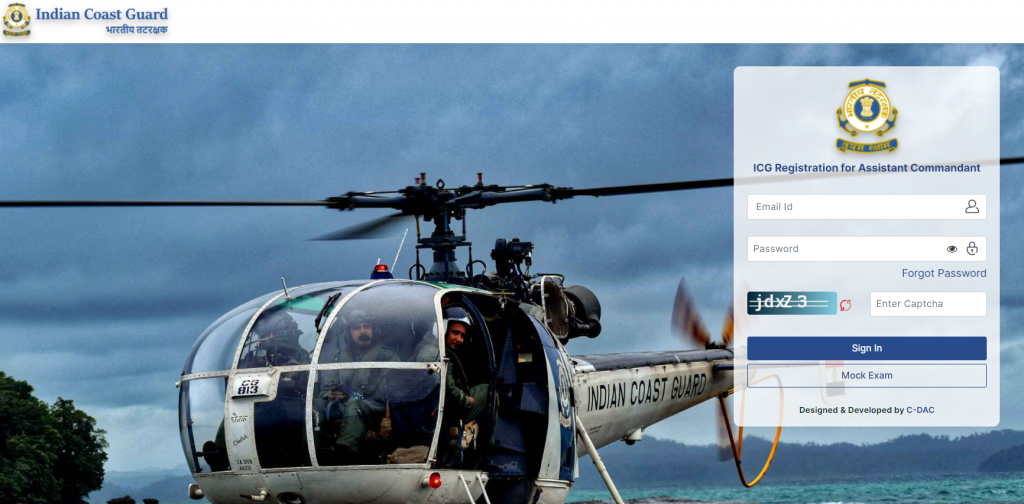 IMPORTANT ANNOUNCEMENT: STAGE-I (CGCAT) EXAMINATION FOR ASST COMDT – 01/2023 BATCH
In order to plan your travel, 'The Exam Date and the name of the allocated Exam City' will be made available at ICG web portal: https://joinindiancoastguard.cdac.in/ in your login ID w.e.f. 14 Mar 22 (1700 hrs). Please note that, Admit Card will be available for download through Candidate's login
72 to 48 hours before the date of exam. The same would also be mailed on the registered email ID of the candidate.
You must remember your email-id to take examination.
You must read the instructions given on the Admit Card as well as COVID-19 guidelines and strictly adhere to the same.
The important checkoff list to be followed by the candidate with respect to eligibility in the online written examination is placed at Annexure-A.
At the time of exam, you must bring following mandatory documents failing which your candidature will be cancelled: –
(a) Original Class X marksheet / Birth Certificate.
(b) Valid original Photo identity proof as submitted in application/ mentioned
in E-admit card.
(c) 01 Coloured back-to-back printout of e-admit card (black & white
not allowed).
(d) 02 in no. passport size colour photograph with similar facial features as uploaded in the online application (Candidate carrying only one coloured photograph will not be allowed).
Note: – Candidates will be allowed to enter in the examination hall only with documents as entioned above. The name of the candidate & Date of Birth in the E-admit card has to be the same as per the photo ID card (details as mentioned in the E-admit card) & Class X marksheet, failing which their candidature will be cancelled.
CHECK OFF LIST FOR CANDIDATES REGARDING ELIGIBILITY IN THE EXAMINATIONoir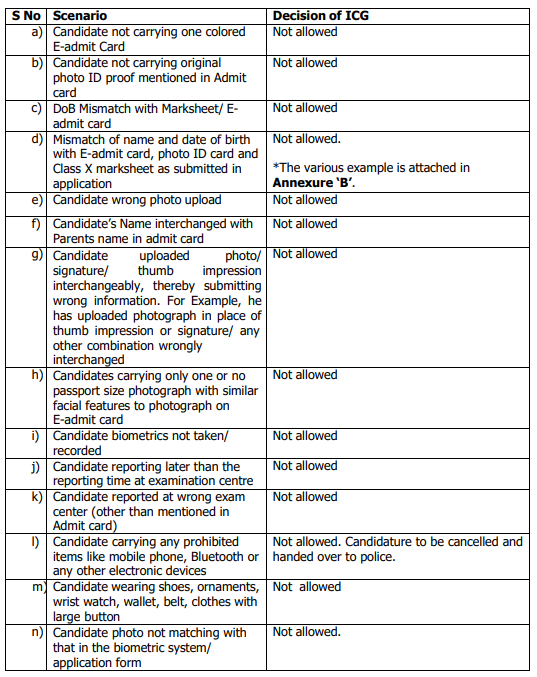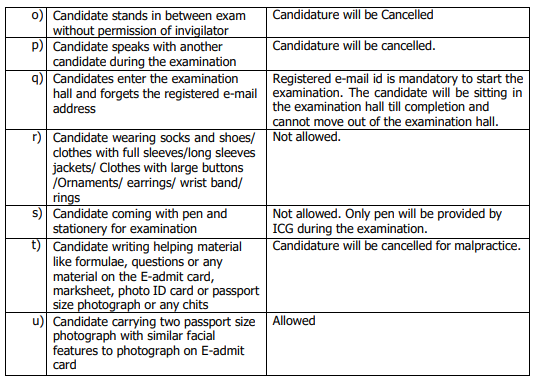 The various examples for document verification at Stage-I are as follows: –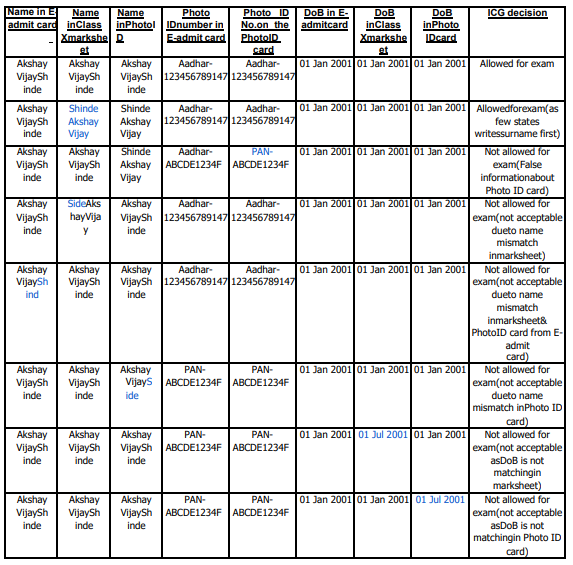 Note: –
(i) The details of father's/mother's name, percentage of marks obtained in Class X are not to be matched at Stage-I in any document due to administrative reasons as the candidates are large in number and same will be verified at Stage-II.
(ii) If on any photo-ID, the DoB is not mentioned then the same will not be checked. Few Adhar Card has only year of birth mentioned and not the complete DoB. In this case only the year of birth will be checked. If DoB is mentioned on any of the documents then it is to be checked for correctness as per E-admit card and Class X marksheet.
(iii) The decision of ICG as per the rules promulgated above will be final and binding on the candidate regarding eligibility to appear in the examination at Stage-I.
Indian Coast Guard Assistant Commandant CGCGAT 2022 Written exam:
(a) Stage-I (CGCAT). The Stage-I would include conduct of screening Test for the eligible applicants which will be a Computer Based Examination conducted at various centers all over India. Screening test is to be conducted for candidates applying for the post of GD/CPL and Technical (Mechanical/ Electrical & Electronics). The screening test will be conducted in MCQ pattern with maximum marks of 400 consisting of 100 questions with four marks for each correct answer and one negative marking for each incorrect answer. The duration of the exam will be of two hours and medium of test paper will be English. The candidate has to take following tests depending on post applied:-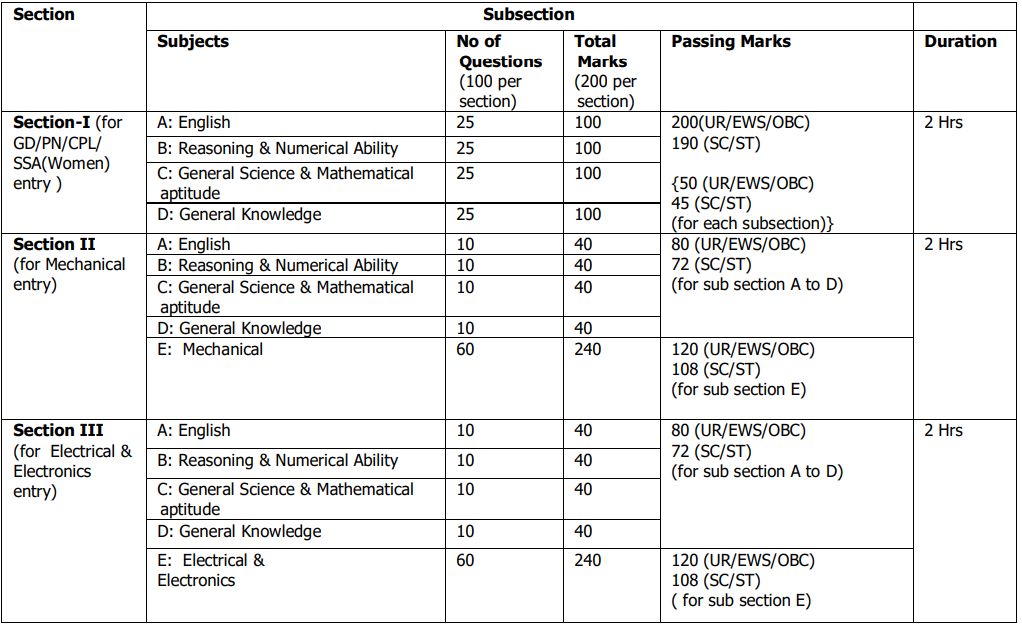 All India category wise merit list will be prepared on the basis of marks scored in Stage-I (Screening Test) of CGCAT examination. In case of two or more candidates having the same marks, then the tie will be broken in steps as follows (Wherever tie is broken next stage will not be proceeded)
(i) Candidates scoring more marks in screening test.
(ii) Candidates older in age will be higher in merit.
(iii) If both the above parameters are identical for more than one candidate, then all the candidates older in age whose date of birth falls on the same day, will be shortlisted for Stage-II (PSB).
Also Read: Indian Coast Guard Assistant Commandant Notification 2023 Batch