Indian Coast Guard Flag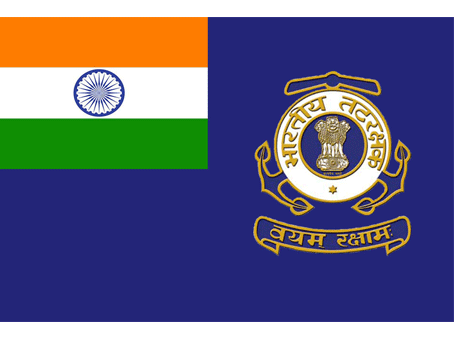 What is Indian Coast Guard?
The Indian Coast Guard is a multi-mission organization, conducting round-the-year real-life operations at sea. Despite being relatively small, it has a wide range of task capabilities for both surface and air operations.
The organization is headed by the Director General Indian Coast Guard (DGICG) exercising his overall command and superintendence from the Coast Guard Headquarters (CGHQ) located at New Delhi. At CGHQ, he is assisted by four Deputy Director Generals of the rank of Inspector General, and other senior officers heading various staff divisions. For effective command and control, the Maritime Zones of India are divided into five Coast Guard Regions, namely, North-West, West, East, North-East and Andaman & Nicobar, with the respective Regional Headquarters located at Gandhinagar, Mumbai, Chennai, Kolkata and Port Blair. The Coast Guard Regions are commanded by Officers of the rank of Inspector General.
Life at Sea of a Coast Guard
Life onboard a Coast Guard ship is engaging, adventurous and challenging. From saving human lives at sea and assisting fishermen in peril, to apprehending poachers and preserving marine biodiversity, job satisfaction comes easy to a "Coast Guardsman". Each day at sea is filled with promise, and each mission is different in an inimitable way.
Onboard every Coast Guard ship, there is a balanced mix of officers and sailors, belonging to different branches, divided into three groups, with each group working at respective stations twice for four hours every day, when the ship is at sea. In addition, during an emergent situation, all personnel close-up irrespective of time, day or night. A boat is sometimes launched from the ship to check another vessel at sea, or to provide technical or medical assistance. If so warranted, and to pursue fleeing offenders, the boat can even land ashore and engage culprits, sometimes with use of force.
Career as Indian Coast Guard
The single most important factor for the Coast Guard today, are the Officers and Men who ultimately meet the challenges at sea. You could be just the man for this challenging sea- going career if you are intelligent and bold and can think with originality and possess leadership qualities. Service in Coast Guard is not merely an employment.
It is where you play the most important role of protecting the nation's interests. The life of a Coast Guard officer is a happy mix of many things: hard work, professionalism, risk and adventure and the opportunity to move around and visit different places within India and abroad.
Ensuring the safety and protection of artificial Islands, offshore terminals, installations and other structures and devices in any maritime zone.
Providing protection to fishermen including assistance to them at sea while in distress.
Taking such measures as are necessary to preserve and protect the maritime environment and to prevent and control marine pollution.
Assisting the customs and other authorities in anti-smuggling operations.
Indian Coast Guard Training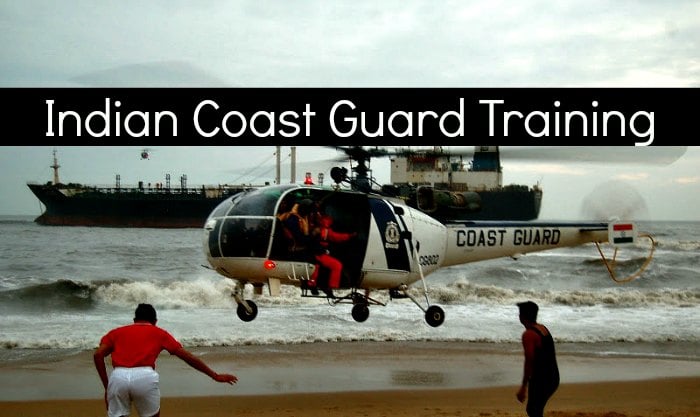 General Duty Branch: – The officers of all branches including GD branch undergo Naval Orientation Course at INA, Ezhimala in Kerala for 22 weeks. On successful completion, the GD officers are deputed for afloat training for 24 weeks which is followed by 16 weeks of phase II afloat training on CG ships at various locations. After this, the officers undergo Seamanship Board exam to assess their nautical skills. Those who qualify the board are deputed for technical courses at various training establishments for 43 weeks. Thereafter for watch keeping certificate, the officers are posted onboard CG ships for 06 months.
General Duty (P/N) Branch: – The training of GD(P/N) branch officers is akin to GD officers until the award of Watchkeeping Certificate. After award of Watchkeeping certificate the Pilot Branch officers are called for Aviation Medicals at Delhi and deputed for flying training to Air Force Academy /Civil Flying Academy for 06 months of phase I. After this phase, the Pilots are bifurcated into fixed or rotary wing branches and accordingly deputed to Coast Guard Flying Training Squadron, Daman / Helicopter Training School (HTS), Rajali respectively. On successful completion the officers are awarded with "Wings".
Technical Branch: – The Technical Branch Officers on completion of Naval Orientation Course at INA, Ezhimala are deputed to INS Shivaji or INS Valsura for Engineering/ Electrical branches specialization course. The duration varies from 105-110 weeks of training & includes 24 weeks of Watch Keeping / Competency certificate training onboard a Coast Guard ship. On completion of this phase they are deputed for staff appointment. Selected technical officers are also deputed for Aviation Technical Courses as super-specialization after 04 Years of Service.
Short Service Appointment (Women): – The short service women officers on completion of Naval Orientation Course at INA Ezhimala are deputed for various Technical courses at CG/Naval training establishments including 03 phases of on job training spread over a period of 70 weeks.
Short Service Appointment (CPL holders): – The short service officers who are CPL holders on completion of Naval Orientation course at INA, Ezihmala are deputed for CG technical courses at CG Training establishment. Stream distribution is carried out at this stage and officers are deputed to CG Flying Training Squadron, Daman /Helicopter Training School (HTS), Rajali for Dornier/Helicopter training respectively for approximately 06 months duration.
SAILORS (Enrolled Personnel)
Navik (General Duty): – Navik (GD) (12th qualified) and Yantriks (Diploma Holders) are trained at INS Chilka for 24 and 9 weeks respectively. Yantriks thereafter are deputed to CG ships for afloat training for 03 months followed by Technical training at INS Shivaji / INS Valsura/NIAT (Naval Institute of Aviation Technology) / Ship Wright School spanning 90-100 weeks depending upon the branch. The GD Naviks post branch allocation at INS Chilka are deputed for afloat training for 03 months following by Cadre training. This training depends upon the cadre and varies from 4-6 months.
Navik(Domestic Branch): –The Naviks (DB) undergo 15 weeks training at INS Chilka followed by 03 months afloat training and approximately 06 months branch training at INS Hamla at Mumbai.