10+2 (B.TECH) CADET ENTRY SCHEME (PERMANENT COMMISSION) COURSE COMMERNCING – JULY 2017
Applications are invited from UNMARRIED MALE CANDIDATES (fulfilling the conditions al nationality as laid down by the Govt of India) to join the prestigious Indian Naval Academy. Ezhimala. Kerala for a four years degree course under the 10+2 (B Tech) Cadet Entry Scheme.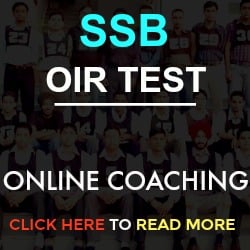 Indian Navy 10+2 Btech Cadet Entry Notification 2017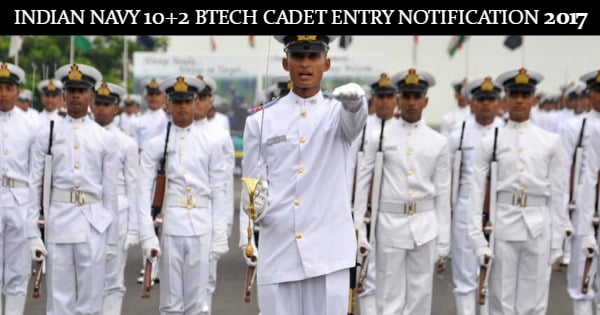 Eligibility
| | | |
| --- | --- | --- |
| Entry | Age Limit | Educational Qualification |
| 10+2 (B. TECH) CADET ENTRY SCHEME (PERMANENT COMMISSION) – JULY 2017 | 17 to 191/2 years (i.e. born between 02 Jan 1998 & 01 Jul 2000 (both dates inclusive). | Passed Senior Secondary Examination (HSC / 10+2 Pattern) or its equivalent from University/Board with at least 70% aggregate marks in Physics, Chemistry and Mathematics (PCM) and at least 50% marks in English (either in Class X or Class XII). |
Physical Standards
(a) Height and Weight: Minimum height – 157 cms with correlated weight as per age.
(b) Eye Sight: The minimum acceptable vision standards for distant vision is 6/6, 6/9 correctable to 6/6, 6/6 with glasses. Should not be colour/ night blind.
(c) Tattoo: Permanent body tattoos are not permitted on any part of the body, however, certain concessions are permitted to candidates belonging to tribal communities/ from tribal areas as declared by the Government of India. For other candidates permanent body tattoos are only permitted on inner face of forearms i.e. from inside of elbow to wrist and on the reverse side of palm/ back (dorsal) side of hand.
How To Apply
Eligible Candidates are required to fill in 'e-application' (Online) on or before 02/01/2017.
Print two copies of the online Application Form having the system generated Application Number. Paste recent passport size colour photograph at the space provided and self attest the same. One copy of this Application Form is to be duly signed and mailed (posted) to POST BOX NO. 04, NIRMAN BHAWAN, NEW DELHI – 110 011 along with the following documents:- Self attested photograph, Self attested result sheet of JEE (Main) 2016 exam (if qualified ), Self attested photo copies of 10th & 12th class certificates along with Mark Sheets. In case CGPA, candidate is required to attach certificate issued by the school for conversion of CGPA in to percentage. Application to be sent by ordinary post only. The last date for submission of applications is 12/01/2017.
A superscription is to be made on envelope: ONLINE APPLICATION NO._______  APPLICATION for 10+2 (B.Tech) for Jun 2017 Course. Percentage_____ or JEE (Mains) Rank ______ (as applicable). NCC 'C' Yes/No. Application and requisite enclosures must be properly tagged/stapled,
Selection Procedure
(a) All the Candidates have to meet the mandatory education qualification.
(b) Candidates will be issued call up for Services Selection Board (SSB) based on their 'class XII (PCM) percentage or 'JEE (Main) rank 2016' based on their choice.
(c) Equal number of candidates would be shortlisted for SSB from the two lists based on their merit. However, if the response from either of the options is less, candidates from the other list will be considered for short listing.
(d) Final induction will be on a common merit based on SSB marks.