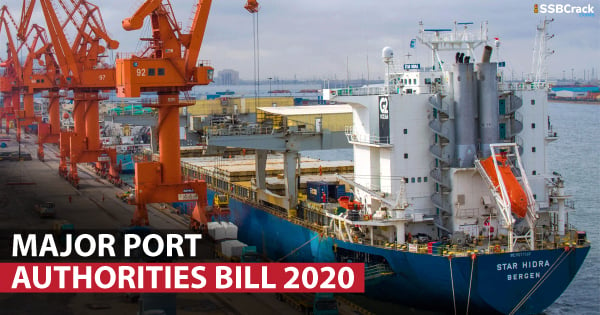 Indian Parliament has passed the Major Port Authorities Bill, 2020. Shri Mansukh Mandaviya, Minister of State (I/C) for Ports, Shipping & Waterways moved the bill in Rajya Sabha on 10th February 2021 and it was passed. Now the Bill will go to the President of India for his assent.
With a view to promote the expansion of port infrastructure and facilitate trade and commerce, the Major Port Authorities Bill 2020 bill aims at decentralizing decision-making and infusing professionalism in the governance of major ports. It imparts faster and transparent decision making benefiting the stakeholders and better project execution capability.
The Bill is aimed at reorienting the governance model in central ports to the landlord port model in line with the successful global practice. This will also help in bringing transparency in operations of Major Ports. This will empower the Major Ports to perform with greater efficiency on account of full autonomy in decision making and by modernizing the institutional framework of Major Ports.
The salient features of the Major Port Authorities Bill 2020 are as under:
The Bill is more compact in comparison to the Major Port Trusts Act, 1963 as the number of sections has been reduced to 76 from 134 by eliminating overlapping and obsolete Sections.
The new Bill has proposed a simplified composition of the Board of Port Authority which will comprise of 11 to 13 Members from the present 17 to 19 Members representing various interests. A compact Board with professional independent Members will strengthen decision making and strategic planning. Provision has been made for the inclusion of representatives of State Government in which the Major Port is situated, Ministry of Railways, Ministry of Defence and Customs, Department of Revenue as Members in the Board apart from a Government Nominee Member and a Member representing the employees of the Major Port Authority.
The role of the Tariff Authority for Major Ports (TAMP) has been redefined. Port Authority has now been given powers to fix tariffs which will act as a reference tariff for purposes of bidding for PPP projects. PPP operators will be free to fix tariff- based on market conditions. The Board of Port Authority has been delegated the power to fix the scale of rates for other port services and assets including land.
An Adjudicatory Board has been proposed to be created to carry out the residual function of the erstwhile TAMP for Major Ports, to look into disputes between ports and PPP concessionaires, to review stressed PPP projects and suggest measures to review stressed PPP projects and suggest measures to revive such projects and to look into complaints regarding services rendered by the ports/ private operators operating within the ports.
The Boards of Port Authority have been delegated full powers to enter into contracts, planning, and development, fixing of tariff except in national interest, security, and emergency arising out of inaction and default. In the present MPT Act, 1963 prior approval of the Central Government was required in 22 instances.
The Board of each Major Port shall be entitled to create a specific master plan in respect of any development or infrastructure.
Provisions of CSR & development of infrastructure by the Port Authority have been introduced.
Provision has been made for safeguarding the pay & allowances and service conditions including pensionary benefits of the employees of major ports
Recently during this budget session, the Ministry Of Finance has allocated and come up with reformes as listed below:
Seven projects worth more than Rs 2,000 crore will be offered by the major ports on Public private partnership mode in FY21-22. This was stated by the Union Minister for Finance and Corporate Affairs, Smt. Nirmala Sitharaman while presenting Union Budget 2021-22 in Parliament today. Major ports will be moving from managing their operational services on their own to a model where a private partner will manage it for them, she said.
To promote flagging of merchant ships in India, in her budget speech, Smt. Sitharaman also proposed to launch a subsidy support scheme of Rs 1624 crore in global tenders floated by Ministries and CPSEs over 5 years to Indian shipping companies. She emphasised, that this initiative would enable greater training and employment opportunities for Indian seafarers besides enhancing Indian companies share in global shipping.
Smt. Sitharaman also proposed to double the ship recycling capacity of around 4.5 Million Light Displacement Tonne (LDT) by 2024. She said that efforts will be made to bring more ships to India from Europe and Japan, as around 90 ship recycling yards at Alang in Gujarat have already achieved HKC (Hong Kong International convention) compliant certificates. This is expected to generate additional 1.5 lakh jobs for the youth of the country
You can prepare for SSB Interview and defence entrance exams such as AFCAT, CDS, CDS OTA, NDA, ACC, CAPF, MNS, INET, and Airmen Group X and Y by taking Written Online courses as they will not only give you access to full-length quality lectures but will also provide the facility to take standardized mock tests for better study and strategic growth in the exam. You can take multiple quizzes after each lesson to ensure a full understanding of the subject along with creating your customized lesson plans. You can check out the course content along with other important specifics at SSBCrack exams.
You can also access them through the SSBCrack Exams app available in the google play store.
Jai Hind!