Apoorv Gajanan, the man who has achieved All India Rank-1 in UPSC CDS 1 2021 for all three services i.e. for IMA (Indian Military Academy), AFA (Air Force Academy), and INA (Indian Naval Academy). Not only CDS 1 2021, but he has also secured AIR-28 in AFCAT 1 2021. In this interview with SSBCrack, Apoorv Gajanan has shared his story of achieving success and has a message for all defence aspirants.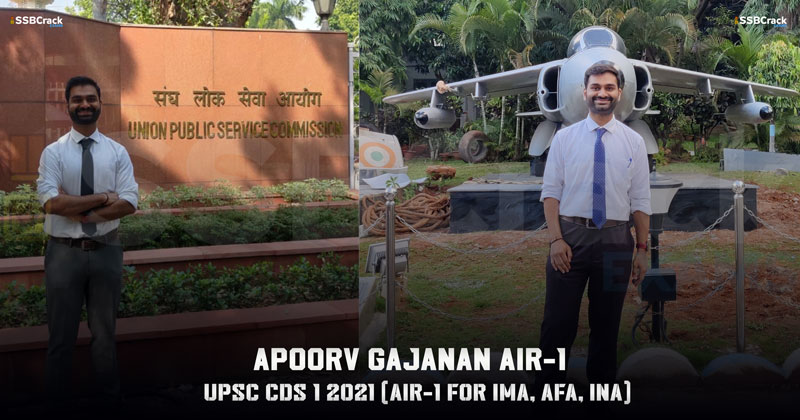 SSB Interview Best Online Classes Schedule [Will be updated as per the batches]
Q1. Congratulations Apoorv for achieving AIR-1 in CDS 1 2021 for IMA, AFA, and INA. How does it feel?
Apoorv : First of all, a big thanks to team SSBCrack for reaching out to me. Thank you so much. It feels unreal. I did not expect this at all. It has been a very pleasant yet unexpected surprise to me.
Q2. Tell us something about yourself, your education, and your family background?
Apoorv: I hail from Maharashtra. I have done my schooling from 3 different places as my father was always on the move. He is a senior police officer in Maharashtra police services. My mother is a full time homemaker and I have a younger sister who studies architechture.
Q3. What motivated you to join the Armed forces?
Apoorv: My father was and is my motivation for joining the uniformed forces. Seeing him give his everything for the welfare of people has been a driving force for me.
Q4. Out of Army, Air Force, and Navy, what is your first choice and why?
Apoorv: Out of the three, Air force is my first priority. It began long back when I was a kid and saw the IAF planes at an air show where I first had the thought of becoming a pilot.
Q5. You have secured AIR-1 in UPSC CDS 1 2021 for IMA, AFA, and INA. You are also AIR-28 in AFCAT 1 2021. How was your journey so far to achieve this?
Apoorv: The journey has been quite challenging. I was not able to avail any conventional classes due to lockdown. I had to fight on two fronts, not just academically but also against mother nature herself. I was 103 kg last December, i.e. December 2020. I had to take time out for my physical routine along with my studies in order to become physically fit for the exam. Took me 5 months to lose the first 15 kgs and then after my first recommendation for AFCAT 1 2021 I had lost around 13 kgs within a month for the medicals. Losing that weight helped me perform better for the CDSE SSB interview.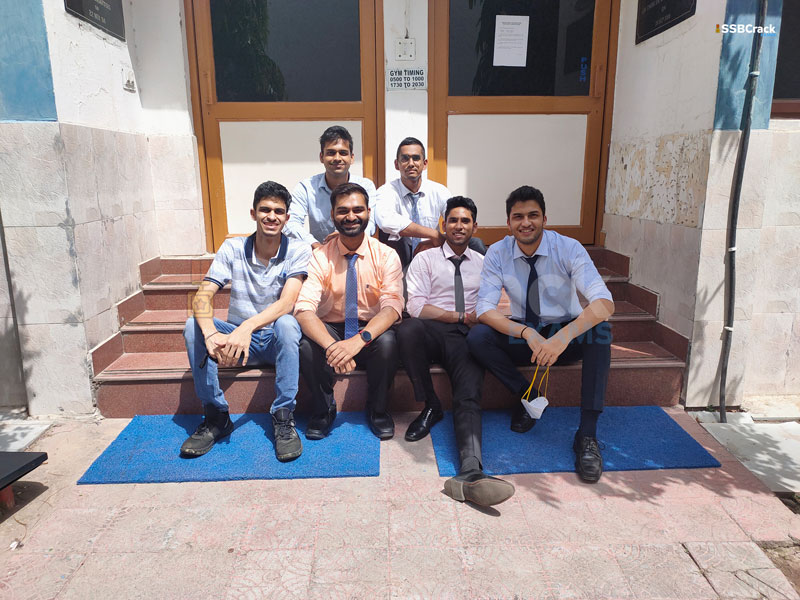 Q6. Tell us something about written exam preparation. According to you what is the best way to prepare for the CDS written exam?
Apoorv: I began my preparation with the standard operating procedure – Syllabus, Previous year question papers, analysis of the papers and then planning out the next steps. I believe the key to the CDSE exam, like any other exam, lies in the PYQs. If a person gives enough time to the PYQs, understands the requirement of the exam, starts recognising the pattern of questions, it becomes a bit easier to tackle the exam and helps you avoid excessive and unnecessary efforts. The best way to begin once you have analysed the papers is to start with the NCERT books. I was from science background so I started with books from 6th std for social sciences to build a base for the advanced concepts and information. For maths, I solved the NCERT books and attempted some mock tests. For english I referred to wren and martin book and used the internet for the consolidated information on idioms and phrases. All this is apart from solving the PYQs. I cannot stress enough on the importance of PYQs.
Q7. How many questions did you attempt in CDS 1 2021 exam in each paper?
Apoorv: In Maths, I attempted 83 questions, 110 in English and 60 in GK.
Q8. Any memorable moment during the SSB interview which you will never forget?
Apoorv: Yes, the day of the conference. Being from a civilian background, my first aim was actually just to be in the presence of such charismatic officers for however long it lasted. I was excited to be in the same room as the elite Air Force officials for the first time. As I entered the room, to my surprise, the person interacting with me was the president of the board. I remember the energy in the room was so high, I could almost feel an electric buzz. I could not comprehend that I had just been given the opportunity to interact with such amazing and yet humble humans. When he started asking me questions, half of my mind would answer the question and the other half kept wondering if all this is even real! And to get recommended after that interaction only added to the happiness.
Q9. Apart from OLQs what else do you think one should have to clear the SSB interview?
Apoorv: I believe honesty is one of the most important characteristics that will help you clear the SSB interview. Not just with the interviewer but with your own self. Being honest with yourself will help you identify your weaknesses and work on them. To accept that you have flaws is the first step towards improving yourself.
Q10. What is success according to you?
Apoorv: Bringing happiness and joy to my parents and making them proud. If you have made your parents proud, you are successful. They are the ones that have seen you at your best and your worst. So to be able to do something for them and not just for ourselves is very important.
Q11. According to you what kind of mindset is required to get success in defence exams and SSB interviews?
Apoorv: I think a very open mindset is required for these exams. Open in the sense that you have to be very accepting and open to criticism since you're in it for developing yourself and being better than you were yesterday. Also, learning from the mistakes of others is crucial. You shouldn't have to make the same mistakes as the people who have attempted the exam before you.
Q12. According to you, what are some habits a defence aspirant must have to get success?
Apoorv: I believe once must be consistent in their efforts. Discipline is an implied quality. But even more so, one must be ambitious. Because, discipline takes over when motivation ends, and, ambition takes over when discipline ends. Whatever the circumstances, one must find a way to get over the problem and not crib about the hardships. Everyone faces problems. But history is created by those who rise above them.
Q13. If not armed forces, what profession would you choose and why?
Apoorv: If not defence forces, I would have tried for Indian police services through UPSC CSE. Reason is very simple – uniformed services.
Q14. What is your message for the defence aspirants?
Apoorv: Dear aspirants, I will tell you what my parents, my mentors and my friends told me. You have immense potential in you, all it's going to take is that one extra push when you feel that you are tired and you can't get up. Be consistent, be brave in your efforts. This is one of the most esteemed services one can opt for in their life, so you'll have to put in your efforts accordingly. I can only say that if I was able to do it, you can too. Always believe in yourself and your abilities. Play your strong suit. Work on your weaknesses. Don't be afraid to take on the academic challenge. If you have made up your mind, nothing can stop you.
Q15. Thank you for talking to SSBCrack.
Apoorv: I'll take this opportunity to thank SSB Crack for being such a helpful platform for all aspirants and doing such a wonderful job. I shall definitely be in touch for all the queries that come for me through you.
To crack the SSB Interview, NSB interview and AFSB interview, You can join our SSB interview live classes batch and we recommend you to Enroll SSB INTERVIEW ONLINE COURSE. Trusted by thousands of defence aspirants.