NDA 1 2017 exam was conducted in the month of April by UPSC. Candidates preparing for National Defence Academy have to write the General Ability paper in NDA exam, In this article we are sharing NDA 1 2017 General Ability Question Paper and Sample Questions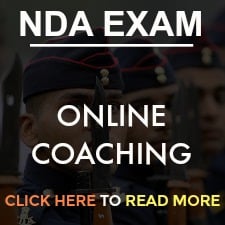 NDA 1 2017 General Ability Question Paper and Sample Questions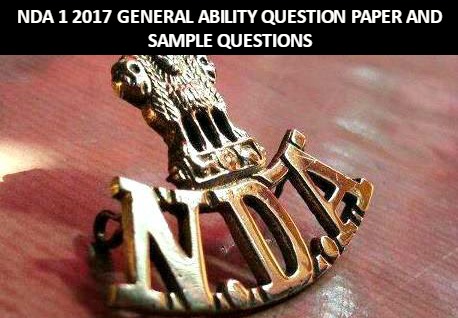 Download Question Paper
Click on the link given below to download NDA 1 2017 General Ability Question Paper
NDA 1 2017 MATH QUESTION PAPER PDF
Download Answer Key
Click on the link given below to download NDA 1 2017 General Ability Question Paper  Answer Key
Sample Questions
Who among the following won the men's Singles title of the Madrid Open Tennis Tournament, 2013?
Novak Djokovic
Rafael Nadal
Roger Federer
Stanislas Wawrinka
Who among the following is the Chairman of the Fourteenth Finance Commission?
Abhijit Sen
Y.V. Reddy
Amartya Sen
Montek Singh Ahluwalia
Which one among the following about Prof. C.N.R. Rao is not correct?
He worked mainly in solid-state and structural chemistry
He is the head of the Scientific Advisory Council to the President of India
He was conferred with China's top science award for the year 2013 for his contributions in boosting Sino-Indian scientific cooperation
He is a member of the US National Academy of Sciences
The Indian Standard time is ahead of Greenwich Mean Time by
3 hrs and 30 minutes
4 hrs and 30 minutes
5 hrs and 30 minutes
6 hrs and 30 minutes
Which of the following is the main characteristic of Mediterranean climate?
High temperature throughout the year
Rainfall throughout the year
Rain in winter season
Convectional rain
It is known that the atmosphere is divided into some layers. In which one among the following layers, is the percentage composition of Helium gas maximum?
Troposphere
Stratosphere
Exosphere
Ionosphere
Who appoint the Chief Election Commissioner of India ?
Chief Justice of India
President
Prime Minister
Parliament
In which year were the first general election held in India ?
1950-51
1948-49
1951-52
1947-48
The election Commision dose not conduct the elections to the
Lok Sabha
President's election
Rajya Sabha
Local Bodies
The Election commision holds election for
The Parliament, State Legislature and the posts of the president and the Vice-President
The parliament, State legislative Assemblies and the State Council
The Parliament
The parliament and the State Legislative Assemblies