To inspire aspirants nation wide who are going to attend upcoming NDA on coming Sunday SSBCracK Exams has taken an initiative to conducted a Free National Level Mock Test for NDA 1 2017. It is a good opportunity for NDA aspirants to check their potential before writing actual exam. It is a free test so we request all candidates to share it with other aspirants and friends.
NDA 1 2017 Free Mock Test consists of 60 question each of 3 marks resulting total of 180 marks, here 1/3rd negative marking are applied on wrong answer. Total duration of the test is 60 minutes.
NDA 2 2017 Exam Free Mock Test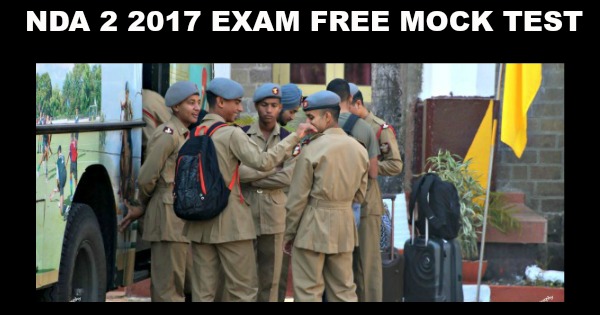 Candidate needs to go on SSbcracK Exams official website and see for course name, "NDA Exam Online Coaching Demo" under courses.
To directly access on the NDA 2 2017 Free Mock Test page Click Here
If  the candidate is already registered (if not see step 4) on SSBCrackExams website then all he/she needs to do is login and follow step 5.
If the candidate is not registered in SSBCrackExams website then all he/she needs to do is to click on option "Free Course" on the page that opens under Step 2.  A registration page will open where a candidate needs to provide a valid Email-id, and generate a Username and password.
Registered Candidates can sign in using their email-id and password inside the student portal. Best and fastest way to login is using Facebook login.
Once logged in look for option "My Test" in left hand side of the page and click on it. In the follow up page under Examination Test search for "NDA 2 2017 Free Mock Test " by clicking on it a candidate can the start the test instantly.  The test will pop in the new tab along with general instructions regarding attempt of mock test.
Duration for NDA 2 2017 Free Mock Test Free Mock Test
Mock test will get active at 11 AM on 22nd April 2017 and will remain live. Enrol yourself in this mock test and analyse your preparation now.