The psychology tests are framed to bring out the pure personality traits of the candidate and check his mental strength to match it with the interview and ground performance in GTO. All four techniques of the Psych test have their own importance.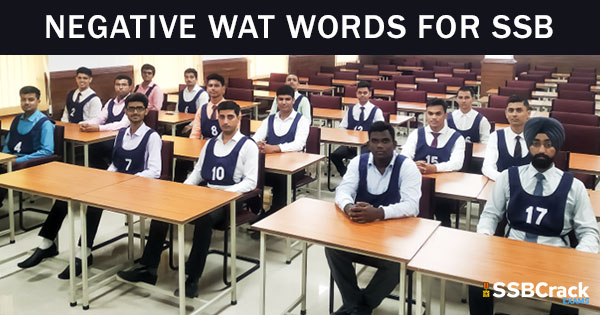 Out of these, WAT [Word Association Test] is the most interesting test, where you have just 15 seconds to read the word, think a sentence over it and write it. The variety of words are different and candidates sometimes get entangled in the sequence as they get puzzles in some negative words.
Well, we are here with some negative words that commonly appear in the WAT and can be practiced to bring out the best sentence from them.
Attack
Offense
Torture
Bully
Suicide
Delay
Fear
Guilty
Poverty
Mourn
Hate
Accident
War
Battle
Serious
Wreak
Reject
Kill
Crisis
Sorry
Unable
Refrain
Avoid
Revenge
Withdraw
Disagree
Bullet
Conceal
Tragedy
Aggressive
Sink
Terrorist
Waste
Injured
Grave
Quit
Dull
Deteriorate
Dark
Annoys
The above negative words are very commonly seen in WAT battery in SSB. The only way to handle them is to see the positive phase of the word, rather than focusing on the common negative face of it. Stay calm and focused to attempt the WAT and avoid confusions. Try to keep the response short to manage the time correctly.
Some more words for practice:
Weak
Selfish
Hijack
Difficult
Blood
Darkness
Loneliness
Lies
Tiredness
Crime
Kill
Enemy
Murder
Death
Divorce
Dowry
Mistakes
Fatigue
Danger
Aggression
War
More WAT Words: Click Here