When it comes to NDA exam preparation, it varies from candidate to candidate all over India. Candidates who are aiming to get enrolled in esteemed B.Tech colleges of India through JEE (joint entrance exam), they start their preparation from intermediate first year or after completing their intermediate by dropping for one year. JEE aspirants go through some hard core preparation for their entrance exam with the help of some private institutions. Also, the syllabus of JEE contains almost 60-70 percent of the NDA exam syllabus, so for such candidates (JEE aspirants) NDA exam preparation is not very tough, the level of questions asked in NDA written exam are very substandard for these candidates.
There are also, candidates who had set their goal to join Indian Armed Forces when they were doing their matriculation. For NDA exam preparation all they have to do is stress a little more on the concepts that are common between their school syllabus and NDA exam syllabus. Since they have ample amount of time before writing the NDA written exam, daily one hour practice is enough for NDA exam preparation.
Now, we have noticed there are students who are about to clear their intermediate exam or just have cleared their intermediate exam and they have just heard of NDA exam. Such candidates have to face comparatively a bigger competition, time they have in hand for NDA exam preparation is not much but if they prepare a time table and give isolated focus on the exam then with some proper guidance they will be able to clear the NDA written exam. Below given are some tips on Plan your Preparation for NDA 1 2017 Exam which can help you in your preparations:
Plan your Preparation for NDA 1 2017 Exam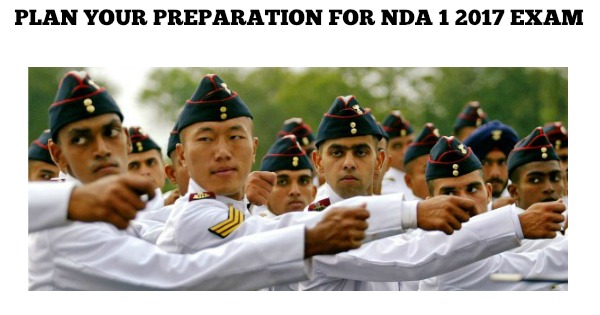 Candidates who are doing their NDA exam preparation should make a note of their weak and strong topics, for strong topics they can self-practice but on weak topics they should seek external help such as private tutors.
For physics and chemistry, if you can't prepare every topic then atleast prepare the topics from which questions are repeatedly came in the previous exams.
For physics and chemistry, focus on important but simple numericals, definitions, principles and properties as asked in the syllabus.
For general science, know all the important facts about growth of human body, animals and plants. Gather as much as information on solar system, food and famous scientists. Make flash cards of important facts.
Cope up with current affair use internet websites on important events.
Practice previous year NDA question papers as much as possible. Time management is important, see how many questions you are able to answer in minimum amount of time.
It is wise to go through NDA books for preparation, it will give you an idea on theory and types of questions that appear in the exam
Prepare from SSBCracK Exams, SSBCrack Exams has started an online course to help aspirants in preparation of NDA written exam, it provides aspirants:
NDA online full course and study material.
Practice test and previous year questions along with most expected questions for upcoming NDA exam.
Scheduled national level mock test where you compete with other NDA aspirants.
High end analysis and reports on your performance which will help you in improving your falling areas.
To see demo of SSBCrack Exams demo NDA course. Click Here
To enroll in SSBCrack Exams premium NDA course. Click Here