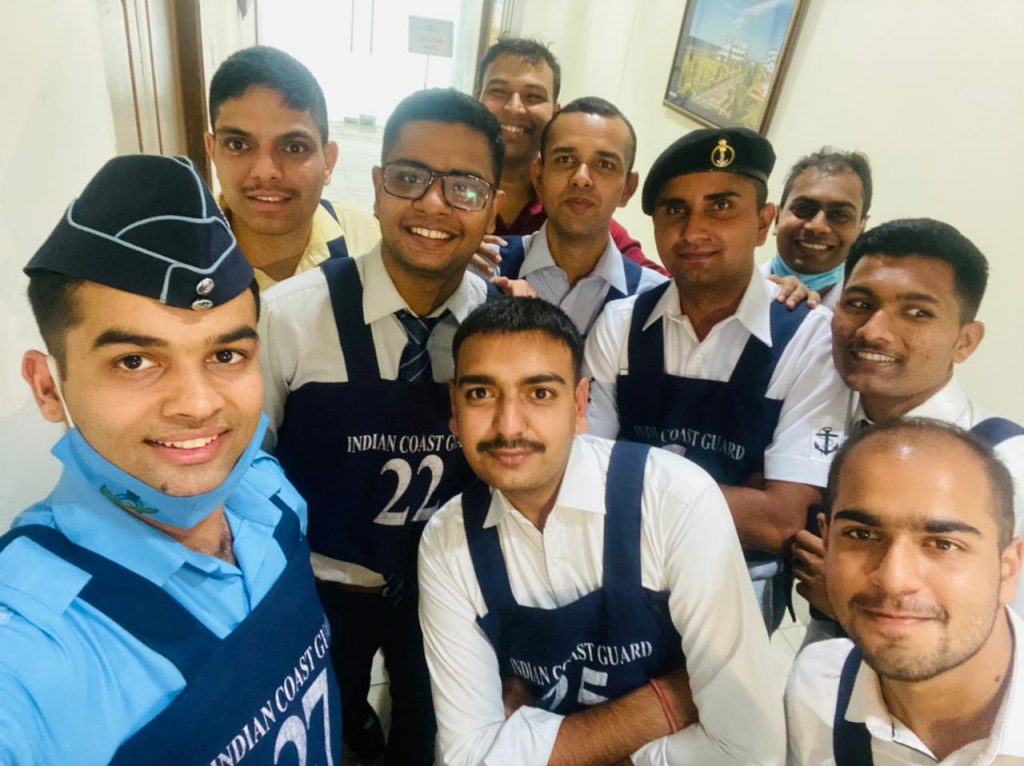 Hi I am Siddharth Bhati and this is going to be a long story, and I am writing this especially for my fellow repeaters. It all started in 2014, I was in 12th, preparing for my JEE suffering from Kidney stones and failing almost all entrance exams that too very badly, decided to take a drop and the results didn't improve much, twisted my ankle badly but had SSB the very next week. So on my birthday 4th September 2015, TES 34, 18 SSB Allahabad, after getting screened in, I became very overconfident and as a result, got conferenced out.
Then in October 2015 went to Bhopal for 10+2 Navy and the result was SO. Taking direct entries for granted, I was hoping for a miracle failing the NDA written parallel, I again went for TES 35 in Bhopal and got screened out. Then I decided that I would focus on the left-over entrance exams of engineering as I already had screwed my JEE and BITSAT again. Somehow managed to clear the cut-off and took admission to Manipal Institute of Technology, Karnataka in Civil Engineering. Joined NCC over there, the drift from north to south had made me positive, the fire of dawning the uniform was burning again. Started getting decent grades in College, started long-distance running.
But it seemed as if God had a different kind of Grudge against me, in a football match that injured my back, which led to a minor slip disc. And those negative thoughts started coming again. But the environment that I was in, of great seniors getting recommended continuously, all my juniors bringing laurels to our NCC unit, it was very hard to remain negative. Then in my 7th semester, I cleared the first written exam for defence forces. "INET"! I once again went to Bhopal with a different mindset, it was the last batch as I had my End seems during the regular one. And unfortunately, I was not even able to appear for screening because I did not have some document. In Feb 2020, I completed my First Full Marathon which changed my perspective towards life. Appeared for AFCAT failed! Appeared for CDSE twice FAILED! All this going through, and the onset of Pandemic meant I could not report for several SSB's either due to quarantine procedure of that state or because I had covid like symptoms. It was November 2020, and this was my last attempt for CDSE(IMA)! And I cleared all the cut-off's that I had applied for INA, IMA and OTA, that too easily (Waiting for my SSB for the same). Then came November 28th, 2020 and my SSB after almost 4.5 years for TGC 132 course.
I had no expectations this time and just went to enjoy myself, it was 20 SSB Bhopal, got screened in and enjoyed the process, in the conference was being made to wait for about 15-20 minutes, and the same went for about 10 minutes, I knew I was borderline, but unfortunately didn't make it. But there were so many positives. January 28th, appeared for Pre-Selection board for Assistant Commandant in Indian Coast Guard in Noida, 130 reported 18 got in, I was lucky to cross the line. In FEB gave Afcat and cleared it, Gave CAPF in December 2020 but missed it by 4-5 marks. Then finally on 14th March reported for the Final-Selection Board in Noida, 52 were there. Psych Test was okay, so was The GTO then came the interview and it went for about 1 hour 30 minutes, he pressurized me a lot for not succeeding in life as I was already 23, gave me many SRT's, asked me some adult questions as well, grilled me on my hobbies and interests ! the stress was such that I had almost tears in my eyes and smile on face. After the interview, I thought that I had no chance of making It. Finally, the conference day came, 19th March 2021! I think I was the only one who was 100% sure of not getting recommended.
I was Chest Number 22, as 21 went the wait began, 5…10…15 minutes, I was nervous, the bell rang and went in! It was great to see all officers in white uniform, but they all seemed serious. The IO began asking me
How Would you rate all your tests?
What went wrong in your Interview?
Since u r a civil engineer redesign this selection centre
How is this building different from the rest in Delhi-NCR
What modifications would you like to make so the coming candidates remain motivated?
I answered all and went out with a smiling face! After a couple of hours of wait, the Psychologist came dressed in white uniform, motivated us, told us what they are looking for and all those formalities. Then he announced first chest number 21, and then he said "Twenty……Two" and I was numb did know how to react but then after few minutes hugged my group mates and cried like babies.
My medicals are still on , I don't know if I will clear them or not , but I wanted all of you to know that nothing comes easy , just keep trying and trying and trying !
मँजिले बड़ी जिद्दी होती हैँ,
हासिल कहाँ नसीब से होती हैं!
मगर वहाँ तूफान भी हार जाते हैं,
जहाँ कश्तियाँ जिद पर होती हैँ!
भरोसा ''ईश्वर'' पर है,
तो जो लिखा है तकदीर में, वो ही पाओगे!
मगर, भरोसा अगर ''खुद'' पर है,
तो ईश्वर वही लिखेगा, जो आप चाहोगे!!