Hello Everyone. This is Mohammad Hamid, recently I got recommended for the Indian Navy and Indian Army, these were my 4th & 5th attempts respectively. It was my childhood dream to join the armed forces, I saw my grandfather and see my father in that prestigious uniform and always wanted to make my parents proud by being an officer in the Indian Army. The kind of life and thrill that is there in it, is unparallel.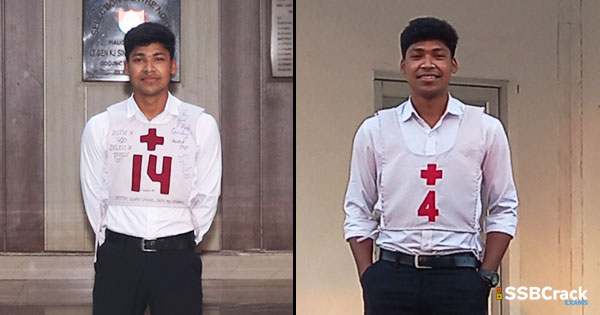 I have done my schooling at Army Public School Bhopal; I was always an active participant in sports and was average in academics. I took coaching classes for NDA and gave it twice but was not able to clear the exam. I felt bad at first, but I knew that I need to work on myself to make myself worthy of my dream. I searched for my future options and decided that I would do BTech as it'll give me extra opportunities through direct entries like SSC Tech, TGC, UES, and NCC Special entry.
I joined a local college in my city & joined NCC in the very first year, I grabbed all the opportunities that I can and improved myself, I became an Under Officer in the 2nd year (In NCC you'll learn if you put your own efforts).
In the second year of my college, for my parents' satisfaction, I gave Airmen X Group Exam, cleared all its stages & got the joining letter. Now I had two options in front of me, first to take that job, get a settled career without any further uncertainties, this was the option that my parents wanted me to choose, and the second option was to leave that offer and choose the path full of challenges & uncertainties, this was the option that my heart wanted me to take. I went with what my heart said and didn't join as an airman because I was clear that I'll never compromise with my dream.
During my 4th year of college when the Covid phase began, I took an online subscription to prepare for CDS & AFCAT, I used to study for 10 to 12 hours a day for 4 to 5 months. My maths was not very strong, so I practiced a lot and studied history & polity in depth.
I got my first SSB for SSC Tech at Allahabad, I took guidance from a good academy in my locality and with confidence in myself, I went for the SSB. I got screened out of 300 reporting, I felt good and gave my best in those next 4 days. I was confident of my recommendation, I was eager to hear the result of my dream, the officer came and said that the batch is washed out, I could not believe it, I burst into tears, my friends came and consoled me.
I came back home, analyzed myself, identified the areas of improvement, and worked on them. I enhanced my knowledge of my personal things, my surroundings, my hobbies, and my writing skills. I got screened out in my 2nd attempt, I realized the importance of OIR in SSB. I prepared my OIR from SSBCRACK OIR Book, which helped me in getting screened in my next attempts.
But still during my initial NCC & SSC Tech SSBs came, I was neither getting success in SSBs nor in clearing CDS & AFCAT exams. I was disheartened, I started losing my self-confidence, and doubts started clouding my mind. For the first time, I started thinking of backup plans for my career. Just a few days before my 4th SSB my confidence got low to such an extent that I even started thinking of going for Army Rally Bharti, I discussed it with my friend, Jadaun(who's also a defense aspirant), he told me that, this is not what you're made for & this is not the right time to think about it, I restored my confidence and I went for the SSB with full preparation and faith, keeping all the doubts aside.
I went for my Naval SSB at Kolkata, for Navy Tech entry for GSX Branch, and got screened in. Now, as I already had gone through the same process twice before, so I was feeling bored repeating the same things, I knew this would truncate my performance, so before every task I said to myself that this is the time and I did my best.
Then finally came the D Day- conference day. Just before the announcement of the results, I was getting the feeling that I would make it but since these same feeling came in last two conferences also, so my mind shooed away those feelings. The numbers were being announced and they called out Chest number 20. In that moment, my mind got numb, everything around me faded in that moment, I could feel just one thing, tears rolling down my cheeks, my voice trembling while calling out my name & roll no. I imagined myself in that prestigious uniform, that proud smile of my parents. This was the moment of my dream where all my hard work, my struggle, culminated in that result.
After getting fit from the medicals, I came back home, and my mother's happiness was boundless. Just after three days, I had my next SSB for NCC Special Entry at Kapurthala, where also I got recommended and fit in medical. Now again I had to choose between the two Indian Army or the Indian Navy, on one hand, I had a comparatively more stable & balanced life, that others wanted me to opt for and on the other hand, I had a life full of new challenges and uncertainties, that my heart wanted me to opt. And guess what, I am going with my heart, with my dream to become a PARA Commando in Indian Army.
PS: – A few tips for those who are currently in that phase that I have gone through:
Involve yourself in various activities, play team games, run, read, hang out, explore places, and explore people, this will eventually help in finding what you really are.
Wherever you're in your life, just ask four things yourself & you'll find everything sorted. They're: WHAT, WHEN, WHY & HOW.
To crack the SSB Interview, You can join our SSB interview live classes batch and we recommend you to Enroll SSB INTERVIEW ONLINE COURSE. Trusted by thousands of defence aspirants.
Finally, the lines said by an officer at SSB Kapurthala on our conference day: "We don't want great scholars. We don't want great athletes. What we want is a whole package."
All the best & good luck to all the aspirants, do well & work upon your life, you will get through for sure.
JAI HIND