As per the latest SSB interview call letter, candidates are being asked to produce COVID-19 negative certificate while reporting at the Selection Center. There are many other instructions candidates must follow as mentioned in their SSB call letters. Many candidates are facing challenges to fulfil all these requirements especially the COVID-19 test certificate which has to be only two days old. Candidates who have multiple SSB schedules, the cost of COVID-19 test is also a big concern for them. Below are some instructions as mentioned in the Indian Army SSB interview call letter for TGC. According to some candidates, all SSB including AFSB and NSB also have same instructions.
COVID 19/Corona Precautions: All candidates are required to go through various Central Government Advisories on the subject alongwith quarantine schedule before move. Additional points for implementation are as under:-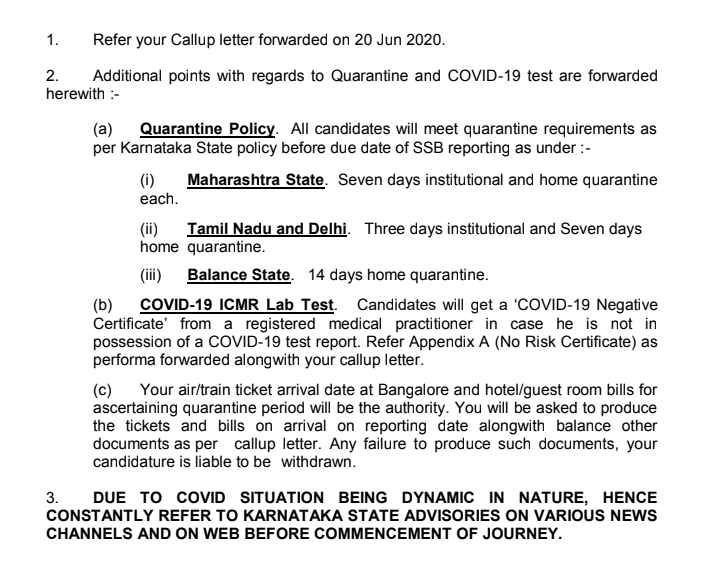 Registration on Portal (aa) Candidates will install Aarogya Setu App in their respective phones prior to leaving home station to Selection Centre, Bangalore. Screenshot of having green status on the said app will be taken prior to leaving home. The same will be checked at the time of reporting at the Selection Centre and subsequently daily status, during the duration of stay. (ab) The registration on Seva Sindhu portal of Karnataka State Government is also mandatory for all persons coming in or transiting through Karnataka by providing correct information about their contact number and destination address. (ac) Any violation of the quarantine norms or failure to register on Seva Sindhu portal or giving of incorrect information by the incoming persons or carrying of passengers by the transport companies without registration on the portal shall attract penal action as per section 51(b) of The Disaster Management Act 2005 and section 188 of the Indian Penal Code.
Travel Restriction: (aa) Candidate not to travel from any containment zones. (ab) A candidate if found to have any symptoms should not be move from his/her home station and if he/she reports to the Centre, will be returned back. (ac) CANDIDATES TO CARRY PERSONAL HAND SANITISER, SOAPS, FACE MASKS, GLOVES AND FACE SHIELD. (ad) All candidates will carry a COVID-19 negative certificate from an ICMR approved lab not more than two days before reporting for SSB.
Documentation: (aa) Candidates to ensure that all documents including any affidavit for wrong name or tattoos etc as stated in the call up letter are brought along. In case a candidates fails to produce the required documents at the time of reporting, the candidature will stand cancelled and NO repeat NO representation will be accepted at any stage. (ab) Latest passport size photographs not older than one week will be brought and failure to produce the same at the time of reporting will render a candidate disqualified for appearing for the SSB. Nobody would be allowed to leave the premises for any documentation or getting photographs.
Misc: (aa) Those candidates who are selected from Stage I to Stage II will not be allowed to go out of the Selection Centre premises for any purposes in view of the COVID-19 pandemic. (ab) NO repeat NO bedding will be provided at the Selection Centre. Candidates are advised to carry a light bedding as per their comfort and season. (ac) Candidates are advised to carry adequate clothing that will be required for their stay, as there shall be no laundry facilities till the pandemic is over. (ad) Candidates are advised to ensure that they do not carry any medication with them including any generic medicines. Any medical assistance required will be provided at Selection Centre. There will be a check of body temperature at least thrice a day during your stay to ensure that all candidates are safe.