If you are attending SSB interview, it is good to be ready with few documents beforehand. Now, candidates can fill up the SSB documents well in advance and save the time during SSB interview documents check and  form filling. List of Documents to Carry for SSB interview like PIQ form, Identification form, certificate of previous candidature, risk certificate, travelling allowance form, certificate for final and pre final candidates etc.
SSB Interview Documents and Certificates to Carry by Final Year Degree Candidates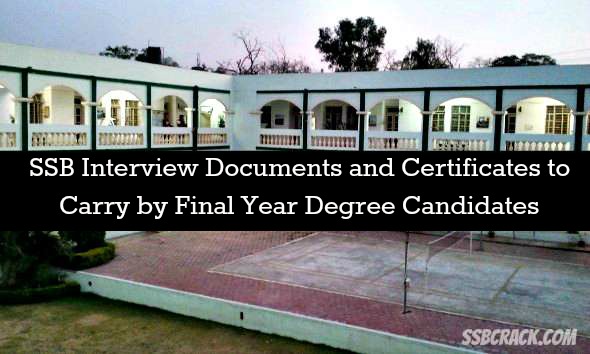 Final Year Candidates:
If final year/semester result is awaited, then the candidate will submit a certificate from the principal, stating that the result of final year will be declared by ___________ .
Students studying in final year of degree course, have to bring a certificate from the principal of their College/Institution stating that they are in final year of degree course and going to appear the final   examination during ________.
Note:
Candidates who have submitted their certificates and marksheets in college or institution for pursuing higher studies.Please bring a bonafide   certificate along with certified true copy of those documents.
Risk Certificate Applicable to NDA and TES Candidates.Must bring Risk Certificate.
Original NCC 'C' Certificate (Army/Navy/Airforce Wing) with one attested copy, if competing against reserved vacancies for NCC 'C' Certificate holders.
Recommended candidates are required to submit at the earliest a photocopy duly attested by Class-I Gazetted Officer of all such provisional degree/degree certificate.
Statement of Marks in lieu of original certificates or any other date of birth certificate is not acceptable.
Documents to Carry for SSB interview
Call Letter
10th/12th Mark sheet & Certificate (Original & 2 Photocopy)
 Graduation/Post Graduation Degree (final year students must bring a certificate form principal)
 NCC Certificate (Original & Photocopy) (If applicable)
 Valid Commercial Pilots License, issued by DCGA (If applicable)
 Ticket Original (for Traveling Allowance if you are going for that entry for the first time)
 Identity Proof (Voter ID/Passport/DL/PAN Card) (Original and 2 Photocopies)
 NOC Certificate (for those who are currently working in Govt. Org or PSUs)
 Risk certificate duly signed by parent/guardian
 20 Passport Size Colour Photographs (with light coloured clothes and against white background)