Personal Interview (PI) is a time tested method which surely judges the person in terms of knowledge, communication, confidence and many other qualities that are very specific to organisational roles for which the interviews are organised.
Key to Success in Personal Interview at SSB
SSB process has many interviews in different forms but one big interview would be with the officer who would be either the President or deputy President of the board. Such people are really senior and have a vast knowledge to judge people at different levels. Many OLQ's are being judges but apart from that there are several other things that have impact in PI and if such things are taken care of, it could lead to wonders.
Intelligence, power of expression
Body language, gestures and eye moments
Planning and delegating
Social adjustment,
Dynamic workout
Courage, stamina, hard work and determination
Appropriate assessment of others
True behavior to the image portrayed on papers
SSB Interview Personal Interview Sample Questions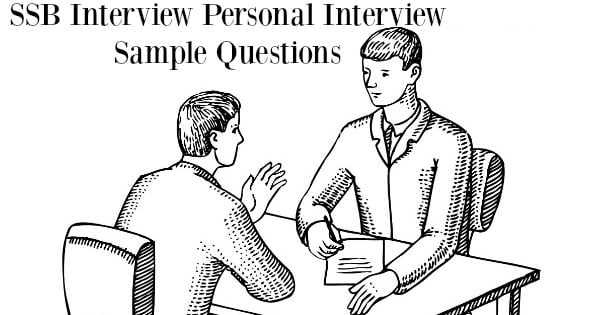 Questions based on Educational Background
Which subject you don't like and why
Achievements in the study
Tel specialty about your school and college
Which teacher you like most why
Which teacher you don't like and why
Why you have chosen to study this branch
Whether you chosen the particular branch of study by self or by others compulsion (Parents)
Why there is some gap in studies between inter college and graduation.
How you improved the percentage from tenth to twelfth and what are steps you taken to achieve this.
Questions based on Family Background
How much you like your father and mother
How you are responsible person to your family
Say about your sister and brother
Whom you like most and why
With whom you play more
Which person other than in your family and friends you like more and why
What's you father/mother rank in the working place and income they are getting
How they are utilizing their income and are you satisfied with that
If your family is totally dependent on you tomorrow, how you will help or run the family.
Questions based on Friends
Out of friends how many are close to you
In your friends to whom you share the personal things
What you like in your best friend and What he likes in you
What your friend or friends say about you
What you say about you and your friends.
Which thing you like in your close friend and why.
Questions based on Working People
What you say about your boss
What your boss say about you
Tel about your company or organization
Why you are leaving your previous job
What you like most in your job
What you don't like in your job
Questions based on Hobbies
What are the things you have learn from your hobby
What are the new things you implemented in your hobby?
What's your childhood hobby and what are you doing now
Why you change the child hood hobby to this(recent one)
They require vast knowledge in the hobby since everyone will have a hobby, but a candidate with good attitude will get information about their hobbies.
The different types of hobbies are music, singing, blogging, reading, philately, photography, trekking etc. Create questions based on your hobby and make responses for that to get thorough knowledge over that.
Questions based on Sports
Why you have chosen an outdoor game rather than an indoor game
Whom you like more in your team if we say cricket or foot ball etc
What is your position in the team i.e. as a team member or captain?
Depth of knowledge in the Games or sports. i.e. Questions from size of the play ground/court size and rules of the game and recent world records in the game etc
Which player you like most and why
What you want to improve or you suggestion for our team in the game/sports you play
Questions based on Extra-curricular activities
When you joined in N.C.C. /N.S.S. and why
What you achieved in that
Positions held in that
Grade of certificates got such as A,B,C etc
Who motivated to join in N.C.C